View News For
2017-2018 News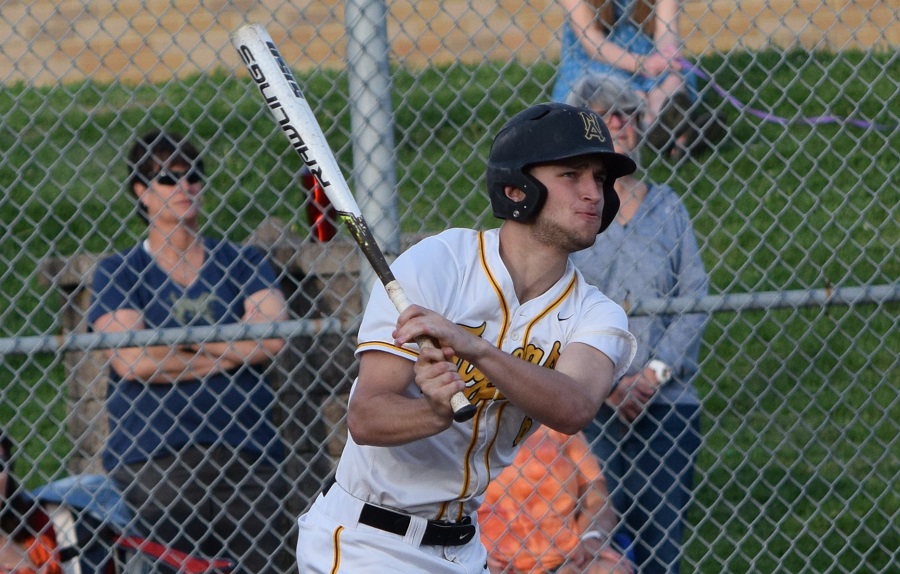 Four North Allegheny baseball players claimed all-section honors from the Big 56 Conference and senior Luke Trueman highlighted the list by receiving first-team All-Section 1-6A accolades. Trueman leads the Tigers in runs (15) and is second on the squad in RBI (15). One of the top arms out of the bullpen, Trueman is 1-0 in eight appearances with a 0.70 ERA and three saves.
Earning second-team recognition was senior outfielder Turner White who is hitting .298 with 14 runs scored on the season. Honorable mention honors went to senior outfielder Ben Surman and sophomore pitcher Ben Petschke.
For a look at the entire listing of the Class 6A all-section teams, click here.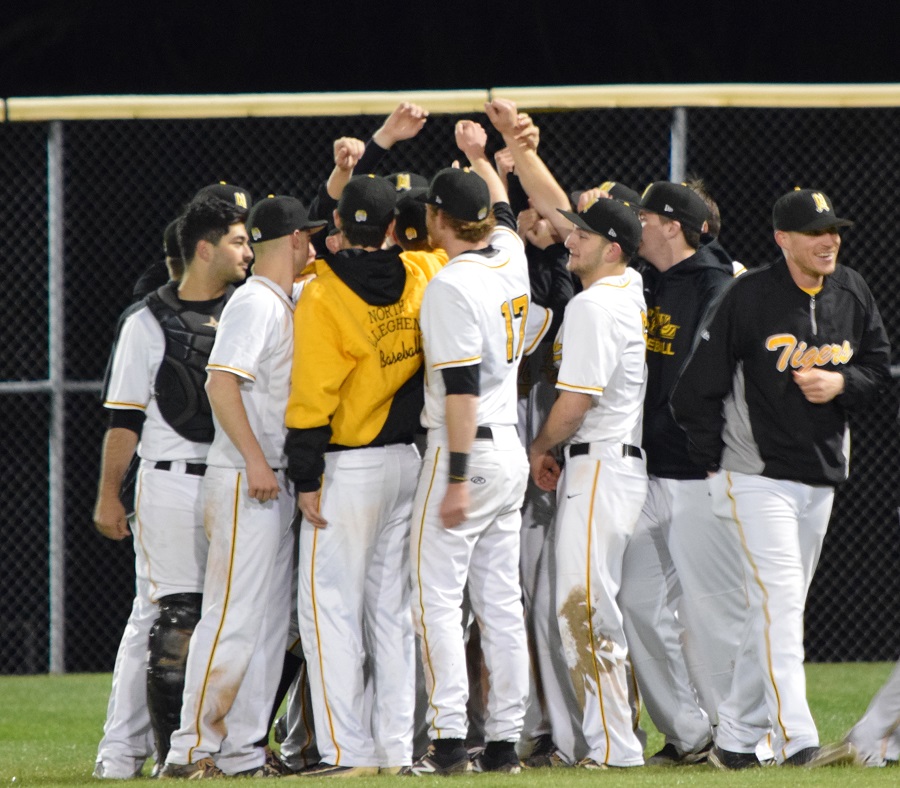 The WPIAL baseball playoff pairings were released on Friday afternoon and the North Allegheny Tigers were granted the No. 10 seed and a Class 6A first round matchup with the seventh-seeded Penn-Trafford Warriors. The Tigers and Warriors will play on Wednesday at 7:00 p.m. at Latrobe High School. For the Class 6A brackets, click here.
North Allegheny finished the regular season with a 10-10 record and fourth-place finish in Section 1 with a 4-6 mark. Penn-Trafford was 13-5 overall and finished a tie for second place in Section 2 with a 7-3 record. The Tigers and Warriors played earlier in the season on April 12 with NA claiming a 6-2 win at Penn-Trafford.
The Tigers are making their seventh straight appearance in the WPIAL playoffs and are hoping to reach the Class 6A title game for the second straight year. NA has won seven WPIAL title and two state crowns.
North Allegheny played in its regular season finale on Friday afternoon ahead of the WPIAL playoffs and dropped a 4-3 decision to Chartiers Valley.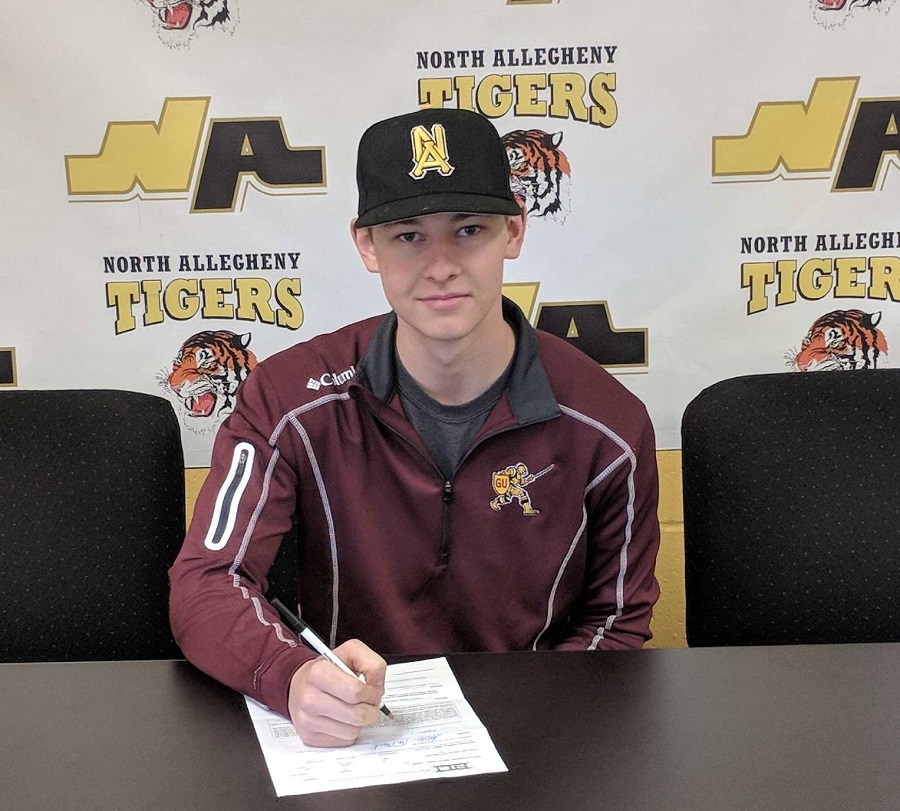 North Allegheny senior infielder Justin Hamm signed his letter of intent to attend Division II Gannon University next year.
As a junior last season, Hamm earned Big 56 Conference All-Section honorable mention accolades and played second base for a Tigers team that reached the WPIAL championship game and PIAA playoffs. A sure-handed infielder defensively, Hamm also hit .262 with 11 RBI and eight runs scored.
At Gannon University, Hamm plans on studying Mechanical Engineering.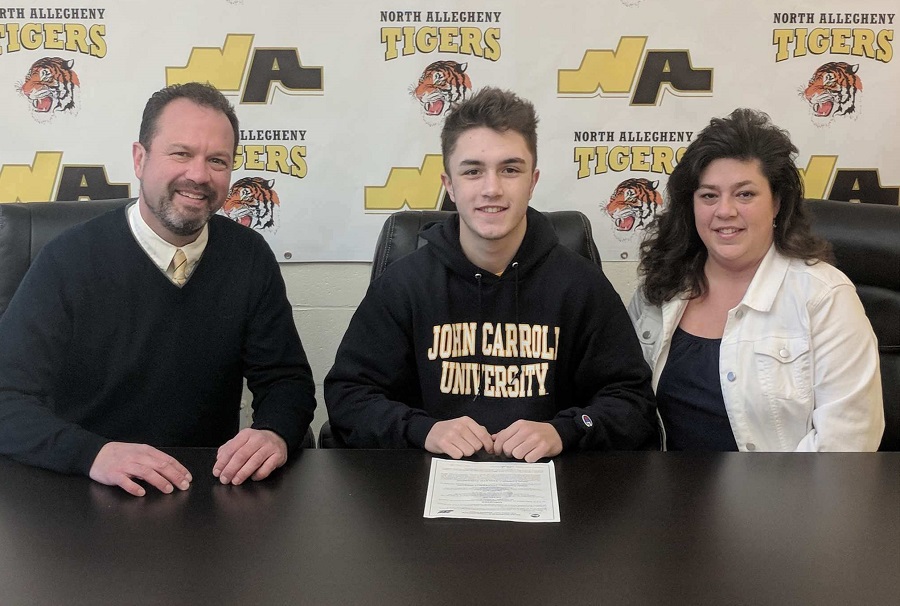 North Allegheny senior outfielder Ben Surman has signed his letter of intent to continue his baseball career at John Carroll University next season. Surman had verbally committed to John Carroll in October but made his decision official on Monday.
As a junior last season, Surman batted .267 with 11 runs scored and four RBI. A regular on the base paths, Surman was second on the team in walks with 13 and held a .405 on base percentage which ranked him third on the Tigers.
Surman will join a John Carroll program that plays in one of the toughest Division III baseball conferences in the nation, the Ohio Athletic Conference. John Carroll is just four years removed from winning its first OAC title in 2014.
Surman is planning on pursuing a degree in history/education at John Carroll. He is pictured above with his father, Chuck, and his mother, Lynn.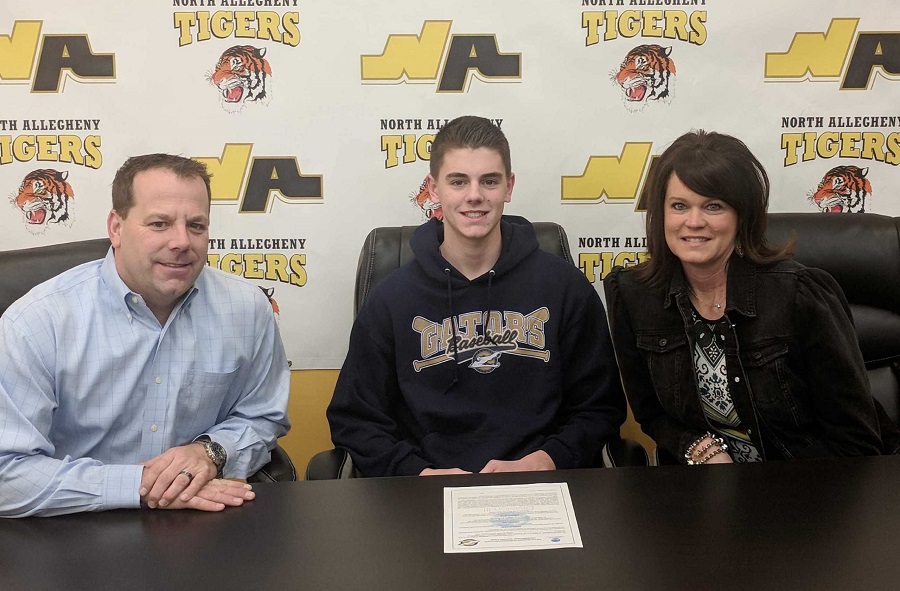 North Allegheny senior Brett Heckert has signed a letter of intent to play college baseball at Division III Allegheny College in Meadville, PA. Heckert will be reunited with former North Allegheny teammates Keegan Phillips and Roman Santia who are current members of the Gators baseball team in the North Coast Athletic Conference.
Heckert joins an Allegheny program that has recorded five straight winning seasons and has reached 20 wins in seven of the last nine years. Heckert plans to major in Business Economics. He is pictured above with parents E.J. and Kristen Heckert.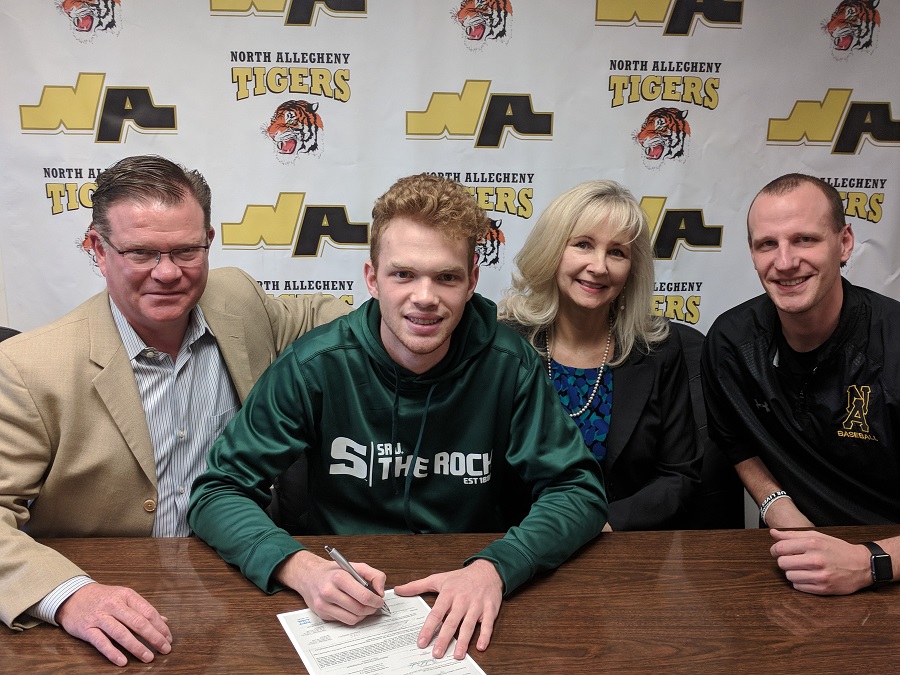 North Allegheny senior Colin Cain has signed his letter of intent to play collegiate baseball at Division II Slippery Rock University. In his first year as a starter in 2017, Cain led the Tigers in runs (14), walks (18) and on base percentage (.432). Cain posted a .270 batting average with seven RBI's.
Also a reliable arm out of the bullpen, Cain made four appearances with a 1-1 record, one save and 1.24 ERA. He worked 5.2 innings, striking out four batters without a walk.
Colin is pictured above with his parents John and Ramona Cain. He will major in Business Finance.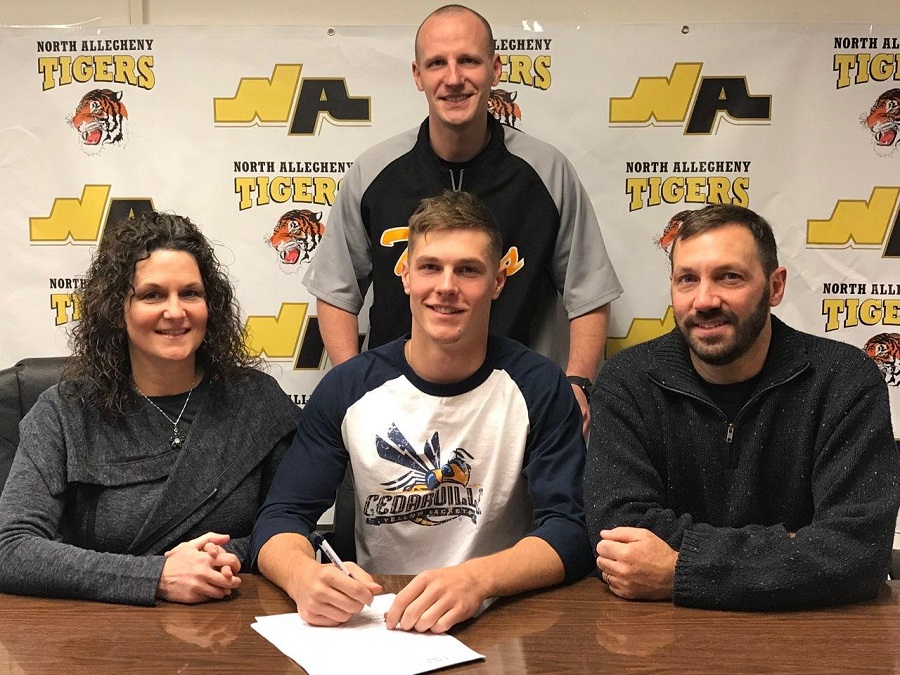 North Allegheny speedster Turner White signed his letter of intent to attend Division II Cedarville University where he'll continue his baseball career.  White patrolled the outfield for the Tigers with his tremendous speed and scored seven runs, used primarily as a pinch-runner.
A multi-sport athlete, White was also the starting tailback for the football and rushed for 982 yards and 14 touchdowns this fall. White finished his football career with 1,731 yards and 23 rushing touchdowns.
White and the North Allegheny baseball team will begin the 2018 season in late March at the Rypken Experience in Myrtle Beach.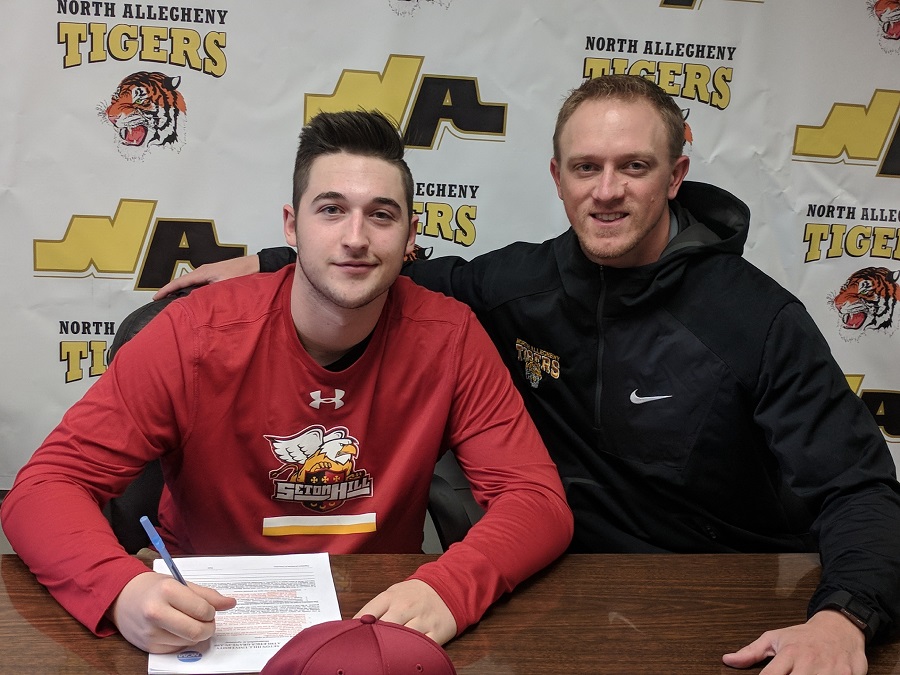 North Allegheny senior Caiden Wood will play collegiate baseball at Division II Seton Hill University. Wood made a verbal commitment over the summer but made his choice official by signing his official letter of intent this week.
As a junior in 2017, Wood posted a .240 batting average with nine RBI and six runs scored. A slick-fielding corner infielder for the Tigers, Wood also saw time on the mound making six relief appearances. A reliable late-inning arm, Wood notched three saves in 7.2 innings of work while permitting only three earned runs and collecting seven strikeouts. He not only helped North Allegheny to an appearance in the WPIAL title game and PIAA playoffs last season, but also captured All-Big 56 Conference honorable mention accolades.
Wood still has one more season as a member of the Tigers in the spring of 2018, but when he steps on the campus of Seton Hill University he'll join an NCAA Division II baseball powerhouse. Last spring, the Griffins won the PSAC championship and appeared in the NCAA D-II Atlantic Regional. Seton Hill has had much success with North Allegheny products in the past. Namely former Tiger Nick Sell who won the Tino Martinez award in 2015, which is awarded to the most outstanding player in Division II.
Wood will study education at Seton Hill with an emphasis on secondary education and history.