View News For
2021-2022 News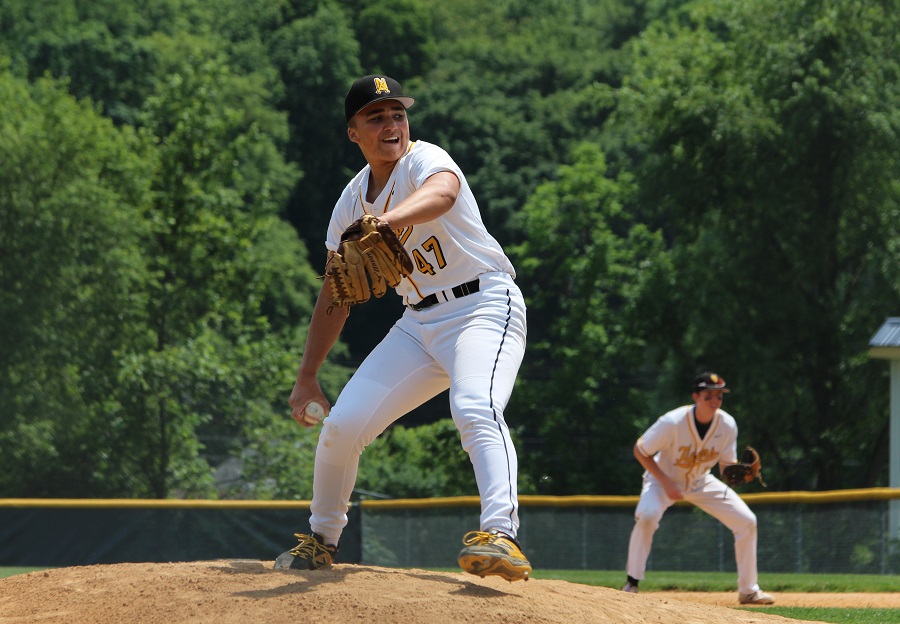 North Allegheny senior relief pitcher Conor Smith will continue his academic and athletic career at California University of Pennsylvania. Smith announced his verbal commitment via Twitter on Saturday.
Im excited to announcement my commitment to pitch at California University. I'd like to thank my family, friends, coaches, and Coach Conte and Noro for helping me get to this position. Roll Vulcs! @natigerbaseball next stop, State chip @PVSbaseball @PBRPennsylvania pic.twitter.com/eVFSBSYMbC

— Connor Smith (@connorr_s61) November 20, 2021
Smith appeared in five games out of the bullpen for the WPIAL champion Tigers last season. In nine innings, Smith went 0-0 with a 4.67 ERA. He struck out 19 batters while only walking three.
Smith and the Tigers will open the 2022 season on March 26 vs. Connellsville.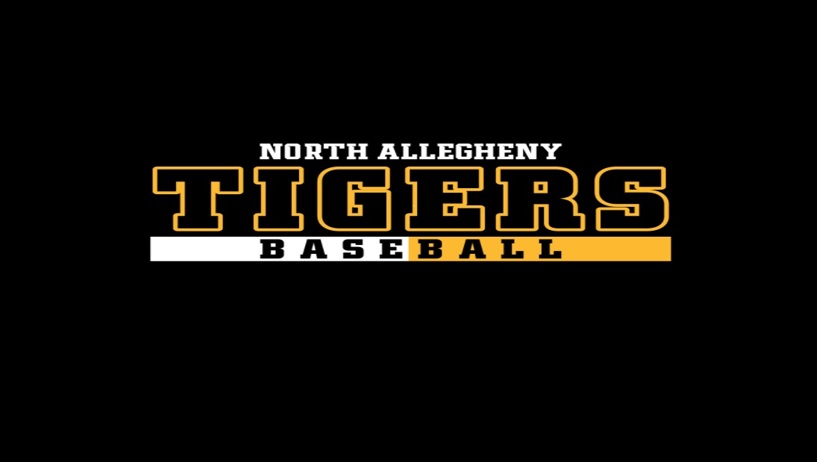 North Allegheny junior Andrew Hart has verbally committed to play collegiate baseball at Army West Point. Hart made the announcement via twitter on Sunday.
Honored to announce that I will be furthering my academic and athletic career while beginning my military career at Army West Point. Thanking God and all who have helped me throughout this journey. #GoArmyBeatNavy @11Hammer11 @USElitebase @DanCevette @natigerbaseball pic.twitter.com/cYwXyCOOAt

— Andrew Hart (@AndrewHart1523) November 14, 2021
Over the summer, Hart was named the Player of the Game of the Prep Baseball Report Futures Game. Hart belted a grand slam to propel Team Pennsylvania to an 8-6 win over Team Canada.
Hart is expected to be a significant contributor to the reigning WPIAL champions this upcoming spring. The Tigers open the regular season on March 26, 2022 against Connellsville.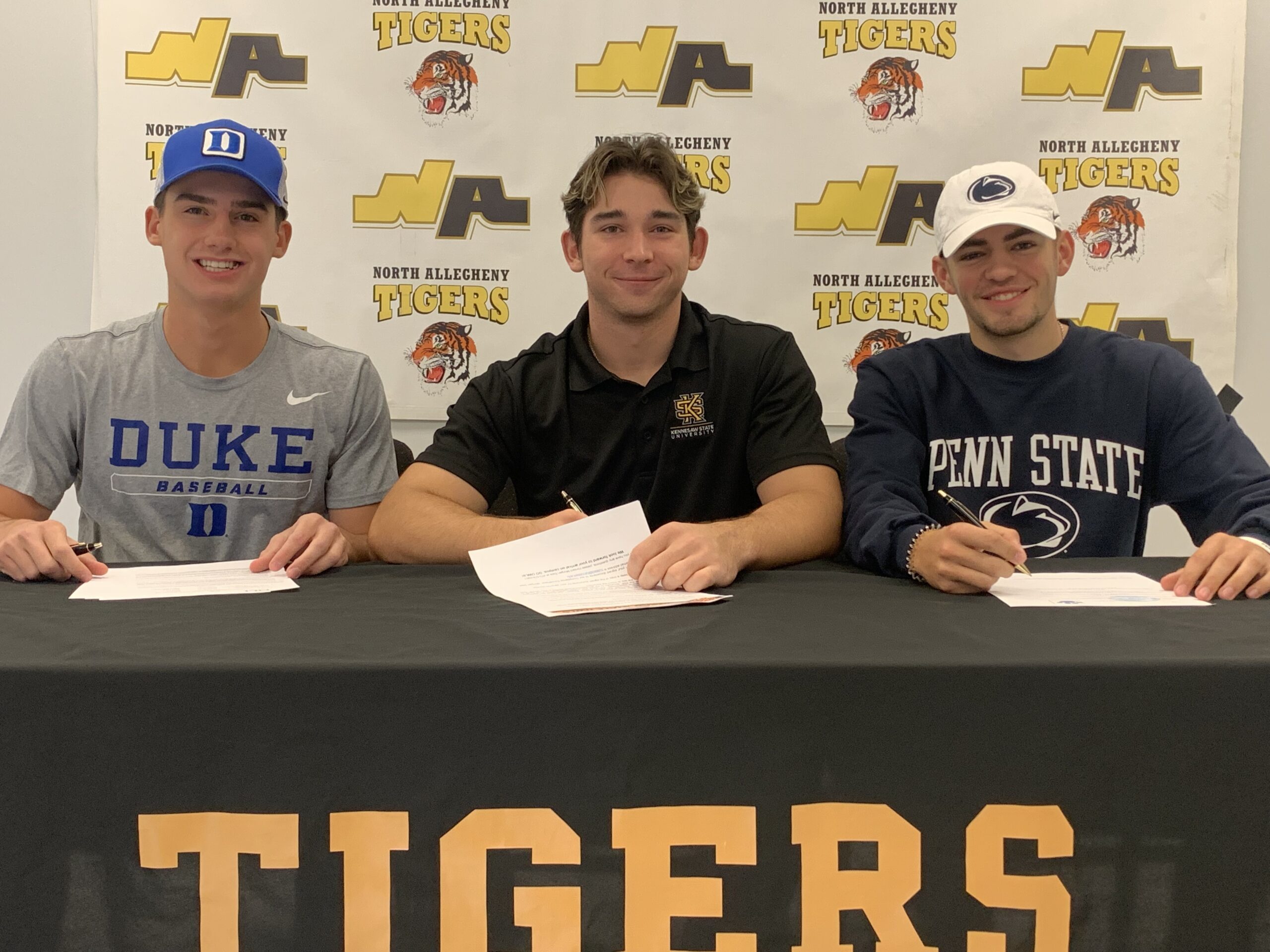 Three North Allegheny senior baseball players made their college commitments official on Wednesday morning. Shortstop Cole Young (Duke University), catcher Aaron Posey (Kennesaw State) and pitcher Jack Baumgartel (Penn State Behrend) all signed their letters of intent to play collegiate baseball.
Considered to be one of the top shortstops in the country, Young was named the Class 6A Baseball Player of the Year in 2021 by the Pittsburgh Post-Gazette and Trib Live High School Sports Network. A two-time Rawlings/Perfect Game 1st Team Preseason Underclass All-American, Young batted .437 as a junior with six home runs, 33 runs, 23 RBI and posted an OPS of 1.453. He also combined for 15 double plays with a fielding percentage of .952. Despite losing his sophomore due to the COVID 19 pandemic, Young boasts a .426 career batting average with nine homers and 49 RBI. As a rookie in 2019, Young was the first freshman to ever be named to the Post-Gazette's All-Area Team.
Posey was a first-team all-section backstop for the Tigers in 2021 and has twice been selected as a Rawlings/Perfect Game Atlantic Region All-High School Underclass Honorable Mention. One of the top catchers in the region, Posey threw out 12 of 19 base runners attempting to steal and committed only one error all season. A tremendous receiver for the NA pitchers, Posey played a pivotal role for a staff that posted a 1.65 ERA. At the plate, Posey bolstered the lineup with a .305 average, two home runs and 13 RBI. One of his best games of the season came against Warwick in the PIAA first round, going 3-for-4 with two RBI and an opposite field home run to spark a 13-4 victory.
Both Young and Posey played a prominent role in North Allegheny's outstanding 2021 season. The Tigers went 23-4, capturing a record eighth WPIAL championship and reached the PIAA title for the first time since 2000.
Expected to contribute on the mound for the reigning WPIAL champs this upcoming season in 2022, Baumgartel was the staff ace on the JV team a season ago with a 3-0 record and 2.25 ERA. He allowed just six earned runs in 18.2 innings and struck out 19 batters, averaging over one punch out per inning. Baumgartel will join a Penn State Behrend program that went 27-13 last season and won the Allegheny Mountain Collegiate Conference championship. PSU-Behrend also won a pair of games at the NCAA Regional Tournament before eventually bowing out to regional host Marietta.
Young, Posey, Baumgartel and the rest of the NA baseball team will open the regular season on March 26, 2022 against Connellsville.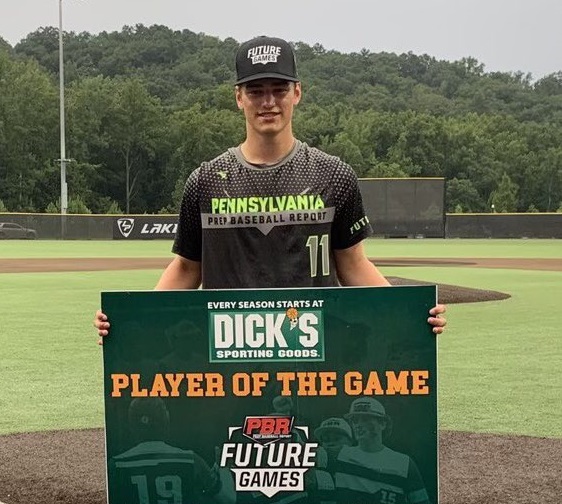 North Allegheny incoming junior Andrew Hart participated in a national event involving some of the top prospects in the country this weekend and was named the Player of the Game of the Prep Baseball Report Futures Game. Hart belted a grand slam to propel Team Pennsylvania to an 8-6 win over Team Canada.
👀 OPPO. SLAM. 👀 @AndrewHart1523 (@natigerbaseball) did that for @PBRPennsylvania. @prepbaseball | #PBRFG21 pic.twitter.com/FAiMTTtF6f

— LakePoint Sports (@LakePointSports) August 1, 2021
The PBR Futures Games were held from July 28-31 at LakePoint in Emerson, Georgia. The Prep Baseball Report Future Games is the premier summer scouting event for Class of 2023 prospects and select 2024 prospects. In years past, more than 300 college coaches from all over the country were in attendance.
Also, over the weekend, North Allegheny incoming senior Cole Young led Team Light Blue to the 2021 PDP (Player Development Pipeline) League Championship on Saturday. Young went 1-for-2 with two runs and a first-inning RBI triple to pace Team Light Blue to a 6-2 win over Team Gray.
Cole Young, a 2022 Draft prospect and @DukeBASE commit, hits the gap for an RBI triple in the #PDPLeague21 championship game.

Watch live: https://t.co/VWcH6Yt80z pic.twitter.com/EMpbCtwGpR

— MLB Pipeline (@MLBPipeline) July 31, 2021
The championship game capped a week of baseball at the USA Baseball Training Complex in Cary, North Carolina. For a box score of Saturday's championship game, click here.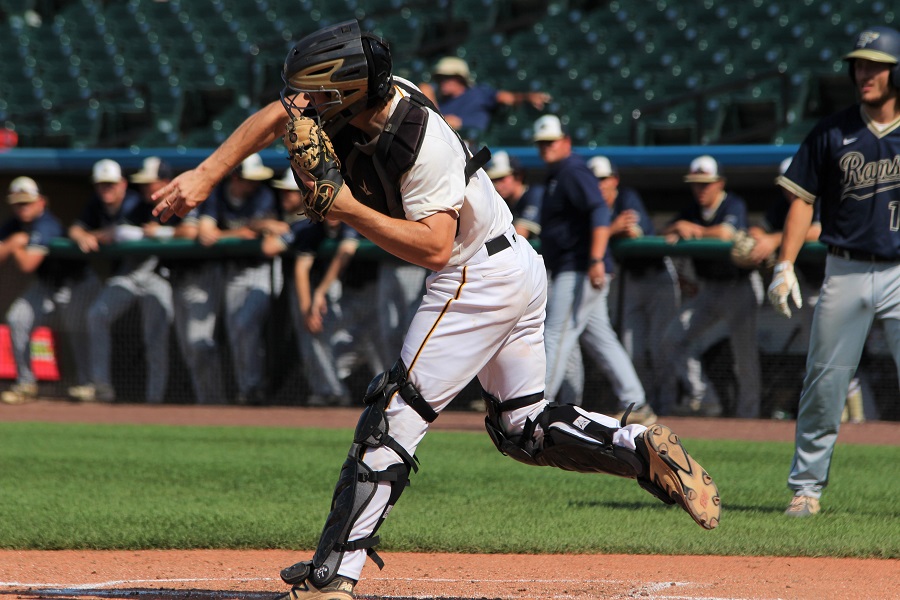 North Allegheny catcher Aaron Posey will continue his athletic and academic career at Kennesaw State University. Posey announced his commitment to the Georgia school in the Atlantic Sun Conference via Twitter on Wednesday.
I am grateful and blessed to announce my commitment to kennesaw State University to further my academic and athletic career. I would like to thank my parents, coaches, and teammates who have helped me through this process. #GoOwls! @TOPSbaseball pic.twitter.com/tP1sg8vTLQ

— Aaron Posey (@aaron28posey) July 14, 2021
Posey was a first-team all-section pick by the Big 56 Conference this spring, sporting a .305 batting average with two home runs and 13 RBI. In the opening round of the PIAA playoffs vs. Warwick, Posey matched a season-high with three hits and poked an opposite field home run over the right field fence to help spark a 13-4 victory.
A tremendous receiver behind the plate, Posey played a pivotal role as the NA backstop for a pitching staff that finished the year with a 1.65 ERA. Displaying a strong throwing arm, he threw out 12 of 19 base runners who dared attempt to steal against him.
With the help of Posey, North Allegheny posted a 23-4 record this season with a WPIAL Class 6A championship and a PIAA title game appearance.
At Kennesaw State, Posey will join a program that went 29-22 during the 2021 season and reached the Atlantic Sun Conference championship game. The Owls recently had two players selected in the Major League Baseball Draft this past weekend.
(Photo by Megan Manesiotis.)