View Game Summaries For
2021-2022 Game Summaries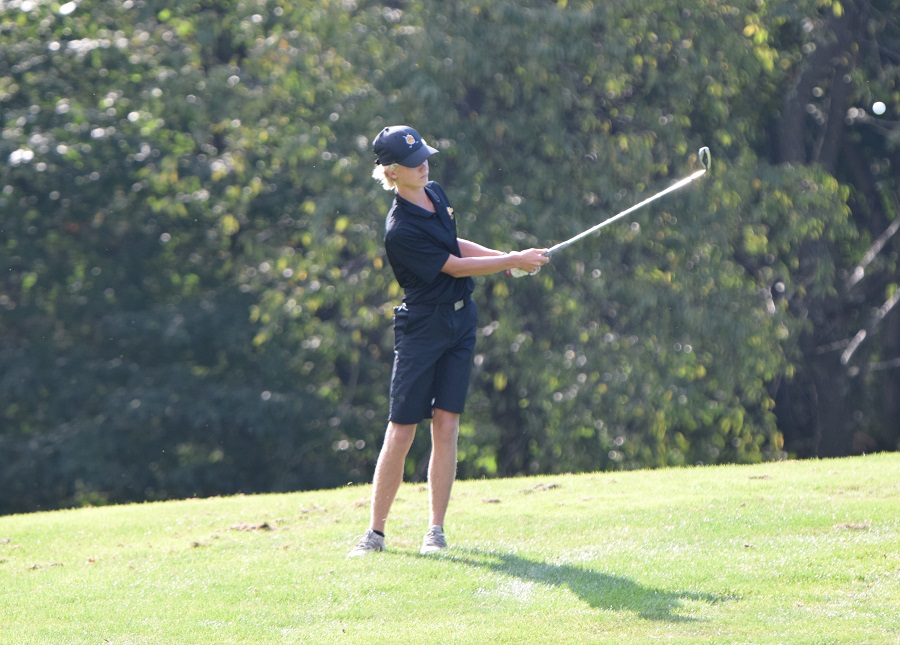 Concluding a phenomenal freshman season at North Allegheny, Chris Hoffman participated in the WPIAL Class AAA individual championship on Tuesday and shot an 88 at Nemacolin Country Club in Beallsville. The 88 wasn't quite good enough to make the cut for the PIAA individual finals but it didn't put a damper on a fine season by the NA rookie. Hoffman shot a 45 on the first nine holes and carded a 43 on the back nine. He was one of 36 golfers who competed at the event.
Penn-Trafford sophomore Nick Turowski took home gold with an even par 70. For a look at the entire scorecard, click here.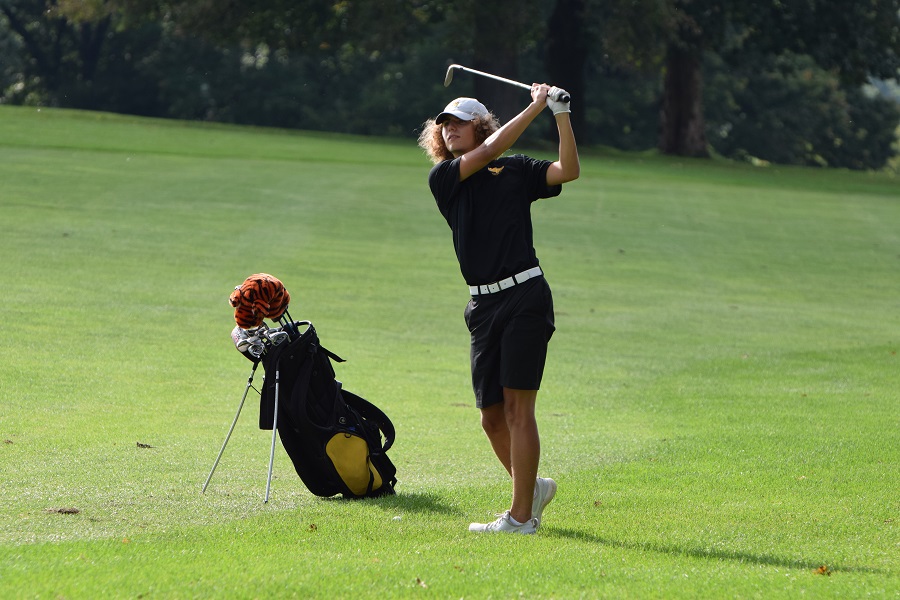 The North Allegheny boys' golf team traveled to St. Clair Country Club on Friday afternoon for a tri-match with Thomas Jefferson and Upper St. Clair. The Tigers earned a pair of victories by posting a team score of 190, followed by Upper St. Clair's 196 and Thomas Jefferson's 218.
Junior Ethan Byrne was the clubhouse leader with an even par 34. Helping NA's efforts was freshman Chris Hoffman with a 38, followed by a pair of 39's from junior Chris Rhoten and sophomore Jake Watterson. Senior Dylan Fitzgerald and sophomore Colin Wang each shot a 40 to round out the scoring.
North Allegheny concludes the team portion of the season with an overall record of 12-8. Hoffman continues the individual leg of the campaign at the WPIAL individual finals on Tuesday at Nemacolin Country Club.
Match Summary
NA - 190
USC - 196
TJ - 218
NORTH ALLEGHENY
SCORE
UPPER ST. CLAIR
SCORE
THOMAS JEFFERSON
SCORE
Ethan Byrne
34
Ben Imling
40
Colin Liang
49
Chris Hoffman
38
Johnny McShane
43
Ashton Kahler
49
Curtis Rhoten
39
Kyle Summer
39
Hayden Fisher
44
Jake Watterson
39
Connor McCallister
39
Cody Orchard
42
Dylan Fitzgerald
40
Neil Joon
41
Joe Gadenzie
40
Collin Wang
40
PJ Davin
37
Colby Phlume
43
TOTAL
190
196
218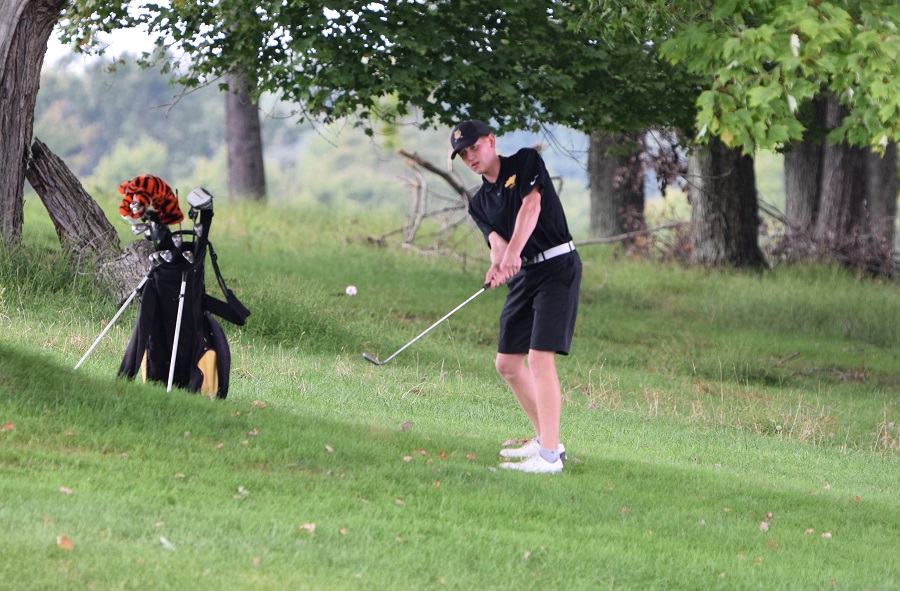 The North Allegheny boys' golf team concluded its section slate on Wednesday afternoon with a 200-240 win over North Hills at North Park Golf Course.
A pair of 38's from sophomore Jake Watterson and Curtis Rhoten led the way for North Allegheny. Seniors Flynn McGurrin and Dylan Fitzgerald shot a pair of 41's and freshman Chris Hoffman closed out the scoring with a 42.
North Allegheny improves to 10-8 overall and finishes section play with a 7-5 mark. The Tigers conclude the regular season on Friday at Upper St. Clair.
Match Summary
NORTH ALLEGHENY- 200
NORTH HILLS - 240
NORTH ALLEGHENY
SCORE
NORTH HILLS
SCORE
Chris Hoffman
42
Connor McCarthy
52
Flynn McGurrin
41
Tyler Manfred
43
Collin Wang
46
Peter Lukas
52
Dylan Fitzgerald
41
Ella Snyder
51
Jake Watterson
38
Will Blass
46
Curtis Rhoten
38
Andrew Green
52
TOTAL
200
240
Ethan Byrne
38
Joe Drum
44
Grant McKissock
44
Peyton Wood
44
Jackson Talerico
41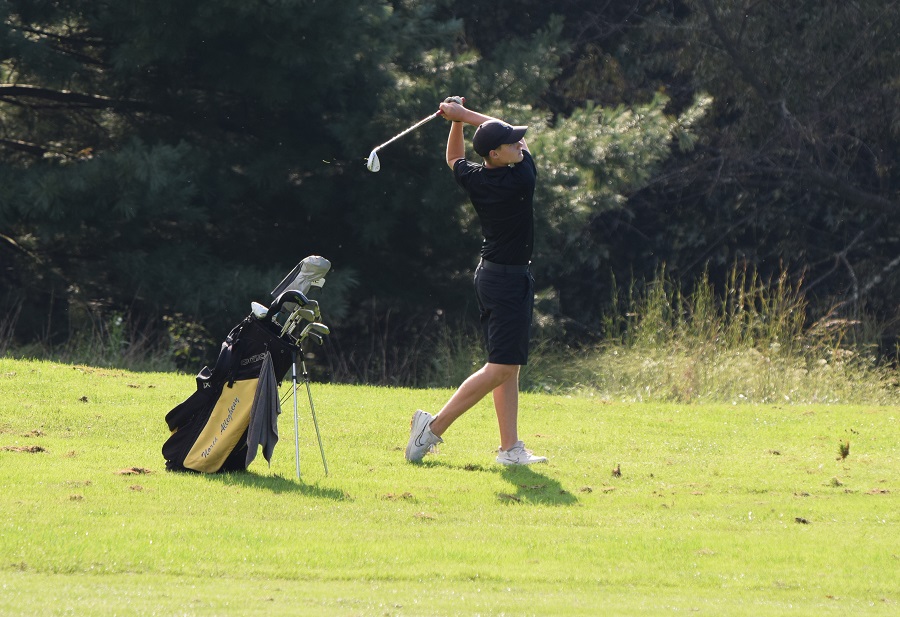 Coming off a big section win at Butler last week, the North Allegheny boys' golf team parlayed that momentum into an exciting 207-207 win over Mars in a two-hole playoff. Back-to-back victories over teams ahead of them in the standings has wreaked havoc at the top of the standings. The Planets fall into a three-way tie for first place with Butler and Seneca Valley. The Tigers sit in fourth place.
Tied 207-207 after nine holes, it took a two-hole playoff to decide Monday's meeting with Mars. Freshman Chris Hoffman and sophomore Jake Watterson went head-to-head with the Planets' Blake Bartolo and Ryan Steigerwald and emerged with a one-stroke win. Hoffman and Watterson also each shot a 40 to pace the Tigers during regulation.
Contributing to the NA victory were Ethan Byrne and Collin Wang with a 41 and 42, respectively. Flynn McGurrin and Peyton Wood each shot a 44. Mars was led by Blake Bartolo with a 38.
North Allegheny leaps to 9-8 overall and 6-5 in section play. The Tigers will visit North Hills on Wednesday, a team they beat by 32 strokes earlier in the season, on the final day of section play.
Match Summary
NORTH ALLEGHENY- 207
MARS - 207
NORTH ALLEGHENY
SCORE
MARS
SCORE
Chris Hoffman
40
Blake Bartolo
38
Collin Wang
42
Ryan Steigerwald
39
Flynn McGurrin
44
Raghav Kalbhor
45
Peyton Wood
44
James Bromley
46
Jake Watterson
40
Wes Scurci
43
Ethan Byrne
41
Will Cambel
42
TOTAL
207
207
Curtis Rhoten
40
Grant McKissock
38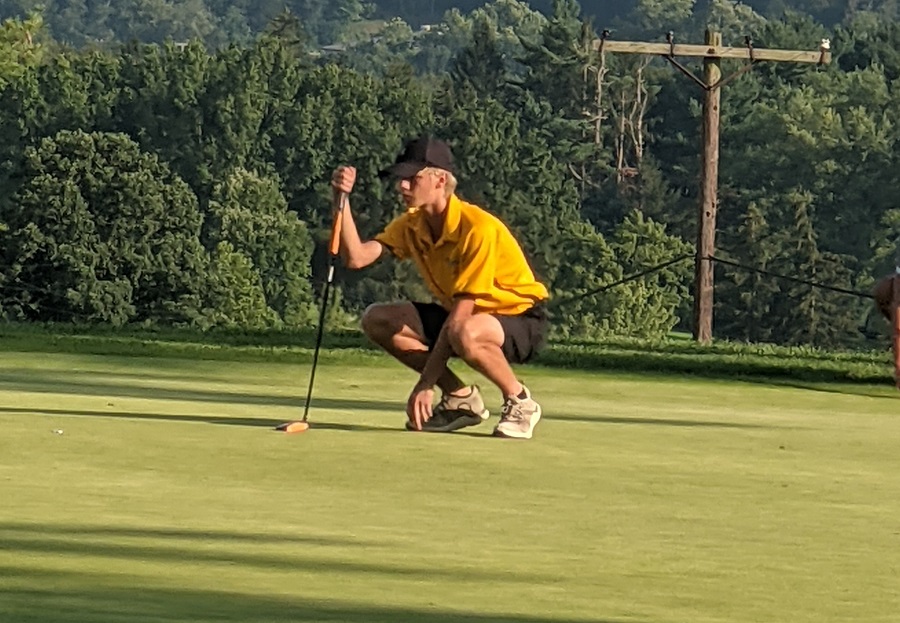 North Allegheny freshman Chris Hoffman continued his outstanding rookie season by advancing to the WPIAL individual finals. Hoffman shot an 81 at the WPIAL individual semifinal on Monday at Willowbrook Country Club. His score was in the top 36 out of a field of 72. To view the scoreboard from Monday's event, click here.
Hoffman will now take part in the WPIAL individual final on Oct. 5 at Nemacolin Country Club. The top 14 of 36 will move on the PIAA championships.