View News For
2020-2021 News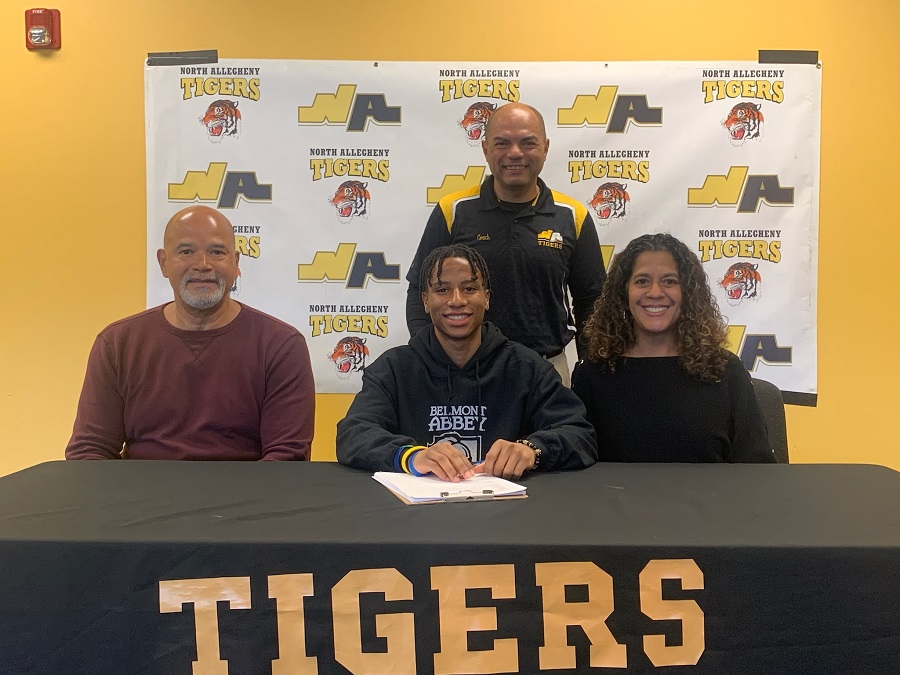 North Allegheny senior Kensly Owens has signed his letter of intent to continue his soccer and athletic career at Belmont Abbey College in North Carolina. Owens signed his LOI to play Division II soccer on Friday.
Owens had a breakout senior season for North Allegheny in the fall of 2020 and scored 14 goals, finishing second on the team. By season's end, Owens was named All-WPIAL and selected first-team all-section by the Big 56 Conference. With the help of Owens, the Tigers appeared in the WPIAL playoffs for an 11th consecutive season and reached the WPIAL quarterfinals before concluding the campaign with a 13-4-1 record.
At Belmont Abbey, Owens will major in Sports Medicine. He is pictured above with his parents Michael and Carmen Owens and North Allegheny assistant coach Carlos Salgado.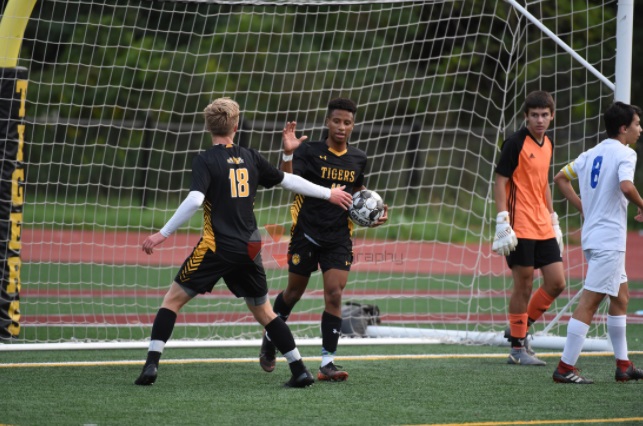 Playing soccer barefoot and on concrete is not the way most three-year old's take an interest in what is the world's most popular sport. However, that's exactly how Kensly Owens, and his older brother Stanley, began playing soccer with the humblest of beginnings in Haiti.
"In Haiti, (soccer) was pretty much all we had," said Kensly Owens. "I grew up in an orphanage with my older brother, and a lot of older friends, and that's what we did all the time."
On January 12, 2010, life for the Owens brothers took a turn when a magnitude 7.0 earthquake struck Haiti. The temblor killed approximately 250,000 people on the island nation and left 1.5 million others displaced. With the orphanage left badly damaged from the quake, a rescue flight brought dozens of children, including the Owens brothers, to the United States. Approximately a year later, at eight-years old, Kensly and his older brother Stanley were adopted by Michael and Carmen Owens of Pittsburgh.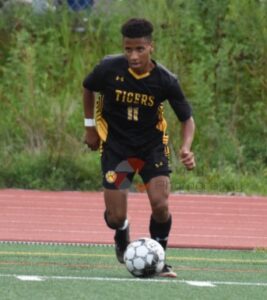 "When I came to the United States, right away I noticed that you could do so many more things. Whenever I was adopted, my parents put me into a whole bunch of different sports that shaped me into what I am today."
One of the sports that Kensly's step-siblings excel in is track and field. Older brother Ayden, who is currently a junior at the University of Michigan, was a four-time All-American at North Allegheny and is regarded as one of the top athletes to ever come out of the WPIAL. Kensly's older sister Melina is a junior track and field standout at Kent State.
While Kensly dabbled in track, cross country, football and basketball in middle school, it was the sport he fell in love with back in Haiti that remained his favorite.
"I think that playing all those sports made me realize that soccer is what I wanted to do. My brother and sister, of course, they looked forward to track but I didn't as much. When soccer season came around, that's what I looked forward to most."
In high school, Kensly Owens' soccer career gained traction at North Allegheny and the Arsenal FC Academy. After making the varsity roster as a junior at NA, Kensly Owens had a breakout season as a senior and netted 14 goals, finishing second on the team.
"When he is on his game, he is a joy to watch," said North Allegheny head coach Bobby Vosmaer. "He has a great nose for scoring."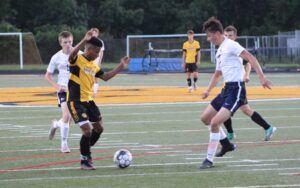 With sleek moves and deft footwork, Kensly Owens' knack for scoring was on full display on Senior Night on Sept. 24 against North Hills at Newman Stadium. In a dazzling performance, Owens tallied four goals, all in a 20-minute span in the first half.
By season's end, Kensly Owens' big year earned him All-WPIAL honors.
"It means a lot," said Kensly Owens of being named All-WPIAL.  "The fact that the hard work I put in, in the offseason allowed me to gain recognition from other coaches was really humbling. I appreciated it a lot."
While the high school soccer season was unfazed by COVID-19, the pandemic did cut short his club season last spring and has again hampered his club tournament schedule this winter. Kensly Owens has not yet committed on a college but is planning on playing soccer at the collegiate level next fall. In college, he plans to study Sports Medicine and hopes to be a Sports Physician one day.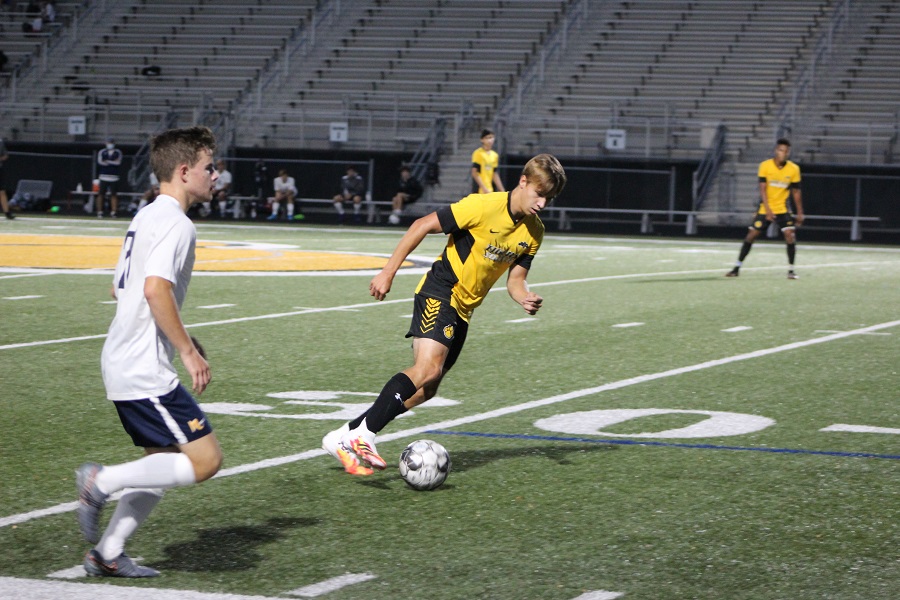 The Big 56 Conference announced its all-section teams on Friday afternoon and six Tigers earned all-section accolades, including two first-team members.
Senior forward Kensly Owens and junior forward Evan Anderson were both named first-team All-Section 1 by the Big 56, just weeks after receiving All-WPIAL laurels as well.
Earning second-team all-section accolades were senior midfielders Zoha Peterson and Jonathan Swann, and senior defenseman Max Kress. Senior midfielder Will Stasko garnered all-section honorable mention recognition.
All six players made significant contributions toward North Allegheny's 13-4-1 season in 2020 and an 11th consecutive berth in the WPIAL playoffs.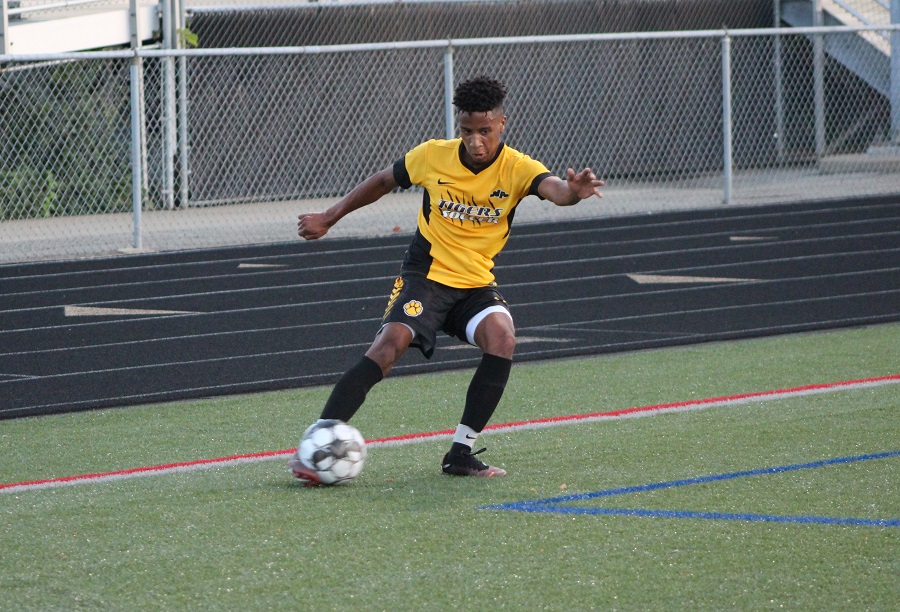 Two members of the North Allegheny boys' soccer team were named to the All-WPIAL Team in Class 4A by the Western Pennsylvania Soccer Coaches Association on Thursday. Junior forward Evan Anderson and senior forward Kensly Owens were both honored as All-WPIAL selections by the WPSCA.
Anderson was North Allegheny's leading scorer during the 2020 season with 15 goals and finishes his career with 22 markers. Giving opponents another scoring threat to worry about, the speedy Owens was second on the team with 14 goals, giving him 18 in his NA career.
With the help of Anderson and Owens, the Tigers appeared in the WPIAL playoffs for an 11th consecutive season and reached the WPIAL quarterfinals before concluding the campaign with a 13-4-1 record.
For a look at the entire All-WPIAL Team in Class 4A, see below.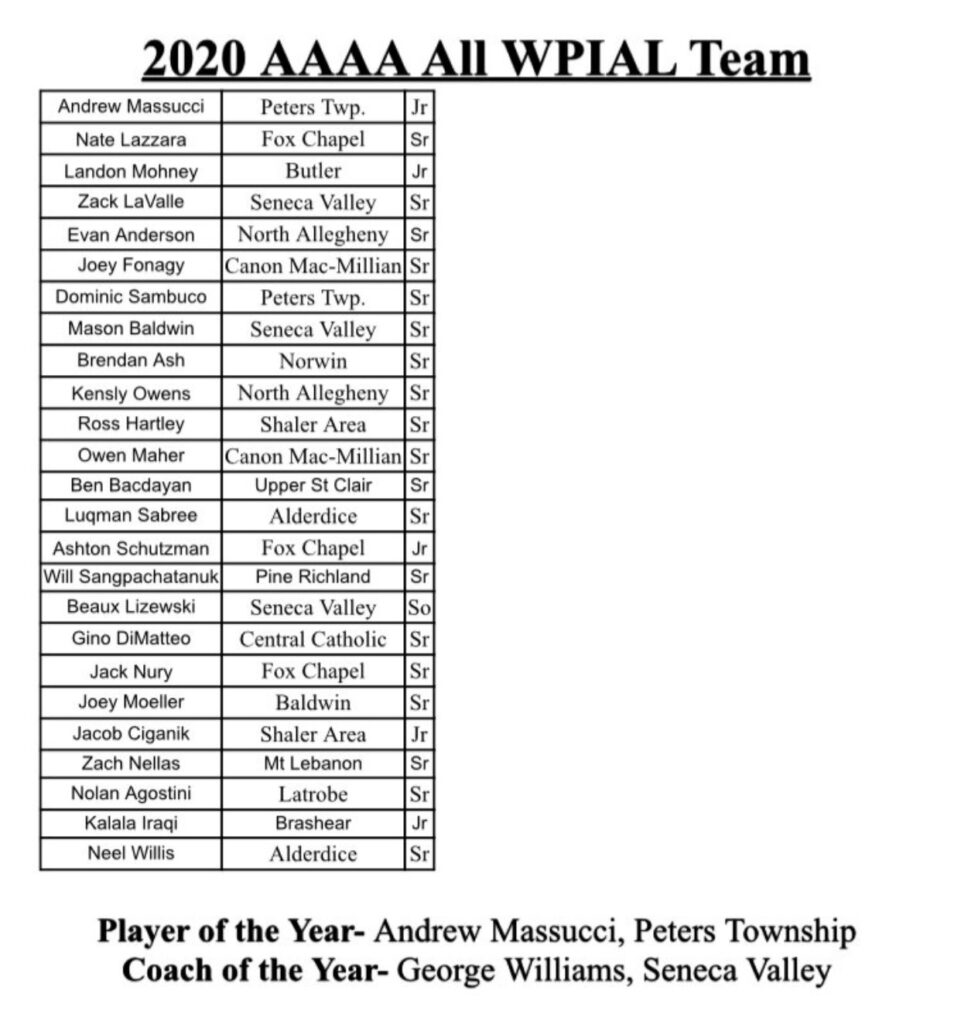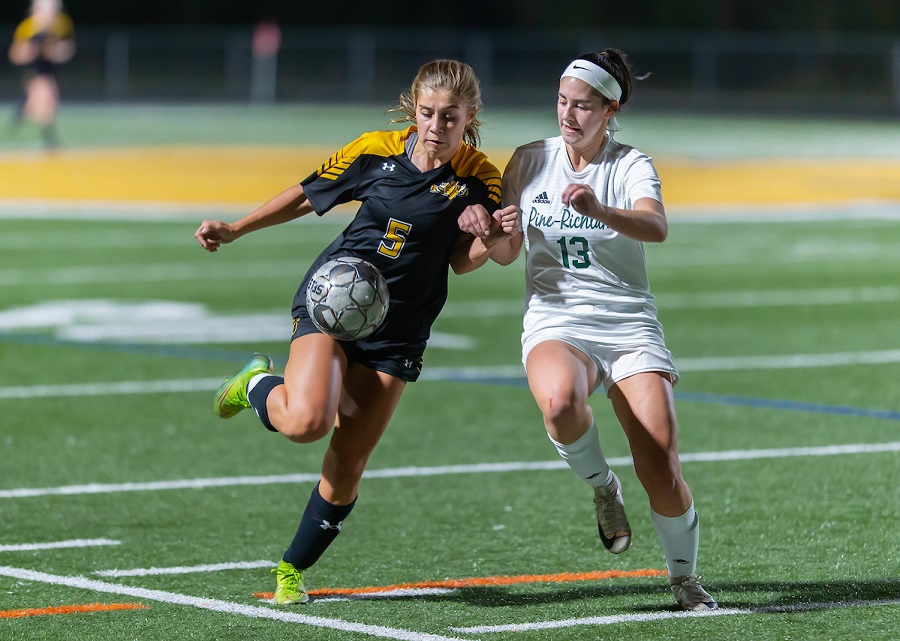 The WPIAL soccer playoff brackets were released on Wednesday. The North Allegheny girls' soccer team received the No. 5 seed and will host the 12th-seeded Bethel Park Black Hawks on Monday, Oct. 26 at 6:30 p.m. in the WPIAL first round. The North Allegheny boys' soccer team received the No. 6 seed and will host 11th-seeded Allderdice on Tuesday, Oct. 27 at 8:00 p.m. For a look at the brackets, click here.
The North Allegheny Sports Network will have audio broadcast coverage of every playoff game.