View Game Summaries For
2017-2018 Game Summaries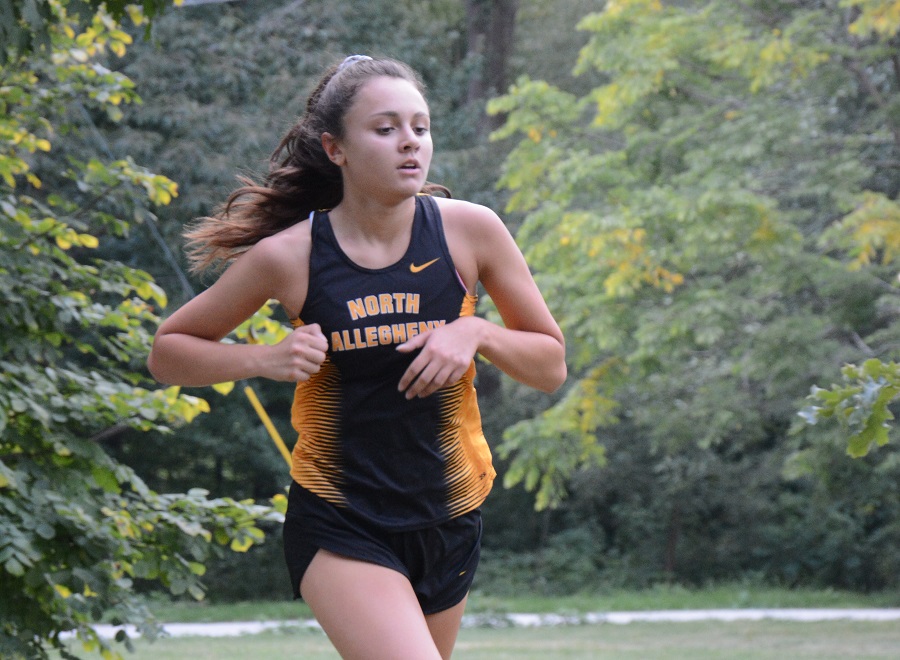 NAXC hosted the Seneca Valley Raiders and the Hampton Talbots at the North Park Course. It was a great weather day for the meet and many NAXC runners ran life-time or season-best performances.
The girls clinched the WPIAL Section 3-AAA title with a dominant victory over Seneca Valley (21-36) and a perfect score over Hampton (15-50).  Leading the way was Clara Savchik with a solid run. She was followed closely by Hannah Lindgren who ran a very strong race. Coming in third through fifth for NA with outstanding races were Ally Christy, Caroline Daggett and Jenna Mlecko. Ally Meehan and Taylor Rechenmacher rounded out the top seven for the section champs.
The boys team beat Hampton (16-46), but fell short to the Seneca Valley Raiders (31-24). Dan McGoey led the way with a record shattering performance. He beat his own course by 43 seconds with a 15:05 on the three mile course.  Running an outstanding race was Cam Phillips who came in fourth overall. Not too far behind Phillips was Luke Turkovich (7th) and Stephen Nalepa (9th). Rounding out the scoring was Ethan James (11th).
The next competition for the North Allegheny cross country team is the Slippery Rock Invitational next Saturday.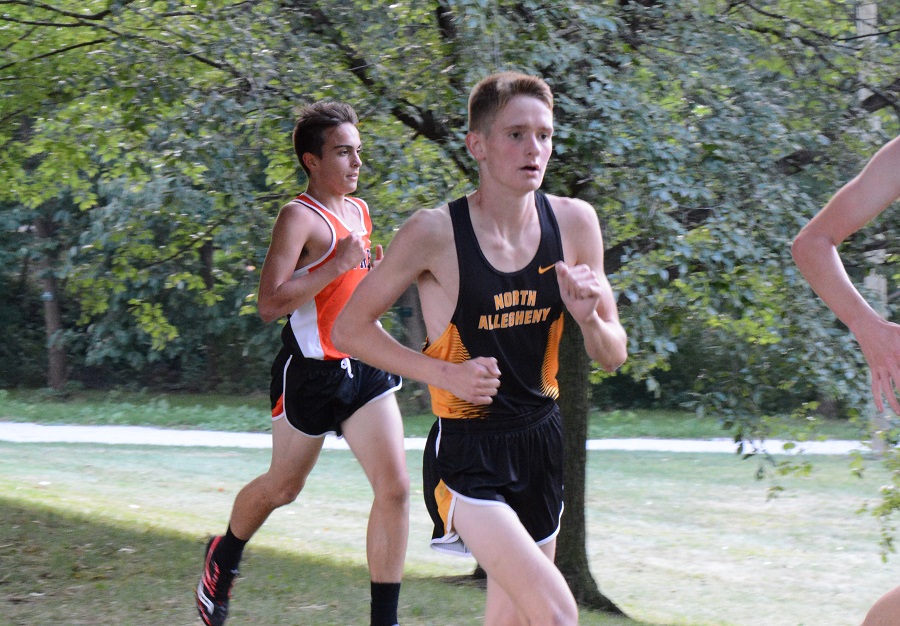 NAXC ran well against Pine Richland and Mars Area on Tuesday for a pair of section wins. The girls defeated PR, 20-39, and Mars, 21-39. The boys defeated PR, 22-39, and Mars, 23-38.
Top NA finishers on the girls side (in order) were Hannah Lindgren, Ally Christy, Taylor Rechenmacher, Jenna Mlecko, Janet Wang, Keeley Misutka, and Tess Christensen.  On the boys side it was Ethan James, Cam Phillips, Dan McGoey, Stephen Nalepa, Kelso Fiedler, Luke Turkovich and Andrew Kollitz.
NAXC will host Seneca Valley and Hampton next Tuesday  to decide who will take the section title.
NAXC faced off against section adversaries North Hills and Shaler Area at North Park.  Both teams came away with dominant performances against both opponents.
The Lady Tigers had a perfect score (15-50) against the Indians and won 17-46 against the Titans.  Clara Savchik, Hannah Lindgren and Ally Christy grabbed the top three spots.  Ally Meehan took 5th overall and freshmen Taylor Rechenmacher, Keeley Misutka and Stefanie Cwalina had great races, taking sixth through eighth.
The boys beat the Indians 19-35 and the Titans 20-43. Shaler took the first individual spot, but was closely followed by NA's Ethan James. North Hills top runner came in next (3rd), then it was a stampede of Tigers taking spots 4-15. Scoring for the Tigers were Andrew Kollitz (freshman), Cam Phillips (senior), Kelso Fiedler (sophomore), Stephen Nalepa (sophomore), James Huber (sophomore) and Brendan White (junior).
NAXC travels to Hershey, PA this weekend to compete against some of the best teams in the state at the PIAA Foundation Invitational.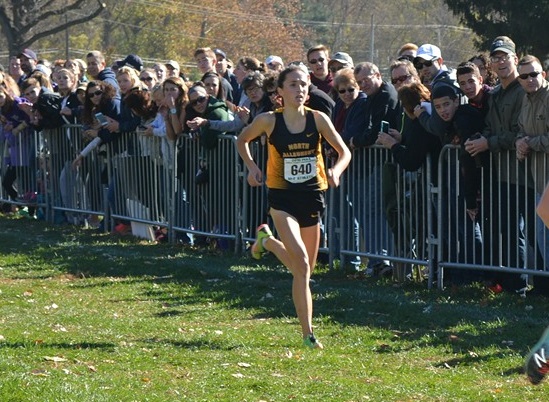 The North Allegheny cross country team took part in the PIAA Foundation Meet in Hershey this weekend.
The NA boys took fifth place at the event, led by sophomore Daniel McGoey who captured a silver medal with a second-place showing. Section rival Seneca Valley took first place at the Foundation Meet with a team score of 103. The Tigers tallied a team score of 205. For a look at all of the scores, click here.
The Lady Tigers garnered an eighth-place finish and were led by junior Clara Savchik who took home a bronze medal. Also finishing in the top 10 was sophomore Hannah Lindgren who clocked in with an eighth-place effort. For all of the girls times at the PIAA Foundation Meet, click here.
The North Allegheny cross country team returns to action on Tuesday with a home meet against section foes Pine-Richland and Mars.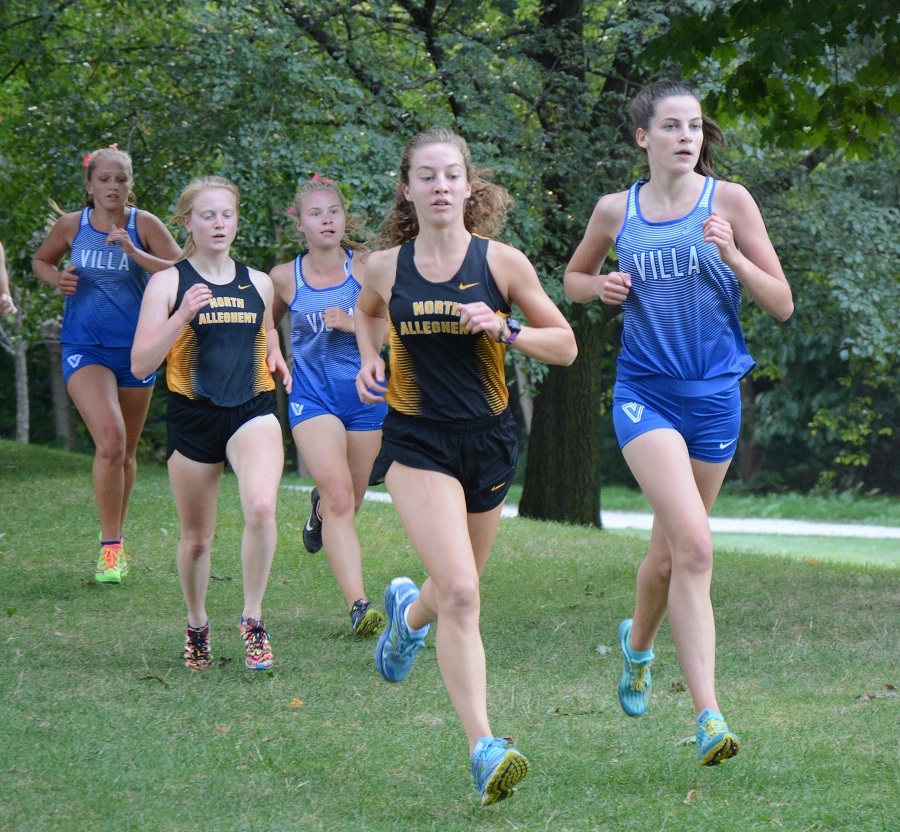 The North Allegheny cross country team traveled to Boardman, Ohio on Saturday to compete in the Spartan Invitational against some of the best teams in Ohio and the Tri-State area.
The NA Boys finished seventh at the invitational with a team score of 344 and was led by sophomore Daniel McGoey who placed fifth overall. For complete results, click here.
The Lady Tigers finished in sixth place with a team score of 221. Junior Clara Savchik delivered another terrific performance and came away with a bronze medal. Sophomore Hannah Lindgren ran well and clocked in with a 14th place finish. For complete results, click here.
The North Allegheny cross country team will visit North Hills on Tuesday for a tri-meet with the Indians and Shaler Titans.