View Game Summaries For
2019-2020 Game Summaries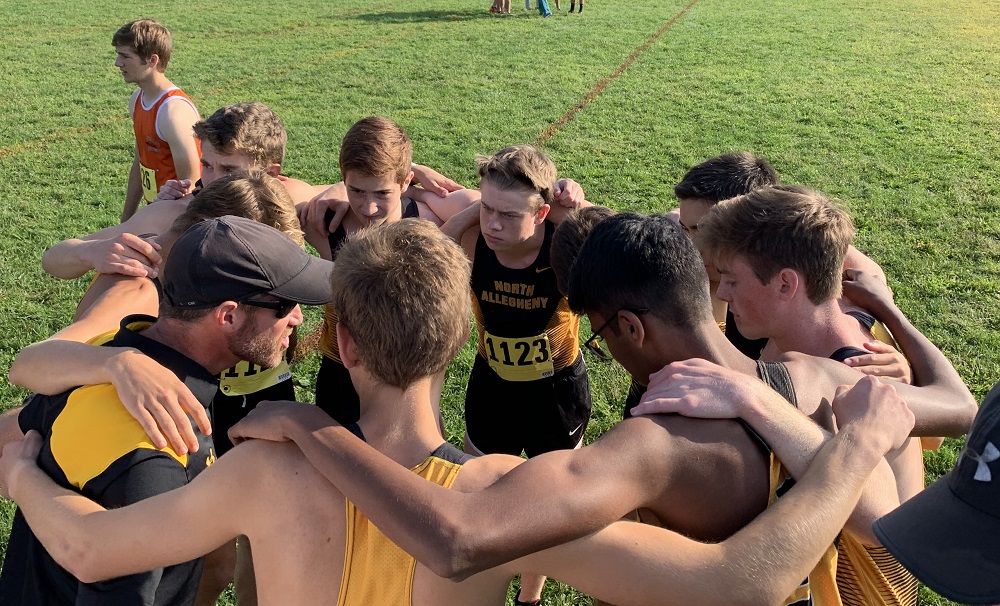 NA cross country ran against Pine-Richland and Hampton at Eden Hall Chatham University on Tuesday afternoon. The boy's crushed the competition winning both meets easily while the girl's, who were missing three of their top five runners, handled Hampton but lost to the Rams on their home turf.
The Tiger boys were led by Drew Kollitz who came in 2nd, Graham Wolfe got 3rd and Connor Foody got 4th. Jackson Hickel, Ryan Podnar, Stephen Nalepa and Gregory Kossuth came in 5th, 6th, 7th and 8th respectively. The boys had a perfect score against Pine-Richland, 15-50, and beat Hampton, 20-43.
The girls were led by Hannah Lindgren who won the race, Jenna Miecko came in 4th, Maura Miecko got 5th, Emily Thompson came in 9th and Katie Ranallo got 11th. Hannah Spellman and Julia Gallagher got 12th and 15th respectively. The Lady Tigers beat Hampton with a perfect score, 15-50, and lost to Pine-Richland, 26-30.
The Tigers will travel to Hershey next week for the PIAA Foundation Meet.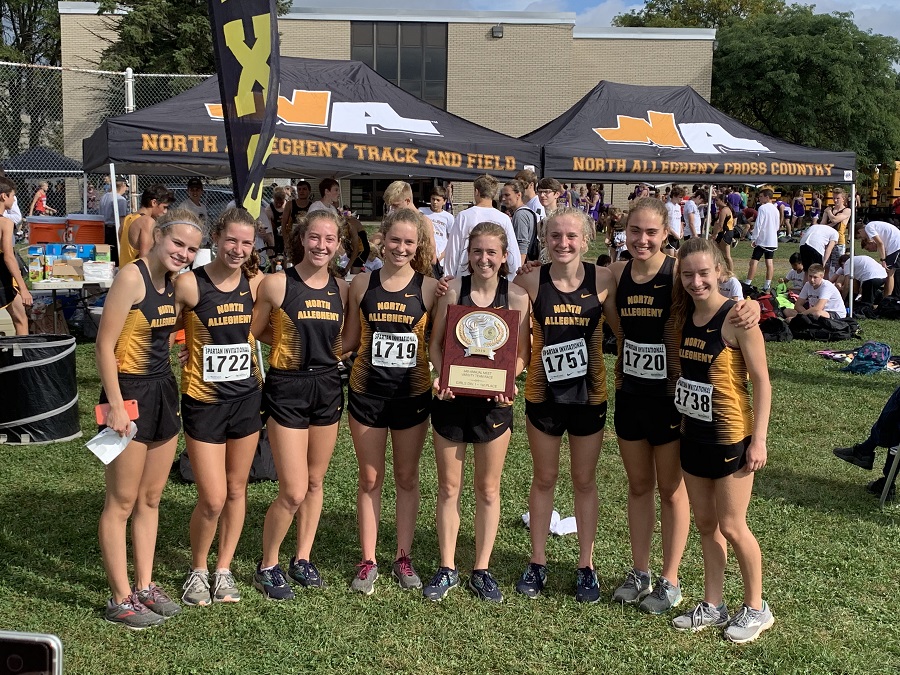 North Allegheny cross country teams traveled to Ohio for the Boardman Spartan Cross Country Invitational.  The Lady Tigers ran away with from the competition, taking first place out of the 35 large school teams who participated in the event. The NA boys placed fourth in what turned out to be a tight race for the top four teams. Only 31 points separated first through fourth place.
The NA girls team continued their unbeaten streak, winning the Spartan invitational with 124 total points and a 30-point margin victory over second.  Having a breakout race and pacing the Tigers was junior star Keeley Misutka (5th place overall finish).  Lexi Sundgren ran very strong, placing 14th overall. Twelve seconds behind Sundgren was Caroline Daggett (23rd overall).  The best runner for the Lady Tigers was Maura Mlecko with a fast 36th place finish.  Jenna Mlecko rounded out the point scorers with a fantastic race (46th). Emily Thompson (86th) and Kara Mihm (94th) battled hard to displace many other teams' top runners.  Complete varsity girls results can be found by clicking here.
On the boys' side, it was Dan McGoey pacing the Tigers with his strongest race of the season (5th place overall).  Drew Kollitz had a nice finishing kick to place second for NA (21st overall).  Graham Wolfe ran well with a 36th overall place finish.  Connor Foody was not far behind Graham, placing 42nd overall.  Kabilan Balasubramani (51st) had a great race, rounding out the point scorers for NA.  Ryan Podnar (55th) and Danny Robles (72nd) helped the team by displacing a lot of other teams point scorers. Complete boys varsity results can be found by clicking here.
North Allegheny will compete at the Chatham Eden Hall course this Tuesday to face off against Pine Richland and Hampton in a section meet.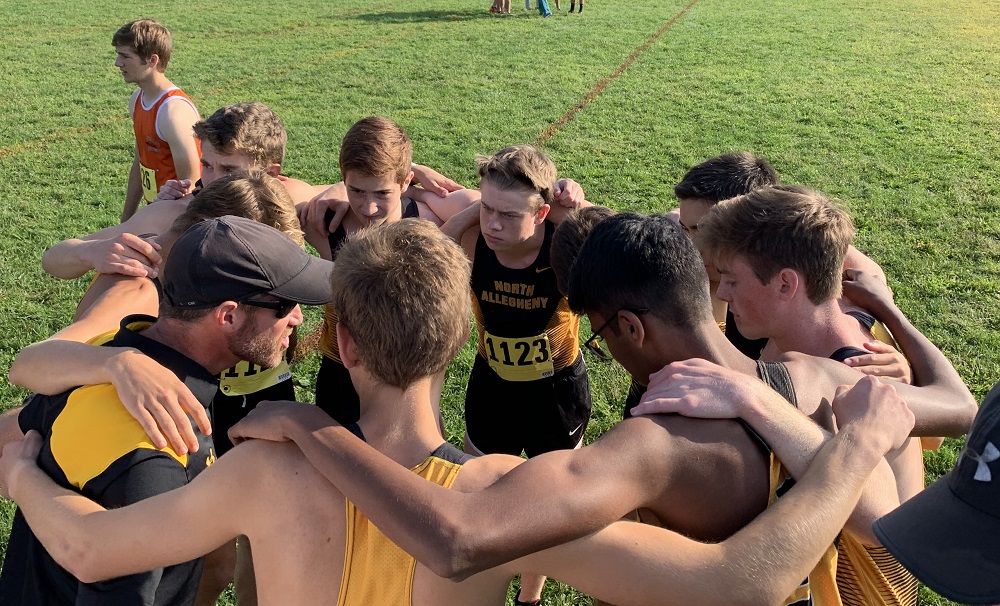 NAXC had their first home section meet of the season at the North Park course. It was a hot afternoon, but both girls and boys prevailed with a dominant performance.
The girls had a perfect score against Mars (15-50), taking the top nine spots in the race.  Leading the Lady Tigers was junior Keeley Misutka. Freshman Lexi Sundgren was runner-up, followed by senior Jenna Mlecko (3rd), sophomore Maura Mlecko (4th), sophomore Kara Mihm (5th), junior Katie Ranallo (6th) and sophomore Sam Waldo (7th).
In the later race, the NA Boys were similarly dominant over Mars with a 20-43 victory.  Mars took the top individual spot and then the tigers followed with the next 25 spots.  Senior Dan McGoey was second, followed sophomore standout Jackson Hickel (3rd), senior Kabi Balasubramani (4th), senior Kelso Fiedler (5th), senior Stephen Nalepa (6th), sophomore Danny Robles (7th) and sophomore Ryan Barry (8th).
Both teams improve to 2-0 (1-0 in the section) and will travel to Boardman, Ohio for their next meet on Saturday at the Spartan Invitational.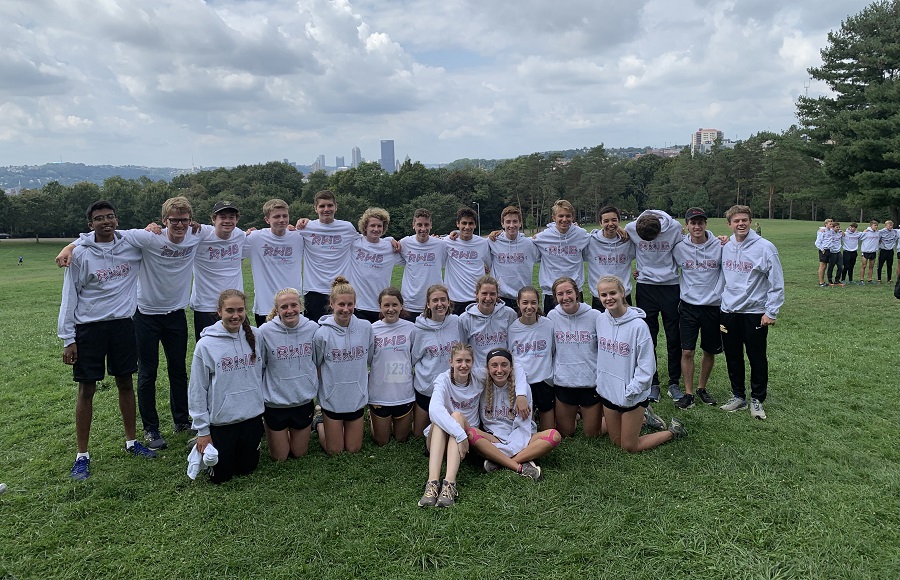 The NAXC teams traveled to Schenley Park Saturday morning for the first invitational of the season.  Conditions were ideal for the 17th annual Red, White & Blue Classic.  The top-ranked Lady Tigers ran away with the title for the second year in a row, while the NA Boys finished as runners-up.
The top-ranked girls team dominated the field of 26 AAA teams with a total score of 57 points, which was 35 points better than the second-place team. NA had seven runners in the top 27 of the race. Hannah Lindgren ran an excellent time (18:37) on the five-kilometer course and paced the Tigers with a sixth-place overall finish.  Keeley Misutka ran a very strong race and was only two spots back in eighth place.  Freshman phenom, Lexi Sundgren, was next with an 11th place effort.  Not too far behind Sundgren was senior Caroline Daggett (15th) and sophomore Maura Mlecko, both running great races.  Senior Jenna Mlecko (26th) and Mazzie Standish (27th) displaced every team's fifth or better in what made for an impressive top seven.
The boys also ran well, taking second place out of the 33 AAA teams.  They were 22 points behind the first-place team, Mount Lebanon.  The Tigers had a tight pack up front with their top three finishing within a half second of each other and taking places 18-20.  Junior Andrew Kollitz was 18th, sophomore Graham Wolfe was 19th and Connor Foody was 20th.  The 4th finisher was sophomore Ryan Podnar who was followed closely by senior Daniel McGoey. Seniors Kabilan Balasubramani and Kelso Fiedler helped displace many opponents, finishing sixth and seventh for the NA respectively.
Complete team and individual results can be found here:  https://pa.milesplit.com/meets/362821/results#.XXRKliUpCEf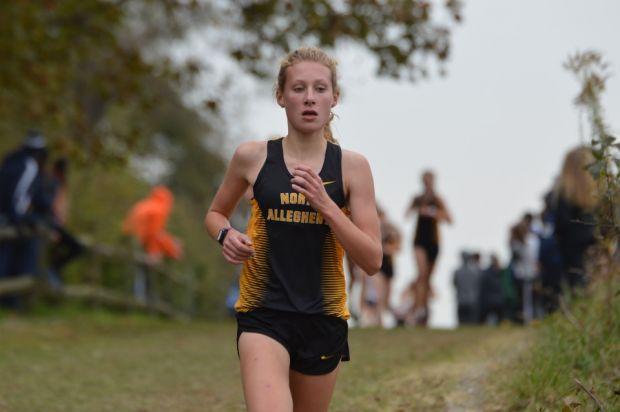 The NAXC Tigers travelled north to Erie, PA to race against Erie Cathedral Prep (boys) and Villa Maria Academy (girls).  Both NA teams dominated the competition in the first official meet of the season.
The girls won the season opener against Villa with an impressive score of 18-45.  The Lady Tigers had 10 out of the top 11 places and were led by senior race winner Hannah Lindgren.  Junior Keeley Misutka was not far behind in second place. She was followed by senior Caroline Daggett, freshman Lexi Sundgren, sophomore Maura Mlecko, senior Jenna Mlecko and junior Katie Ranallo.
The boys team handled the competition well also, beating Prep with a score of 20-41, while also taking 10 out of the top 12 spots on the race. The Tigers were led by a strong debut from senior Dan McGoey.  McGoey was followed by junior Andrew Kollitz, sophomore Graham Wolfe, senior Stephen Nalepa, senior Connor Foody, sophomore Ryan Podnar and sophomore Jackson Hickel.
Both teams will take their 1-0 records to Schenley Park this Saturday to take on some of the best competition in the tri-state area for the Red, White and Blue Invitational.
(Photo courtesy of PA Mile Split.)