View News For
2017-2018 News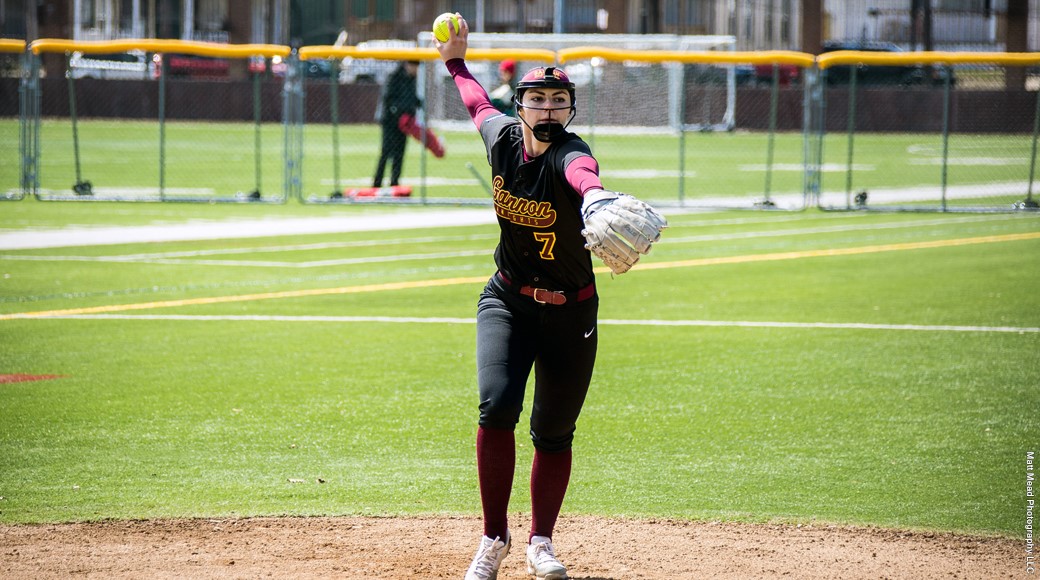 Former North Allegheny softball standout Madi Beining went 2-0 in the circle last week for Gannon University. She tossed her fifth shutout of the season with a three-hit complete game in the 7-0 win against California University of PA., striking out a season-high five batters.
Beining pitched her 10th win of the season in the 7-2 victory against Seton Hill University. She struck out four and scattered four hits. Beining has not walked a batter in seven of her last eight appearances.
The North Allegheny graduate earned Pennsylvania State Athletic Conference Western Division Pitcher of the Week for her performance. Additionally, Beining was selected as the Eastern College Athletic Conference (ECAC) Pitcher of the Week.
As a senior at North Allegheny in 2016, Beining led the Lady Tigers to a 19-4 record, including a section co-championship and berths in the WPIAL semifinals and the PIAA qualifying round. As a pitcher she factored into each decision and fashioned a 0.97 ERA with 141 strikeouts. Beining was also named the North Allegheny co-female Athlete of the Year in 2016.
(Photo courtesy of Gannon University Athletics).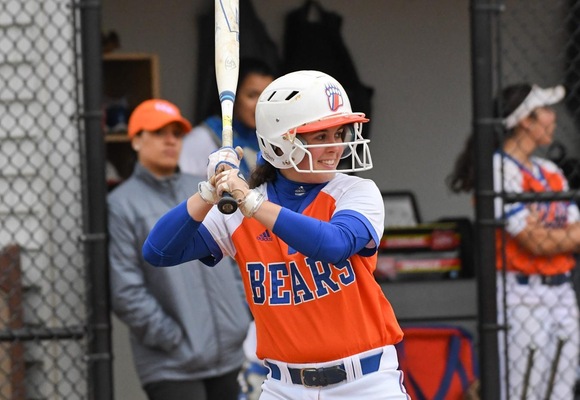 Junior Emily Hogan (North Allegheny/Pittsburgh, PA) has been named CGASPORTS.COM Athlete of the Week after leading the Bears to a 5-3 week behind two game winning hits in conference play.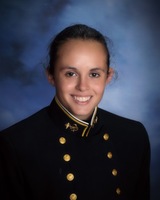 Hogan had game winning three-run doubles against Springfield and Wellesley this past week helping Coast Guard to their first NEWMAC Tournament berth since 2013. She finished the week batting .429 with nine RBI's, three doubles and two stolen bases.
Hogan is having an excellent year with career highs in batting average (.406), RBI's (12), doubles (7), OBP (.465) and slugging (.516).
While at North Allegheny, Hogan was a first-team all-section pick her senior year in 2015 with a .314 batting average and 14 RBI. Hogan posted similar numbers her season year with a .314 average and 15 RBI. She was also an outstanding defensive player on the middle infield, starting primarily at second base for the Tigers.
(Photos courtesy Coast Guard Academy Athletics).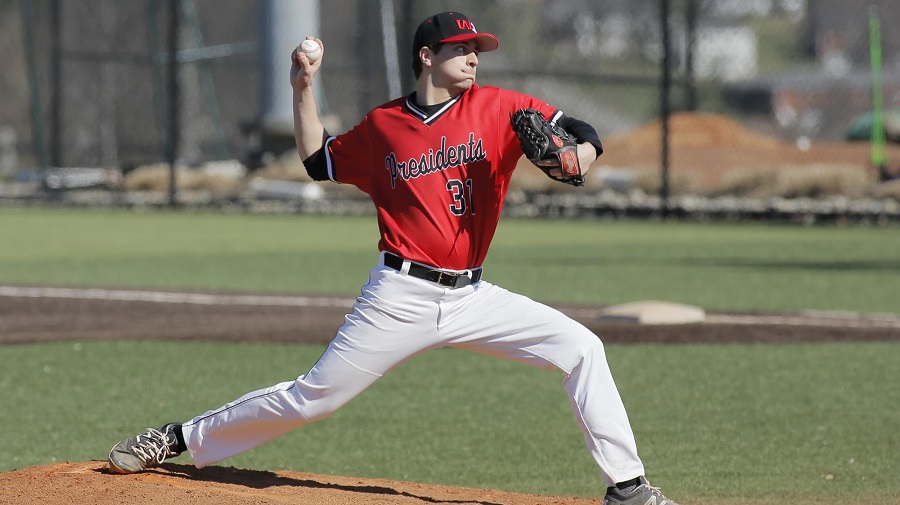 Former North Allegheny baseball player, Ben Marsico, was named the Presidents' Athletic Conference Pitcher of the Week for an outstanding start last Friday for the Washington & Jefferson Presidents.
Marsico helped W&J, the NCAA Division III national runners-up from a year ago, to a 7-0 win over Thomas More. The sophomore right-hander blanked the Saints through eight innings and scattered just four hits with two walks and three strikeouts to improve to 1-1 this season. He retired each of the first 10 batters he faced in the game and took a no-hitter into the fifth inning.
As a senior at North Allegheny in 2016, Marsico was the team leader in victories with a 5-1 record to go along with a 2.14 ERA. In 36 innings on the bump for the black and gold, Marsico showed excellent command with 32 strikeouts while walking only six batters. Also one of NA's top hitters, Marsico sported a batting average of .348 with 10 RBI's and nine runs scored.
(Photo courtesy of W&J College Athletics).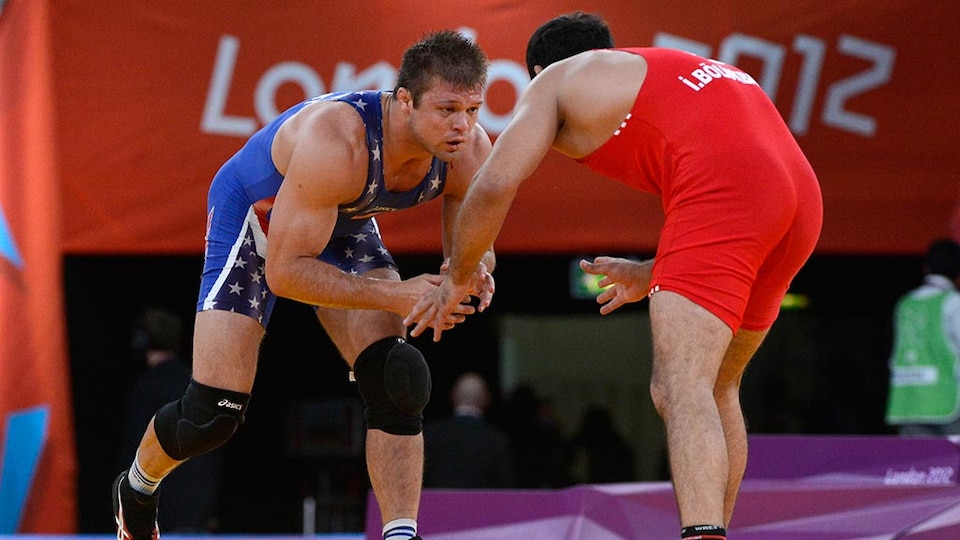 Jake Herbert, a North Allegheny graduate and U.S. Olympian, will be inducted into the PA Wrestling Coaches Association Hall of Fame. The induction ceremony will take place on Sunday, April 8 in State College, PA. For more information, click here.
At North Allegheny, Herbert won a PIAA title for the Tigers and placed at the state tournament in all four years of his high school career. Herbert moved on to Northwestern University where he was a four-time All-American and two-time NCAA champion, posting a career record of 149-4. He won the Silver medal for Team USA at the World Championships in 2009, the gold medal at the US Wrestling Open in April, made the US World Team in 2010 and was a member of the 2012 Olympic Team in London.
Herbert was inducted into the North Allegheny Athletic Hall of Fame in 2013. Jake's father, Jim Herbert, won a state title for North Allegheny in 1974 at 155 pounds and was inducted into the North Allegheny HOF in 2001.
(Photo courtesy of USA Today Sports).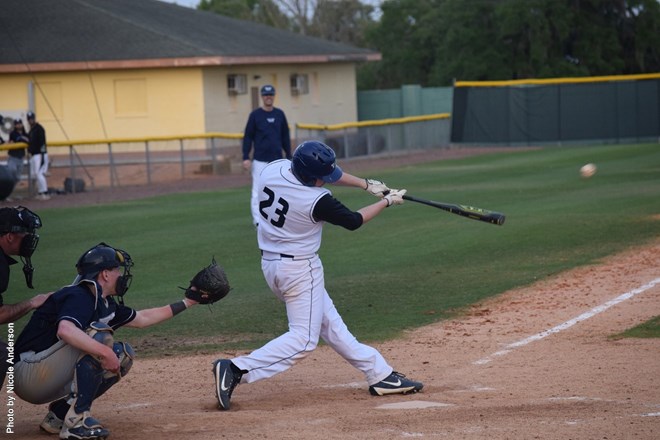 Westminster College senior, and former North Allegheny baseball player, Brandon Rossier was named the Presidents' Athletic Conference (PAC) Baseball Player of the Week.
Rossier hit .516 (16-of-31) during Westminster's nine-game schedule at the RussMatt Invitational last week. He finished with four doubles, a triple, 13 RBIs and six runs scored. He also swiped three bags while posting a .556 on-base percentage. Rossier's two-out, three-run double in the bottom of the eighth inning lifted the Titans to a 9-7 lead over Penn State Brandywine last Wednesday; Westminster won, 9-8.
As a junior last season at Westminster, Rossier was one of the top run producers in the lineup and sported a batting average of .363 with a .520 slugging percentage. Rossier led the Titans with 10 doubles, while finishing second on the team in runs scored (13) and RBI (18), helping earn him PAC honorable mention laurels.
In his senior season at North Allegheny in 2014, Rossier batted .346 and was a team captain. He is a financial economics major at Westminster College.
(Photo and information provided by Westminster College Athletics).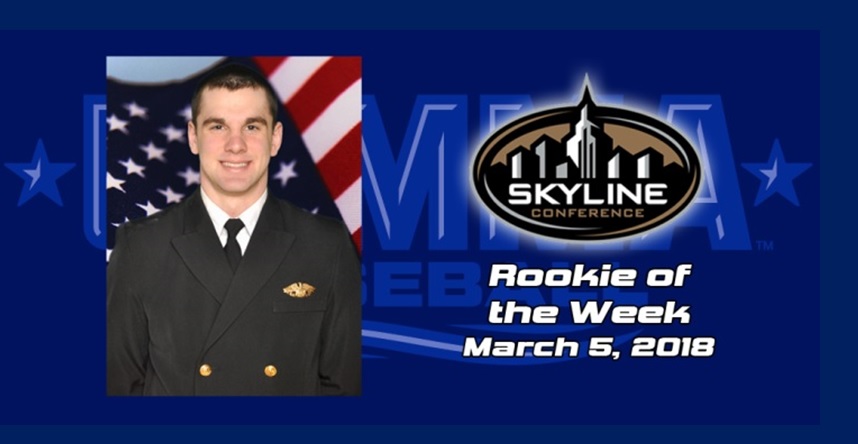 Former North Allegheny baseball player, Alex Mesaros, has been named Rookie of the Week in the NCAA Division III Skyline Conference for the week of ending March 4. Mesaros is a freshman for the United States Merchant Marine Academy and received the honor following a tremendous performance in the season-opening doubleheader against Rivier.
Mesaros had a great first day in his collegiate debut for the Mariners on Sunday. The rookie led all players in runs scored in both games, scoring four times in the opener and three more times in the second game. He also added an RBI on a sacrifice fly in the first game. The leadoff hitter boasted a 1.250 slugging percentage with one double and one triple and a .667 on-base percentage to go along with two stolen bases in the first game.
For the complete release from the Skyline Conference, click here.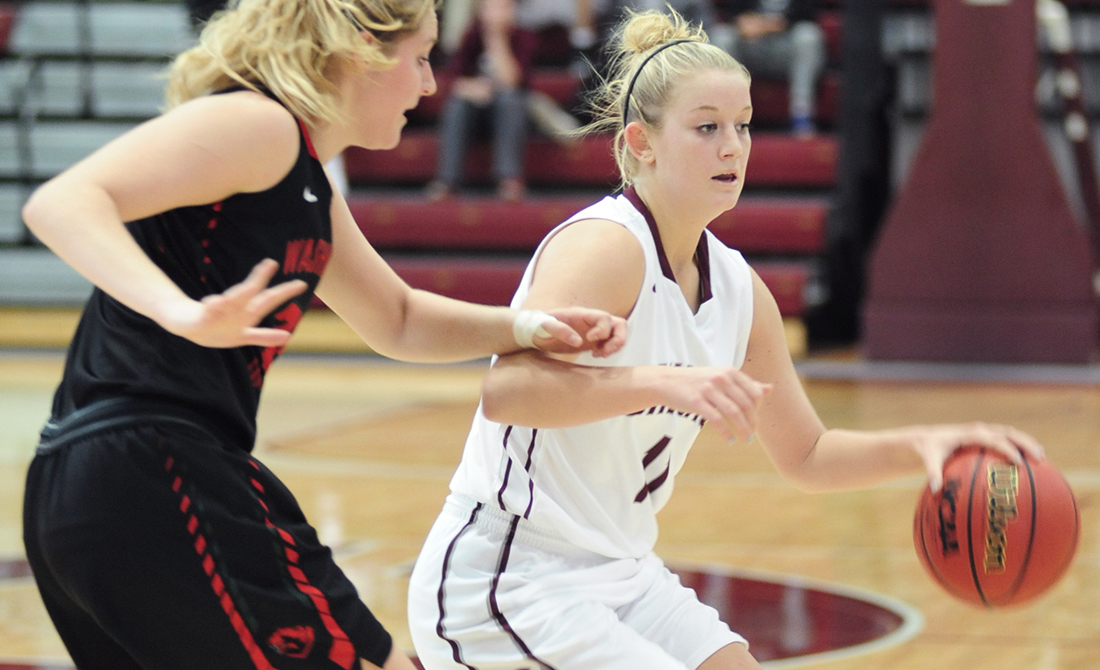 While the North Allegheny girls' basketball team prepares for the WPIAL championship game on Saturday, a former Lady Tiger is setting her sights on an NCAA national championship. Sophomore forward Taylor Lake and the University of Chicago will take on Wisconsin Lutheran on Friday night in the opening round of the NCAA Division III women's basketball tournament. The Maroons are 23-2 on the season and are ranked ninth in the country in the latest D3hoops.com poll.
Lake, a three-time first team all-section honoree and 1,000 point scorer at North Allegheny, is in the midst of a breakout campaign at Chicago. Lake was recently named to the UAA (University Athletic Association) all-conference team, receiving second-team laurels. She ranks eighth in the UAA in scoring, averaging 13.8 points per game. Lake also averages 5.9 rebounds per game, which ranks her 13th in arguably the toughest Division III conference in the country for women's basketball.
Along with the all-conference recognition, Lake was named the UAA Player of the Week for December 4 and was selected to the UAA All-Academic Team.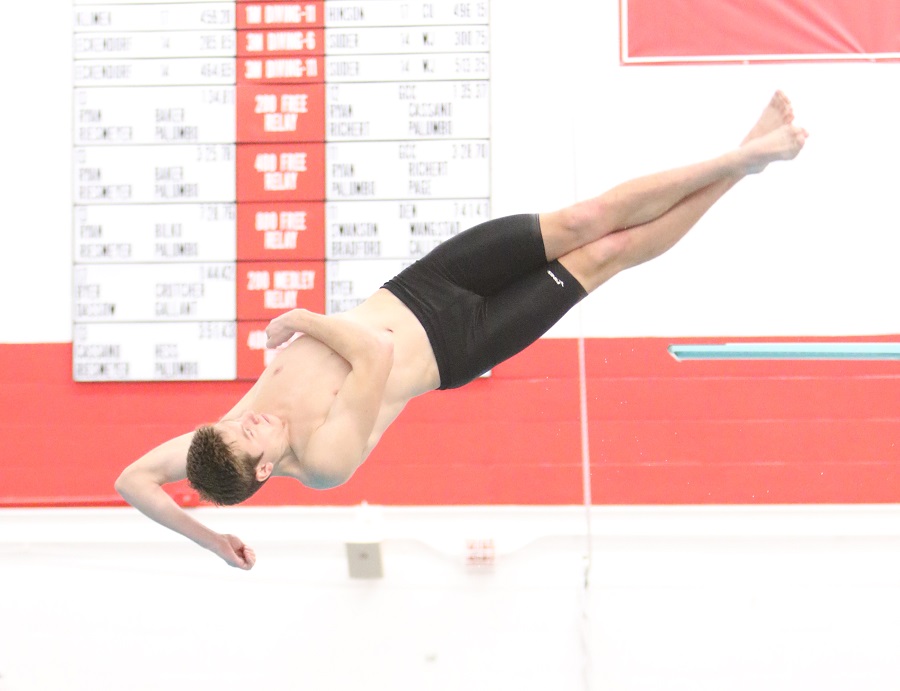 Grove City College senior, and former North Allegheny Tiger, Nick McClure helped the Wolverines to a second-place finish at the Presidents' Athletic Conference Swimming & Diving Championships this weekend. The Wolverines came within five points of upsetting heavily-favored Westminster with a team score of 903 points.
McClure, led Grove City in 1-meter diving by taking fourth place. McClure, a first-year diver at GCC, posted a score of 347.35 points.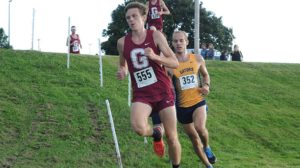 Additionally, McClure is a member of the Grove City cross country team which won the PAC title this past fall. He is a three-time All-PAC honoree in cross country, nabbing first-team honors his freshman, junior and senior seasons.
(Photos courtesy of Grove City College Athletics.)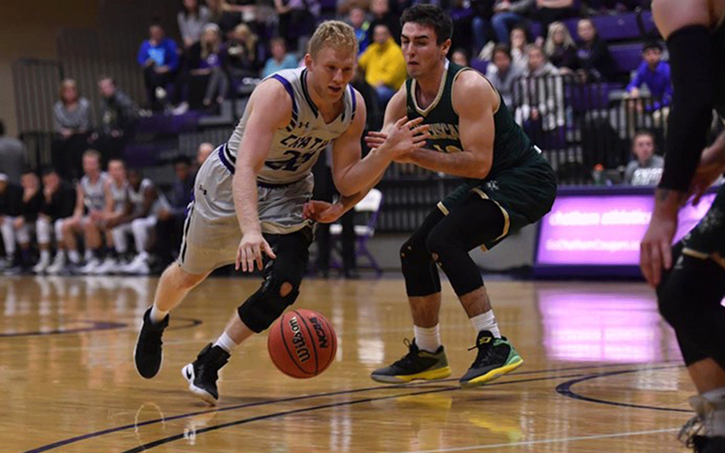 Chatham University junior guard, and former North Allegheny basketball player, Will Sandherr was named the Cougars Male Athlete of the Week (1/15/18). Sandherr averaged 10.5 points per game off the bench, including a team-high 16 points against Geneva on Wednesday, going 6 of 12 from the field while adding six rebounds. For the week, Sandherr went 5 of 5 from the charity stripe.
As a senior at North Allegheny, Sandherr was a member of a Tigers team that reached the WPIAL finals and the PIAA second round in 2015. Sandherr averaged 12.3 points per game during his final year with the Tigers and poured in 49 of 142 shots from beyond the arc, hitting at a 35-percent clip. In the WPIAL championship game against Chartiers Valley, Sandherr netted 18 points and collected seven rebounds.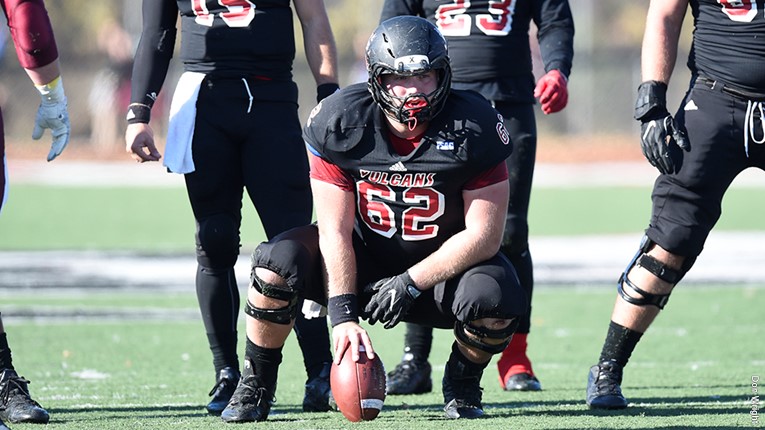 California University of Pennsylvania senior offensive lineman Taylor Nikithser (Wexford, Pa./North Allegheny) was recently named the NCAA Division II recipient of the Rimington Award, which recognizes the most outstanding center.
The Rimington Award is presented to the premier center at the NCAA FCS, Division II and Division III levels, along with NAIA, while the Rimington Trophy is given to the top center at the NCAA FBS level. The award and trophy are named after Dave Rimington, who is the only two-time winner of the Outland Trophy while playing at Nebraska.
While at North Allegheny, Nikithser was a second-team all-conference selection and an All-Academic Gold choice by Pennsylvania Football News. He was a member of three WPIAL championship teams (2010, 2011, 2012) and two PIAA championship teams (2010, 2012) during his tenure at North Allegheny.
A two-year team captain at Cal-U, Nikithser was recently named an American Football Coaches Association (AFCA) Second-Team All-American while being the only center among the 10 national honorees on the offensive line. He also received All-Pennsylvania State Athletic Conference (PSAC) West laurels for a third-consecutive season, including first-team status in the last two years. Nikithser garnered Division II Conference Commissioner's Association (D2CCA) first-team all-region honors in 2017 after being a second-team selection as a junior.
Nikithser was a semifinalist for the William V. Campbell Trophy this season after being selected a College Sports Information Directors of America (CoSIDA) Second-Team Academic All-American as a junior. He also recently repeated as a CoSIDA academic all-district selection. Nikithser received the PSAC Champion Scholar Award in 2016, while helping lead the program to its first league title in eight years.
Nikithser started two games at right guard as a redshirt freshman in 2014 before shifting to center the following season. He made 33-straight starts at center before making his first career start at left tackle during the final game of the regular season. Nikithser returned to center the following week, as the Vulcans made back-to-back appearances in the NCAA Playoffs.
Nikithser completed his bachelor's degree in sport management last winter and will be earning his master's degree in business administration this week.
Information and photo courtesy of California University Athletics.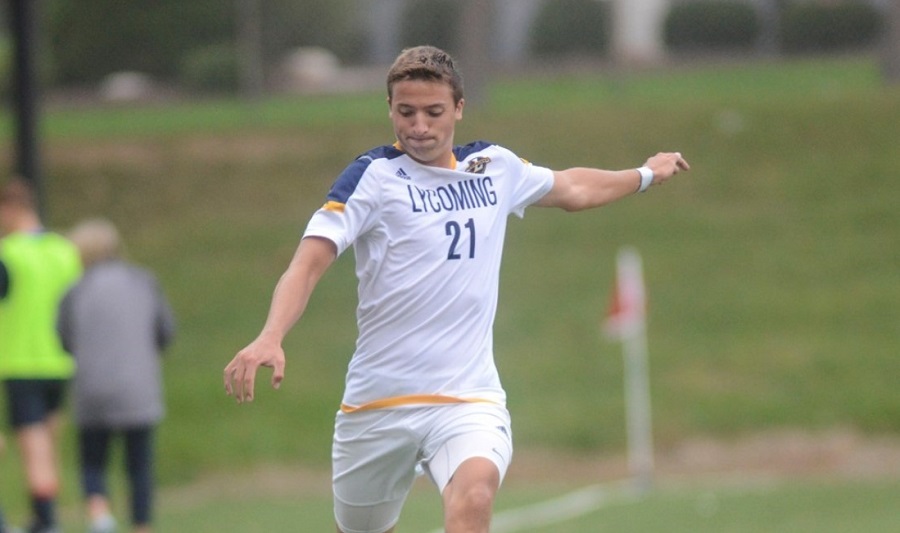 Former North Allegheny Soccer player, Nicholas Thornton, helped the second-seeded Lycoming College men's soccer team win the MAC Commonwealth Conference Championship with a 2-1 win over top-seeded Messiah College.  Nicholas, a sophomore defender, has been a starter all season on a defense that has allowed only 10 goals.  With the win the Lycoming College Warrior's finished the regular season with a record of 18 wins and 2 losses and a seventh place ranking in the United Soccer Coaches poll.  Lycoming now advances to the NCAA Division III Soccer Tournament where they will host a first round game against Lehman College on Saturday, November 11.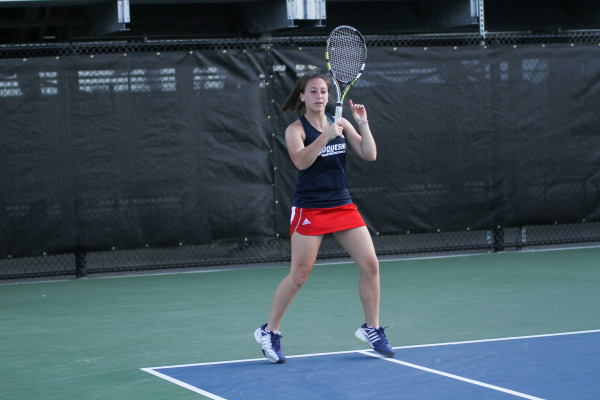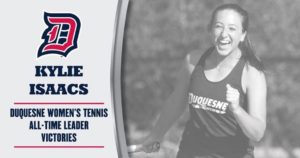 Former North Allegheny student athlete and Franklin Park resident Kylie Isaacs, a senior on the Duquesne University women's tennis team,  broke the all-time university wins record this past weekend by securing her 148th victory in the Carnegie Mellon Invitational.  Isaacs broke the record previously held since 2010 by Rachel McGowan.  Isaacs is a 3 time Atlantic-10 first-team all-conference member and academic all-conference member who also holds the records for wins in a season and winning percentage.   Isaacs is a dual information systems and supply chain management major who intends to pursue professional tennis after graduation.
http://www.goduquesne.com/sports/w-tennis/mtt/kylie_isaacs_920751.html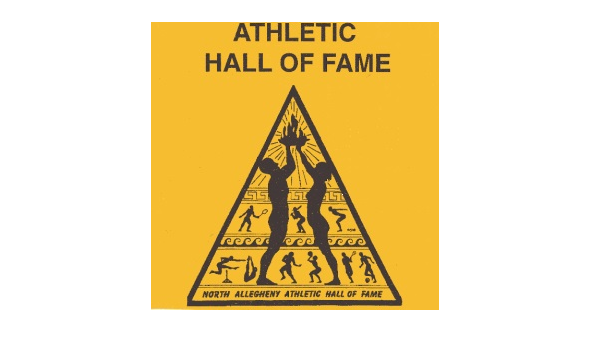 The North Allegheny Hall of Fame Committee is pleased to announce the Induction Class of 2017. This year's class of inductees includes:
Jonathan Buerger (2010) – Swimming
Erin Huth Blattenberger (1997) – Basketball and Volleyball
Josh Hungerman (2005) – Baseball and Basketball
John Kofmehl (2004) – Volleyball
Kim Markel Masarik (2003) – Track and Gymnastics
Zach Nanni (2003) – Volleyball
Allison Neff Romano (1991) – Gymnastics
Amy Olshenske Mackle (1989) – Basketball and Softball
Dede Rittman (Coach) – Boys Golf
Kim Steel McGlone (1989) – Swimming
James Steidel (2001) – Soccer
In addition, we will be honoring three special individuals for honorary service:
Mr. Jim Turner – Joseph Drazenovich Award for legendary service
Mrs. Susan Sweeney –  Bob Miller Award for outstanding supporter of North Allegheny Athletics
Mr. John Haddad – Bob Austen Award (formerly the Distinguished Coaching Award)
Our 21st Hall of Fame Banquet will be held a memorable event for all. As in past years, we will continue the tradition of acknowledging the preceding year's (2016-2017) Individual and Team PIAA State Championships. This year, the Hall of Fame committee will recognize the PIAA Boys AAA Swimming and Diving Team, along with individual state champions, Clara Savchick (Track & Field – 3200 Meter), Ayden Owens (Track & Field – 300 Meter Intermediate Hurdles & 110 Meter Hurdles), Mason Gonzalez (Swimming – 100yd Freestyle & 50yd Freestyle), Jake Woodley (Wrestling – 2-Time PIAA Champion at 182 and 195 pound weight classes. In addition, we will be honoring out 200 Medley Relay Team of Andrew Zhang, Ricky Mihm, Maxwell Gonzalez and Mason Gonzalez, and our 200 Freestyle Relay team of Jack Wright, Ricky Mihm, Maxwell Gonzalez and Eben Krigger.
The 21st Hall of Game Banquet will be held on Thursday, October 5. For more information, including a Ticket Order and Program Advertising form for the induction banquet, click here.