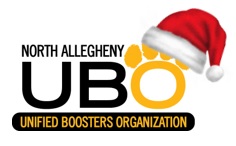 Dee Jay's Restaurant in Wexford hosted a North Allegheny Toys for Tigers fundraiser in June. Ten percent of the proceeds went to the Toys for Tigers program, raising $823.68. The check was presented to President of the NA Unified Boosters Organization, Georgiana Thomas, on June 28, 2023. (Photo Below)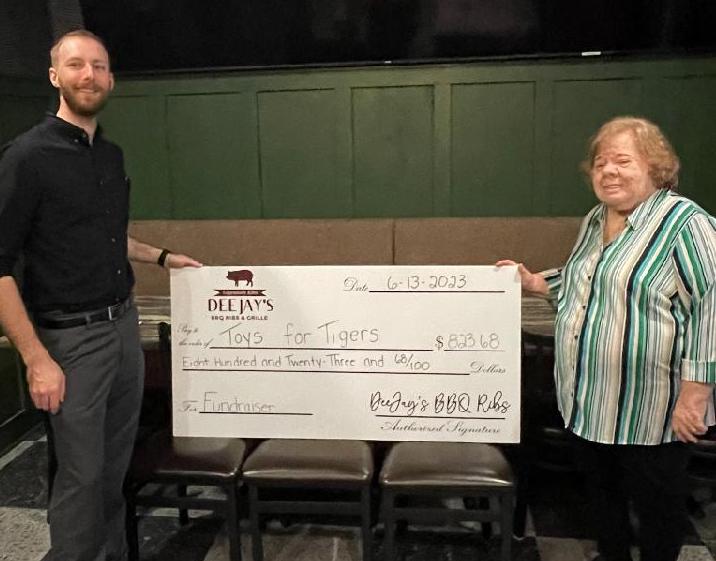 ---
2022 TOYS FOR TIGERS
Thank you for everyone's support for the 2022 Toys for Tigers Program.  Your support made 81 children wake up Christmas morning with smiles on their faces.
SPONSERED A FAMILY OR AN INDIVIDUAL
Baseball
9th Grade Boys Basketball
Boys Basketball
Cheerleaders
Field Hockey
Boys Lacrosse
Boys Soccer
Girls Volleyball
Jamie Margene
Carrie Iwanonkiw
Pete and Judy Antimarino
DONATIONS                                                           
Band                                                                           Swimming/Diving
Boys Basketball                                                          Boys Tennis
Bowling                                                                      Girls Tennis
Cross Country                                                             Boys Volleyball
Football                                                                       Water Polo
Boys Golf                                                                   Wrestling
Girls Golf                                                                    CMS
Gymnastics                                                                 MMS
Ice Hockey                                                                  NA Art Club
Girls Lacrosse                                                             NA 2002 Class Reunion
Rowing                                                                       Rylee Johnson
Girls Soccer                                                                Danielle Tyler
Softball- Fast Pitch                                                     Amy Bistocchi
Softball-Slow Pitch                                                     Spencer Blackburn
Inline Hockey                                                             Monte Cello's
WRAPPED GIFTS
Girls Lacrosse Team and Parents
Thanks to Valerie Scolieri and Minda Apel for their leadership at the gift wrapping event
Thanks to Valerie Scolieri and Barb Liwosz wrapping gifts on the second day of the event
SHOPPED FOR UBO
Baseball Board
Football Seniors
Bob Bozzuto
Pete and Judy Antimarino
Barb Liwosz
Peg Lehew
Valerie Scolieri
---
This year, the NA Boys Lacrosse team gathered all 65 of their prospective players to wrap gifts for a well-deserving family of five. We met at a local community church and worked hard to make the evening special for our team as well as have the players learn what is important about the holiday season. We had 100% participation from the group.  The classes were divided to wrap for each child.  They were very excited to come together as a team and accomplish such a great undertaking for the holidays.  Coach Rullan attended and made sure the boys were doing their best.  The event was a huge success.  Not only were they able to give back for the holidays, but they were also able to bond as a team.  Here are some pictures from our night together.  Happy Holidays all from the NA HS boys lacrosse team.
---
The North Allegheny girls' lacrosse team and parents wrapped gifts for Toys for Tigers.  Thanks to their efforts they wrapped approximately 150 gifts.