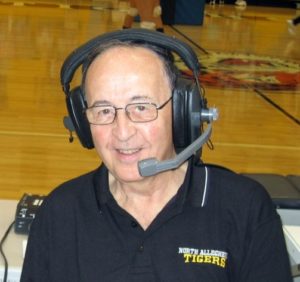 Don Vandergrift (May 22, 1939 – Oct. 11, 2010) was a part of the North Allegheny School District since his graduation from the University of Pittsburgh in 1960. He taught social studies at the senior high school for 37 years, was the Student Council Advisor for 31 years, directed the Talent Show for 30 years and coached junior high basketball for six years.
Vandergrift was a North Allegheny sports announcer beginning in 1963 by serving as the public address announcer for football, basketball and some wrestling. This continued until 1982, at which time he became the play-by-play announcer for NATV, the student-operated television production station. Vandergrift's voice enhanced the action on the video until 2001. In 1999, he became the North Allegheny Sports Network's play-by-play announcer for a variety of varsity sports. NA sports fans unable to get to a sporting event had the pleasure of Vandy's upbeat and enthusiastic sports reporting anywhere the internet could be accessed.
Vandergrift contributed greatly to the community, starting with coaching of baseball in Brighton Heights and Bellevue-Avalon in the 1960s; a seven-year stint as basketball coach of St. Francis Xavier on the North Side, where he also coached football for one year; President of the NARA (the predecessor of today's NABA) for three years and Vice-President of the Ingomar Athletic Association for three years. He coached NARA basketball for five years, youth soccer for three years, as well as baseball in the Ingomar Athletic Association for five years and in the McCandless Athletic Association for two years.
In 2002, Vandergrift was inducted into the North Allegheny Athletic Hall of Fame. Following his induction, he worked to develop and maintain the North Allegheny Athletics website. Vandergrift's tireless efforts without question made the high school athletics website the finest in Pennsylvania, a site which has been compared favorably with many college athletic websites by coaches and fans alike. As a broadcaster, he continued to blend his distinctive style and athletic expertise to bring to his listeners the spirit of North Allegheny until his passing on Oct. 11, 2010.