View News For
2021-2022 News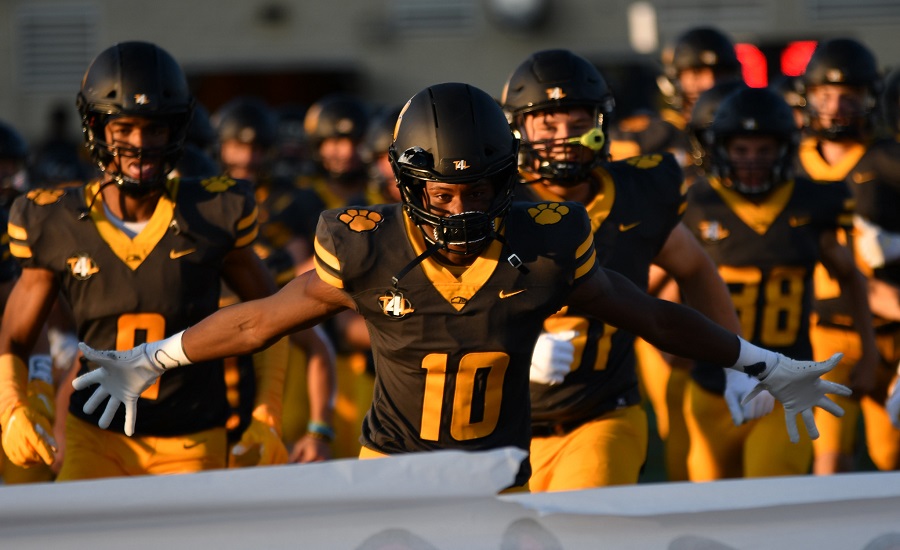 The North Allegheny Tigers (2-1) will play their conference opener tonight with a visit to the South Hills to face the Baldwin Fighting Highlanders (0-3). Tonight's meeting on the gridiron pits two teams that don't often play each other. The last time North Allegheny and Baldwin were members of the same conference was back 1989 as members of the Quad West. The Highlanders bumped up into Class 6A in 2020 but last season's scheduled meeting between the two teams was canceled due to COVID-19.
As historical records best indicate, the last meeting between North Allegheny and Baldwin occurred in the 1998 WPIAL playoffs, a first round game that the Tigers won 40-0. That season, North Allegheny also defeated Bethel Park, 20-14, and Penn Hills, 14-0, en route to the WPIAL Class AAAA championship game at Three Rivers Stadium. The Tigers fell in the title tilt to New Castle, 14-7.
North Allegheny enters tonight's game coming off an impressive 20-16 win against Mentor (OH) last week. The Tigers' victory was keyed by the defense, which included a pick-six by defensive back Dwayne Taylor and an interception by Kyrell Hutcherson that set up a 1-yard touchdown run by quarterback Tanner Potts. The touchdown by Potts put NA up 17-10 in the third quarter and proved to be the game-winning touchdown. Potts rushed for 65 yards on 18 carries and J.R. Burton had five totes for 79 yards, including a 68-yard burst in the waning minutes that helped put the game away.
Tonight's opponent has had a rough go of it so far in 2021 with blowout losses to McKeesport, Bethel Park and Upper St. Clair. Last week, Baldwin dropped a 48-14 decision to USC. The Highlanders are led by second-year head coach Tim Sweeney, who recently turned around the Derry football program. Under Sweeney's tutelage, the Trojans posted a record of 40-8 and reached the WPIAL Class AAA championship game in 2018. Derry put forth a valiant effort but fell to perennial Class AAA power Aliquippa in the championship game, 42-19. As he did at Derry, coach Sweeney is hoping to rebuild the football program at Baldwin as well.
One of the fun storylines for tonight's game is that it will be a homecoming of sorts for North Allegheny head coach Art Walker. Walker was a standout wide receiver and track athlete at Baldwin before a Hall of Fame football career at Clarion. A member of Baldwin's graduating class in 1988, Walker will return to his old stomping grounds tonight but on the opposing sideline as the 17th-year head coach of the Tigers.
Kickoff for tonight's game is slated for 7:00 p.m. at Baldwin. The game will be broadcast live by the North Allegheny Sports Network with the pregame show getting underway at 6:40 p.m. To listen to tonight's broadcast, click here.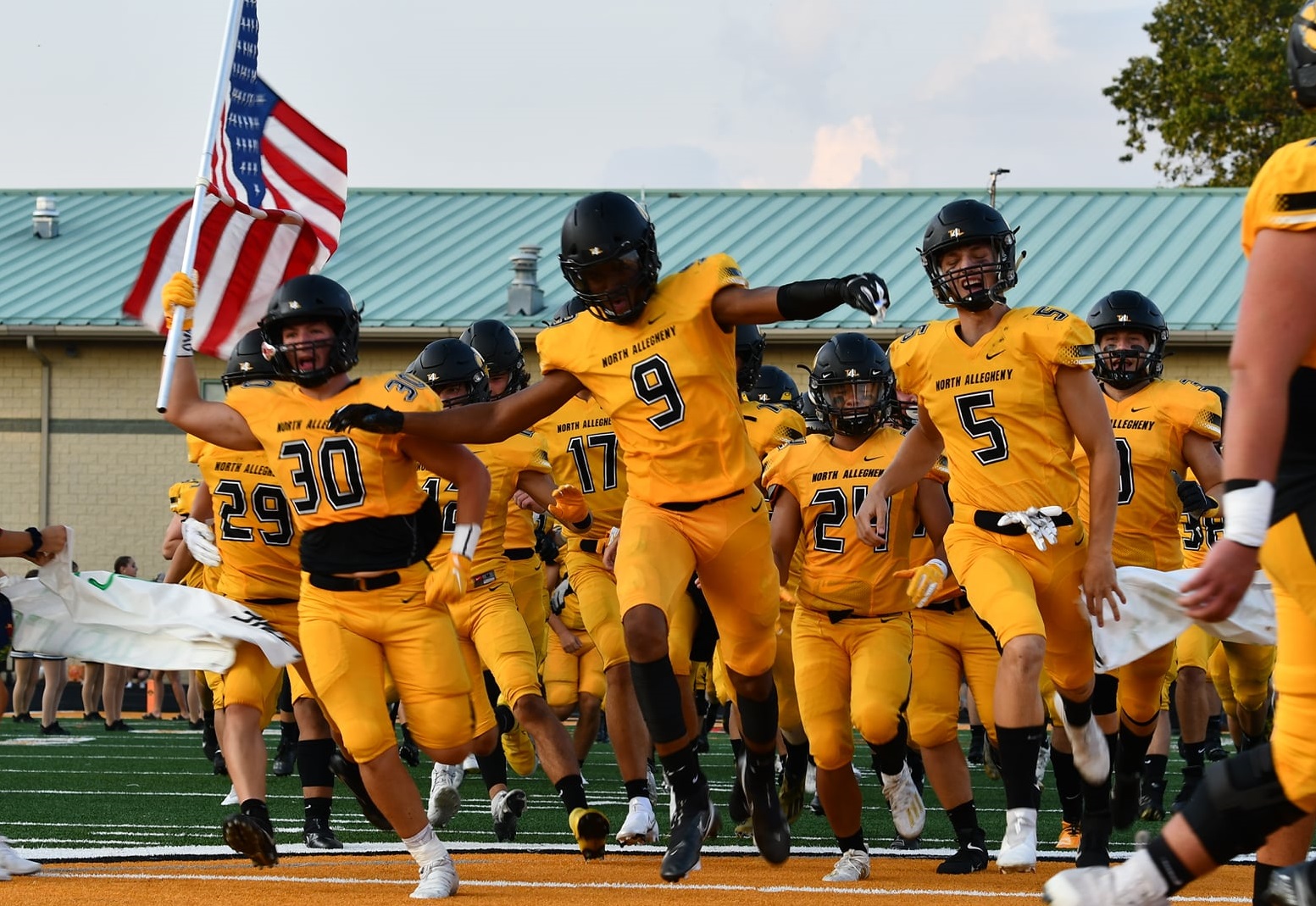 The North Allegheny Tigers (1-1) continue their rugged early season non-conference schedule by hosting the Mentor Cardinals (2-1) tonight at Newman Stadium. Both teams are looking to rebound from losses last week. The Tigers fell to Ohio powerhouse Pickerington Central, 35-0, while a short-handed Cardinals squad lost to St. Edward, 47-7.
Similar to Pickerington, Mentor also has a strong tradition of playing winning football in Ohio's largest classification. Since 2000, Mentor has the best overall winning percentage (.778) in Division I with a record of 203-58 during that span. Last season, Mentor went 9-2 and reached the state semifinals before falling to Pickerington Central. The Cardinals enter tonight's contest ranked sixth in the state by Max Preps and ranked fifth in the Greater Cleveland Conference.
One of Mentor's top athletes is junior defensive end, Brenan Vernon. The 6-5, 260-pound stalwart is a five-star prospect that is verbally committed to Notre Dame. Vernon is the 39th overall prospect in America for the Class of 2023 by 247 Sports and is the second-ranked defensive lineman in Ohio by Rivals.com.
Offensively, the Cardinals boast a high-flying passing offense that has produced many successful quarterbacks over the years. Most notably, the second overall pick in the 2017 NFL draft, Mitchell Trubisky, played for Mentor from 2010-2012 and passed for over 9,000 yards and 92 touchdowns, while adding 1,559 yards rushing and 33 more scores. Trubisky was drafted by the Chicago Bears and is now a backup quarterback for the Buffalo Bills.
Mentor's starting quarterback, Jacob Snow, tossed four touchdown passes in a season-opening 49-7 win over Canton McKinley. However, Snow was lost to injury last week and the offense struggled with freshman Scotty Fox under center. While it's unknown who will get the start at quarterback tonight, one of the top targets in the passing game is the exceptionally speedy Evan Harper. The senior wideout was a second-team All-District pick last season and is the GCC champion in the 100m dash and Long Jump. Harper is also an electric return man on special teams and returned a kickoff 98 yards for a touchdown during a hard-fought 28-26 win over St. Ignatius two weeks ago.
Mentor is led by second-year head coach Matt Gray. Gray lettered three years at the University of Dayton and has been a part of the Mentor coaching staff since 2012, including three seasons as offensive coordinator before being named head coach.
Tonight marks the first meeting all-time between North Allegheny and Mentor with kickoff slated for 7:00 p.m. at Newman Stadium. The pregame show is slated for 6:40 p.m., including a pregame interview with Tigers head coach Art Walker. To listen to tonight's game, click here.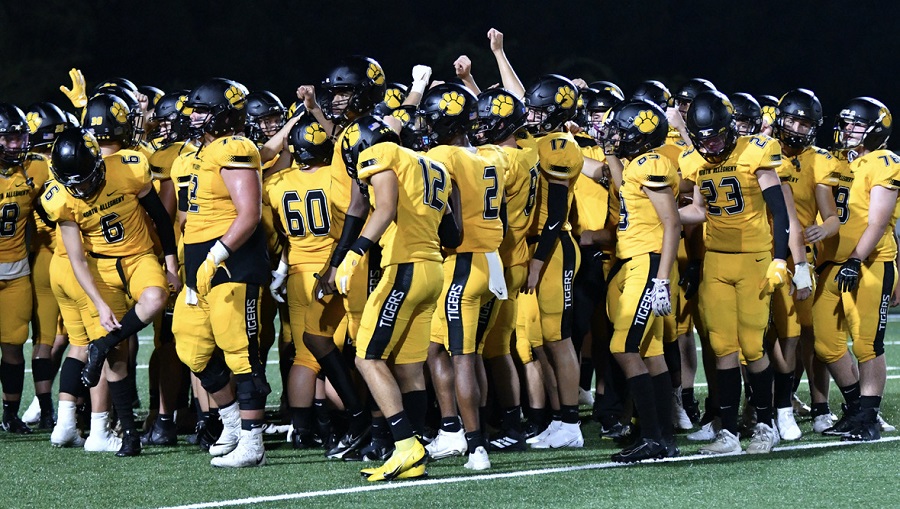 The North Allegheny Tigers (1-0) travel out of state tonight to face the Pickerington Central Tigers (2-0) near Columbus, Ohio. North Allegheny is coming off a 47-14 triumph against Allderdice in Week Zero, a victory that was sparked by the defense and special teams. Linebacker Tyree Alualu intercepted a pass and recovered a fumble, defensive back Kyrell Hutcherson hauled in an interception, lineman Luke Rumpler recovered a fumble and senior Connor Casten tallied a blocked punt to set up the offense. Quarterbacks Tanner Potts and Logan Kushner split time and each threw one TD pass and ran for a score in the rout of the Dragons.
North Allegheny will have a much stiffer test tonight, locking horns with one of the top programs in Ohio. Pickerington Central is a Division I program, playing in the highest class in the state, and was the D-I runner-up last season finishing with an 11-1 record. Pickerington won state crowns in 2017 and 2019 and is vying for another this season.
To start 2021, Pickerington boasts victories over two storied Ohio programs with wins over Massillon (26-7) and Elder (28-10). Massillon was the D-II runner-up a season ago and Elder was a state finalist in 2019, losing to Pickerington in the title tilt.
Also nicknamed the Tigers, Pickerington has several Division I collegiate recruits, including junior defensive back Alex "Sonny" Styles. Styles is the son of former Farrell High School standout and NFL player, Lorenzo Styles Sr., who won a Super Bowl with the St. Louis Rams in 2000. The younger Styles is the sixth-ranked player in the Class of 2023 according to Rivals.com. His older brother, Lorenzo Styles Jr., is a freshman wide receiver at Notre Dame.
Pickerington boasts a big and burly offensive line that is anchored by 6-4, 310-pound left tackle and Rutgers commit, Kobe Asamoah. The defensive line features senior C.J. Doggette (University of Cincinnati), Tyler Gillison (University of Cincinnati), Dakari Frazier (Ball State) and Kobi Gorman (D-I recruit). With immense size on both sides of the line, Pickerington typically looks to wear down opponents with its physicality and potent running game, led by senior tailback Olando Kamara with 286 yards and two touchdowns in two games this season.
Tonight's game is slated to kickoff at 7:00 p.m. from Columbus, Ohio. The contest will be broadcast live via the internet by the North Allegheny Sports, with the pregame show set for 6:40 p.m. Randy Gore and Jonathan Spina have the call. To listen to tonight's game, click here.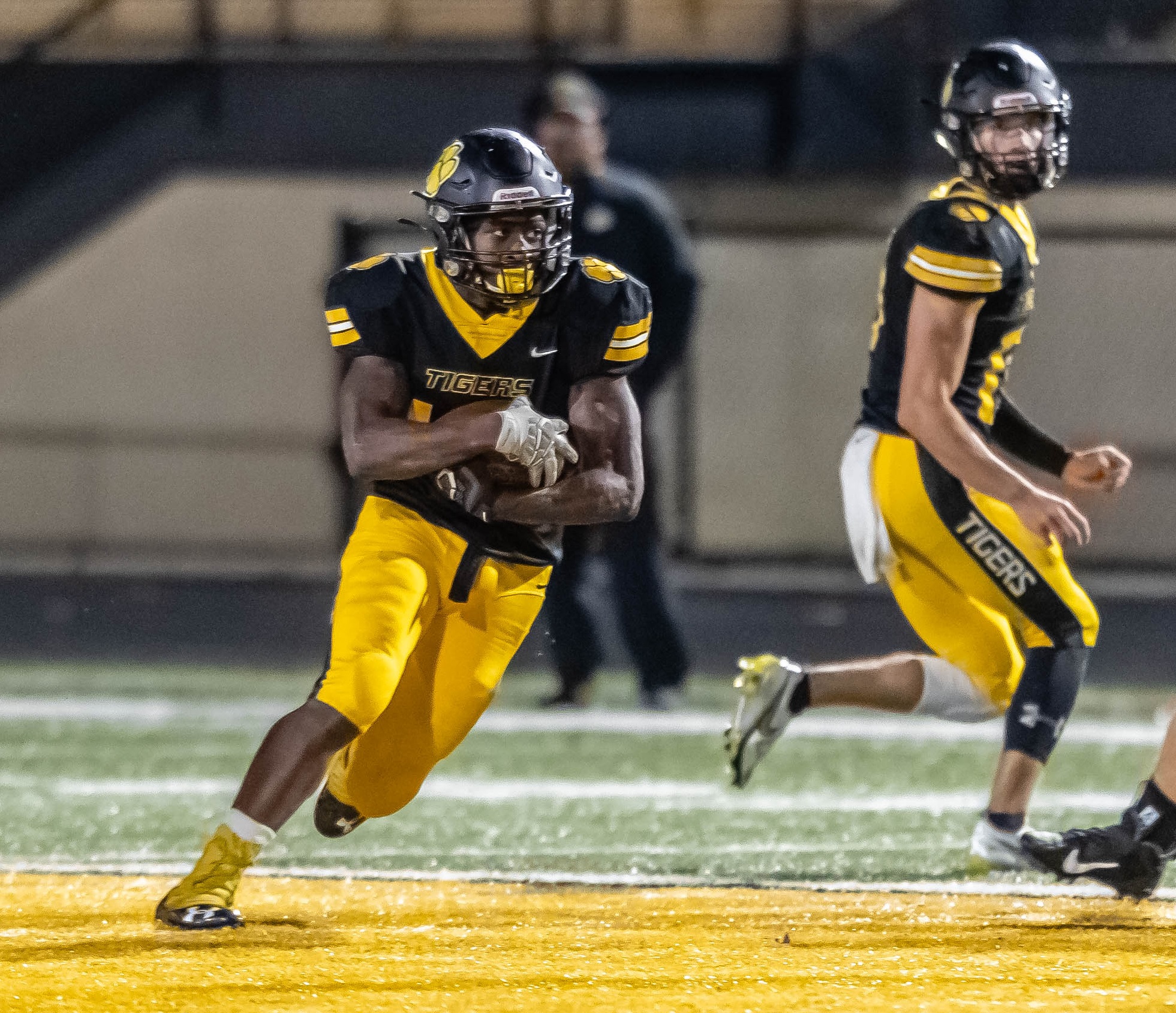 The North Allegheny Tigers kickoff the 2021 season tonight with a Week Zero contest against the Allderdice Dragons at Newman Stadium. After reaching the WPIAL Class 6A championship game a season ago, the Tigers embark on a quest to return to the title game and claim the program's first crown since 2012.
Tonight's opponent, Allderdice, is a perennial contender in Pittsburgh's City League and has appeared in the league's championship game in six of the past eight seasons. In that span, the Dragons won back-to-back titles in 2017 and 2018. Led by head coach Jerry Haslett, the Dragons finished the 2020 campaign with a 4-2 record.
Allderdice will face a North Allegheny team that graduated quite a bit of talent from a 6-1 season in 2020 but is ready to reload in 2021. On defense, the Tigers return all-conference performers Jacob Porter, Nick Frisco and Kolin Dinkins. Porter and Frisco will be joined on the starting defensive front along with Luke Rumpler and Will Sheridan. At linebacker, there will be three new starters with exceptional speed and sideline-to-sideline ability in the form of Nate Spak, Tyree Alualu and Dominic O'Barto. In addition to Dinkins at safety, the starting defensive backs will be composed of Kyrell Hutcherson, Dwayne Taylor and Campbell Melzer.
Offensively, the Tigers have the biggest turnover from last year's playoff team but do return leading rusher J.R. Burton, who was named a Big 56 Conference all-conference honorable mention with 330 yards rushing and four touchdowns in 2020. Like last season, Burton will likely split time at running back along with Andrew Gavlik and Dinkins. A WPIAL triple jump champion in track and field last spring, Taylor highlights a receiving corps that also features Cole Dorn, Khyrin Boyd, Anthony Provenzano, Anthony Varlotta and Hutcherson. Facilitating the football to NA's exceptional skill players will be starting quarterback Tanner Potts. Senior Logan Kushner is also expected to see time at QB this season. Doing the dirty work in the trenches will be offensive linemen Frisco, Rumpler, Abdullah Daud, Josh Ruppert and Elijah Smith. Tight ends Sheridan and Connor Casten will contribute as pass catchers and run blockers.
North Allegheny specialists include punter Rourke Kennedy and place kicker Harron Lee.
The Tigers are led by 17th-year head coach Art Walker, the all-time winningest coach in program history with 152 victories. Walker is in his 24th year of coaching overall with an all-time record of 213-61. Both Walker and Allderdice coach Jerry Haslett are products of Clarion University and members of the school's athletics Hall of Fame.
Kickoff for tonight's game between North Allegheny and Allderdice is set for 7:30 p.m at Newman Stadium. The game will be broadcast live via the internet on the North Allegheny Sports Network with the pregame show beginning at 7:10 p.m. The pregame show includes an interview with Tigers head coach Art Walker with a season preview of the 2021 team and WPIAL Class 6A. To listen to tonight's broadcast, click here.