View News For
2018-2019 News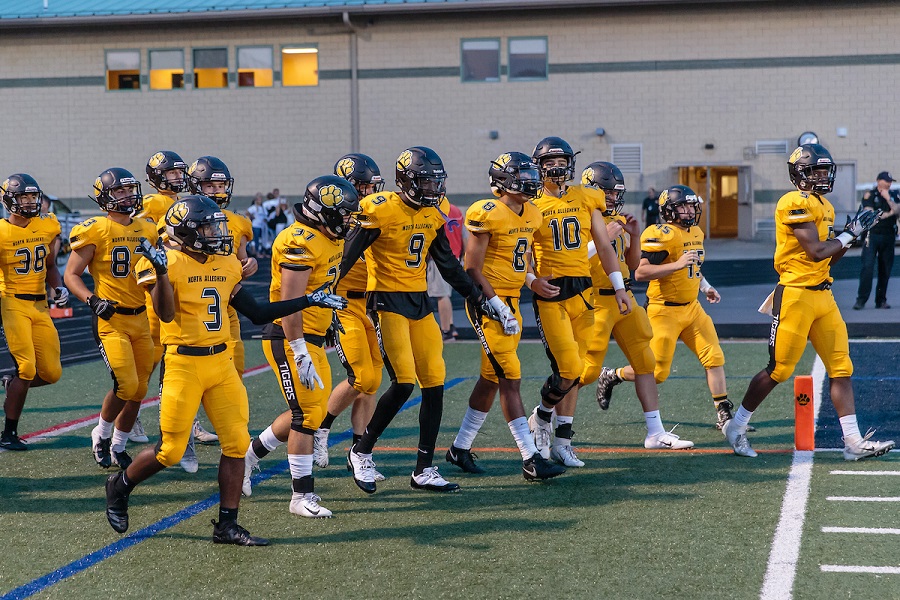 Following a big week two win over Central Catholic, the North Allegheny Tigers (3-0) hope to continue their winning ways with a road game against the Canon-McMillan Big Macs (0-2) in Canonsburg, PA. Tonight's game is the first meeting between these teams in almost 16 years. In 2002, North Allegheny defeated Canon-McMillan in the opening round of the WPIAL Class AAAA playoffs, 41-6.
The Big Macs have been longtime members of the southern conference in the largest classification, but after realignment for the 2018 season the Big Macs will now have Class 6A conference games against some of the powerhouse teams in the north of Pittsburgh, including North Allegheny.
The Tigers used six turnovers last week to claim an important 27-3 win over Central Catholic. Senior defensive back Corey Melzer intercepted two passes and hauled in a 29-yard touchdown reception in the fourth quarter to put the game on ice. Senior running back Ben Maenza rushed for 111 yards and two touchdowns with the majority of his damage coming in the first half.
Canon-McMillan is winless so far in 2018 with a loss to Mt. Lebanon in week one and a 31-0 defeat at the hands of the Seneca Valley Raiders.  On offense, the Big Macs are quarterbacked by junior Jonathan Quinque, who has passed for 308 yards and two touchdowns this season. After a two-year hiatus from football, senior running back Josh O'Hare returned this season and had an impressive debut against Mt. Lebanon, rushing for 144 yards and two touchdowns.
Senior Drew Engel is perhaps Canon-McMillan's most talented and versatile athlete. He was a first-team all-conference defensive back last season and is the team's leading receiver with 11 catches for 141 yards. Engel had missed time last season due to a broken hand but posted seven interceptions on defense as a sophomore. Another player to watch for CM is defensive end David Cooper, who had 9.5 sacks last season.
Kickoff for tonight's game at Big Macs Stadium is slated for 7:00 p.m. The game will be broadcast live via the internet on the North Allegheny Sports Network with the pregame show beginning at 6:40 p.m., including an interview with Tigers head coach Art Walker. To listen to tonight's broadcast, click here.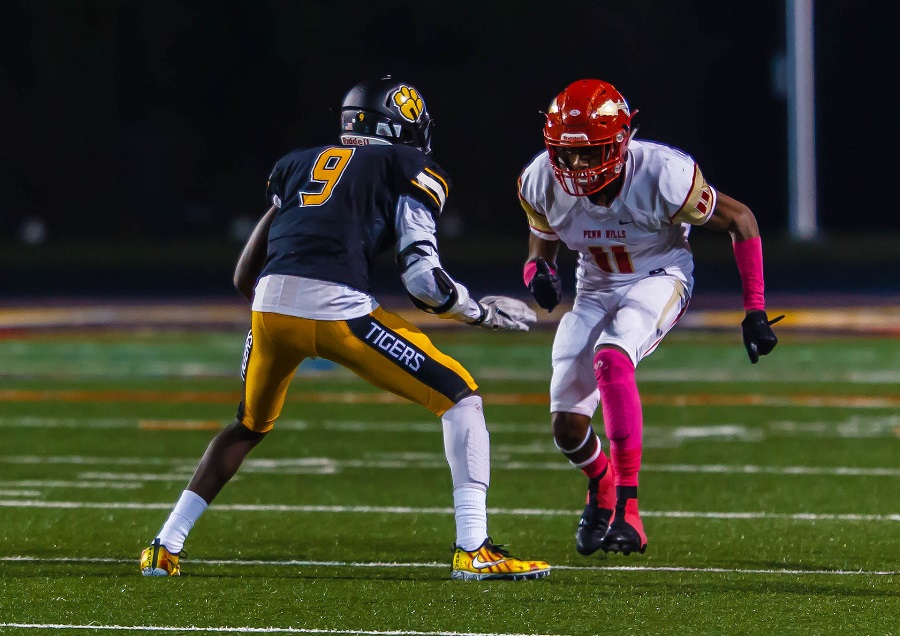 North Allegheny senior Joey Porter Jr., a highly touted Division I recruit, has announced his commitment to Penn State University. Porter made the announcement Tuesday via Twitter.
#WeAre ⚪️🔵⚪️ Better #DC5 #T4L pic.twitter.com/TWMU9GuvJe

— Joey Porter Jr (@jjporter_1) September 11, 2018
The standout defensive back recorded a team-high seven interceptions last year, on his way to first-team all-conference laurels in Class 6A. So far this season, Porter has hauled in two touchdown passes at wideout and corralled his first interception last week against Central Catholic.
Porter and the undefeated North Allegheny football team will visit Canon-McMillan on Friday night at 7:00 p.m.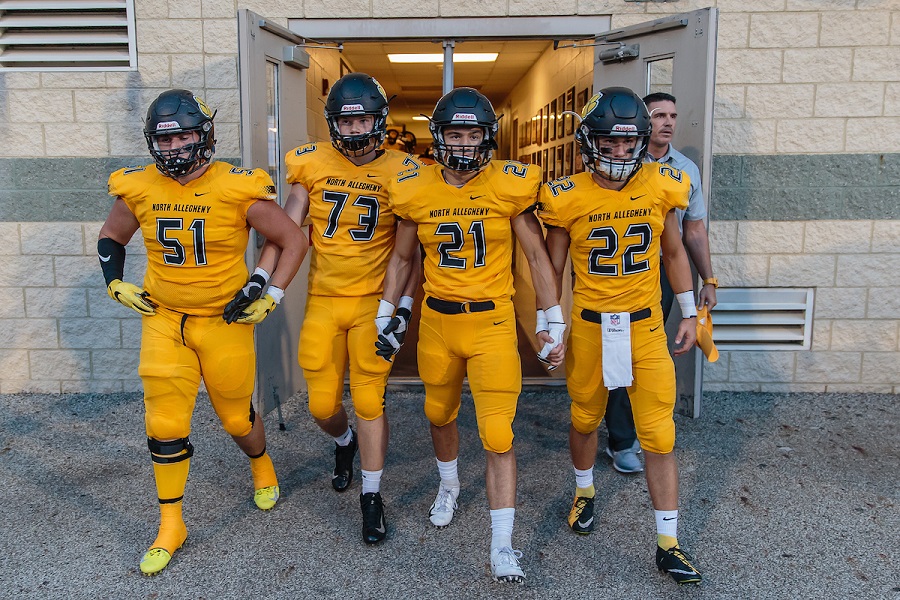 It's an early-season showdown tonight in Class 6A at Newman Stadium as the second-ranked North Allegheny Tigers (2-0) play host to the third-ranked Central Catholic Vikings (2-0). The Tigers are coming off a 56-14 rout at Norwin last week. Meanwhile, the Vikings earned a hard-fought 20-14 win against Seneca Valley.
A perennial power in the WPIAL's largest classification, Central Catholic has appeared in five consecutive WPIAL championship games, winning three titles in 2013, 2015 and 2016. The Vikings recipe for success is the same as in years past, boasting a strong rushing attack and hard-nosed defense. Some of the top members of the 2018 squad include cornerback Dominic Dodson, safety Gavin Thomson and linebacker Brian Dallas who all have Division I college offers.  The Vikings are led by 14th-year head coach Terry Totten.
North Allegheny used an outstanding performance from the defense and special teams to spark a blowout win over the Norwin Knights last week. Senior quarterback Gunnar Fisher was the Wright Automotive Player of the Game with 92 yards rushing and two touchdowns. Senior linebacker Dante Caputo racked up four tackles, a sack and a tide-turning blocked punt.
Central Catholic owns a three-game winning streak against North Allegheny, including a 14-7 win last season. The Tigers last victory against the Vikings came in week three of the 2015 season with a 24-17 triumph at home. Riley Trueman's 28-yard touchdown run with 35 seconds remaining allowed NA to prevail.
Tonight's game between North Allegheny and Central Catholic kicks off at 7:30 p.m. The game will be broadcast live via the internet on the North Allegheny Sports Network with the pregame show starting at 7:10 p.m. To listen to tonight's broadcast, click here.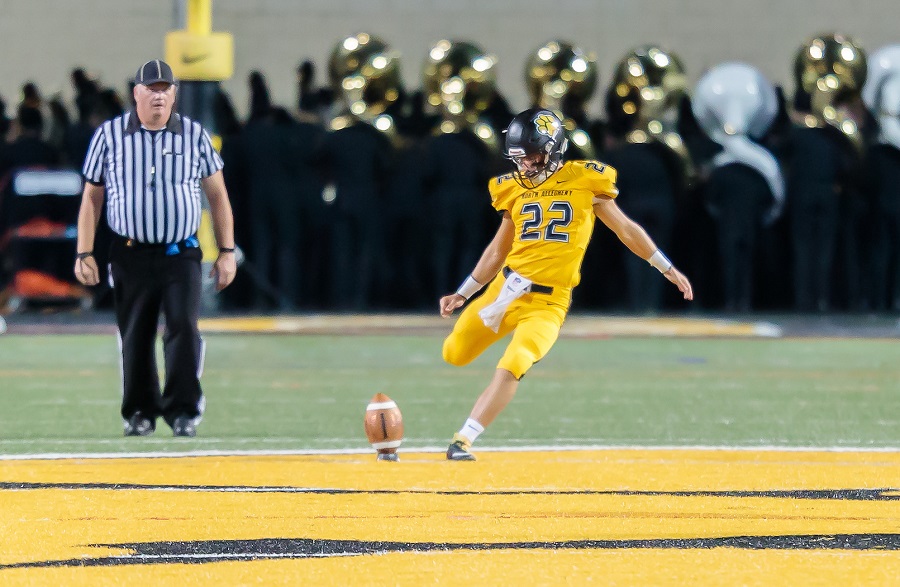 Following a dominant win in Week Zero, the North Allegheny Tigers (1-0) open the Class 6A conference schedule with a road game against the Norwin Knights (1-0). The Tigers torpedoed the maiden voyage of the COF Academy Ironmen last Friday by a 45-20 decision. The Knights began the year with an exciting 44-36 victory over neighborhood rival Penn-Trafford.
There's a lot of excitement in the Norwin camp for the 2018 campaign thanks to a new quick-paced, spread offense and the man who leads it, quarterback Jack Salopek. The junior signal caller was offered a scholarship by the University of Pittsburgh in June and passed for 296 yards and four touchdowns in last week's win.
Other key returnees for the Knights include senior running back and defensive back Jayvon Thrift, who has offers from Pitt, West Virginia, Syracuse and Indiana as a safety. Senior wideout Gianni Rizzo is a Youngstown State recruit and hauled in a 78-yard touchdown pass against Penn-Trafford.
North Allegheny will try to slow down the Norwin quick-paced attack with a power running game, led by running back Ben Maenza. The senior tailback was the Wright Automotive Player of the Game last Friday against COF Academy with 137 yards and three rushing touchdowns.
The last time these teams met was in the first round of the 2015 WPIAL playoffs. In that postseason game, North Allegheny throttled Norwin, 56-17, at Newman Stadium. It's been over a decade since the Tigers played the Knights on the road. In 2005, North Allegheny won at Norwin, 27-7, in a week two matchup.
Kickoff for tonight's game is slated for 7:00 p.m. The North Allegheny Sports Network will broadcast the game live, beginning with the pregame show at 6:40 p.m. Listen to tonight's broadcast by clicking here.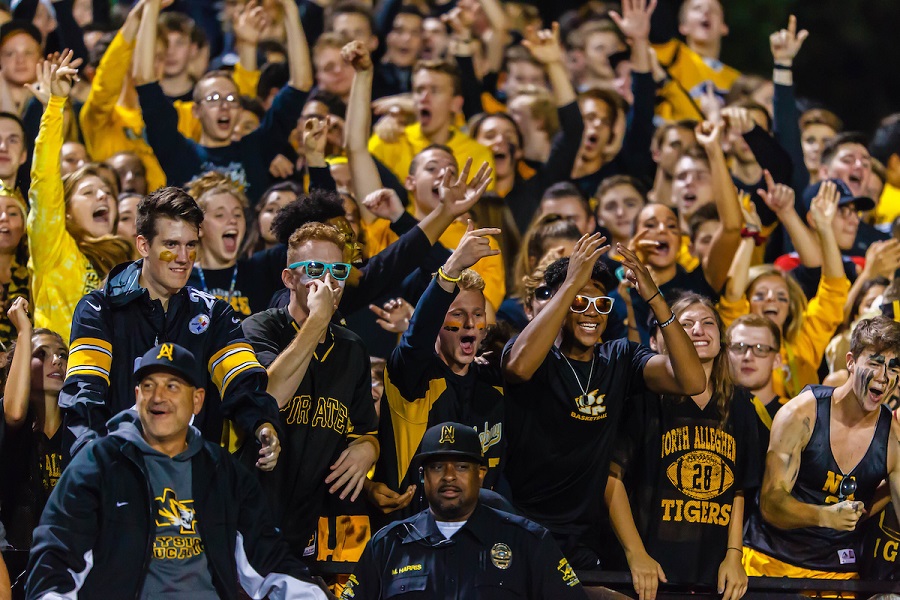 The 2018 season kicks off for the North Allegheny football team tonight in a week zero non-conference game against COF Academy (OH). The Tigers are looking to build on an 8-4 campaign in 2017 and a second straight appearance in the WPIAL Class 6A semifinals. COF Academy is a first-year program in the Columbus, Ohio region with a tough schedule against some national powers.
While tonight's opponent is a bit of a mystery, the Tigers will have some questions that need to be answered as well. With the graduation of the team's leading passer and rusher from a season ago, Luke Trueman, North Allegheny will turn to Ben Petschke and Gunnar Fisher at the QB position. The two were involved in a healthy quarterback competition this summer. With a good grasp of the offense after spending time as Trueman's backup last season, Petschke is the likely candidate to get the starting nod tonight. Fisher will likely see time along the way as well this season.
At running back, the leading returning ball carrier is speedster Ben Maenza, who rushed for 526 yards last season and eight touchdowns. A versatile player who can line up at various positions on offense, Maenza will pace a backfield that will also consist of Nikko Rankin, and fullbacks Alfonso Cantu and Sam Gelosh.
Junior Luke Colella and seniors Joey Porter Jr. and Corey Melzer all saw time at receiver last season and will be counted on in 2018.
The offensive line sees the return of Elijah Boyd and Parker Titsworth, both of whom missed most of last season due to injury. Junior Jacob Lugg, the younger brother of Notre Dame lineman Josh Lugg, will anchor the left tackle position. Jack Graham, Austin Heubner, Ben Grafton, Paolo Bochicchio and Quinn Rodak should also be a part of the team's efforts in the trenches. The tight end position will be handled by Sam Sheridan and Amosis Porter.
Perhaps the most experienced part of this year's North Allegheny squad is the defense, headlined by first-team all-conference cornerback Joey Porter Jr., who collected a team-high seven interceptions a year ago. Joining Porter in the secondary is Rankin (second-team all-conference), Colella, Melzer (all-conference honorable mention), Percise Colon, Joshua Dozier and Justus Gildon.
At linebacker, North Allegheny's leading tackler Dante Caputo is back after making 71 stops last season. Caputo, a second-team all-conference pick last season, was also tied for the team lead in sacks in 2017 with senior Ethan Augustin, who both pillaged pass pockets for four sacks apiece. After missing all of last season due to injury, senior Cade Hoke returns at inside linebacker. As a sophomore in 2016, Hoke collected 48 tackles and a team-best seven sacks. Other players hoping to make waves at linebacker include Amosis Porter and junior Reid Fisher.
Several players will rotate on the defensive line, including Titsworth, Bochicchio, Sheridan, Liam Alker-Connelly and Tyler Mangone.
On special teams, senior Isaac West takes over the kicking duties as the primary place kicker and punter.
North Allegheny is coached by Art Walker Jr., beginning his 14th season as head coach of the Tigers. Walker, who also coached seven successful seasons at Central Catholic prior to coming to NA, has a career record of 187-57 with five WPIAL championships and six title game appearances.
Tonight's season opener between North Allegheny and COF Academy kicks off at 7:30 p.m. at Newman Stadium. The game will be broadcast live via the internet on the North Allegheny Sports Network with the pregame show beginning at 7:10 p.m. Listen live to tonight's broadcast by clicking here.