View News For
2017-2018 News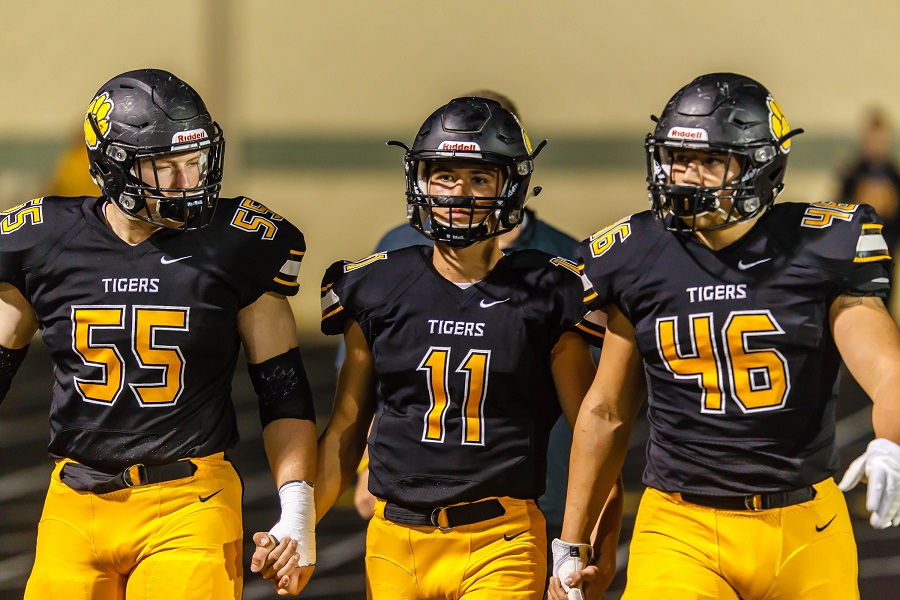 Winners of four in a row, the North Allegheny Tigers (5-2) look to make it five straight with a visit to Seneca Valley (1-5) tonight to take on the Raiders at NexTier Stadium. The Tigers split their two meetings with the Raiders last season, beating SV 49-14 in the regular season but dropping a heartbreaking 28-27 decision in the WPIAL semifinals. The semifinal contest was decided on the final play of the game by a blocked extra point.
North Allegheny would love to earn a measure of revenge for last year's playoff defeat and will face a Raiders team that is much better than their 1-5 record would indicate. Seneca Valley has played tough with some of the top teams in Class 6A, including an eight-point loss to third-ranked Central Catholic in week four.
Seneca Valley is led by head coach Ron Butchle who is in his second stint with the Raiders. Butchle coached SV from 2004-2008 and was the offensive coordinator under Dave Vestal the past two seasons. Butchle's squad is paced on offense by quarterback Gabe Lawson who has passed for 655 yards, seven touchdowns and six interceptions. Lawson is also the team's leading rusher with 254 yards and four scores. Defensively, the linebacking corps of Gabe Miller, Jake Stebbins and Saige Ley is a strength for the team. Miller was a 1st-Team All-Conference selection last season and was the player who blocked the extra point against NA in the WPIAL semifinals last November.
North Allegheny is coming off a dominant defensive performance during a 27-16 win against Penn Hills. The Tigers defense forced five turnovers, including two interceptions by Joey Porter Jr. The NA defense has permitted only 15 points per game this season and is led by junior linebacker Dante Caputo with 42 tackles. Senior Alex Hays has a team-best three sacks and posted an interception last week as well.
The Tigers offense is facilitated by senior quarterback Luke Trueman who has passed for 874 yards, nine touchdowns and four interceptions. On the ground, Trueman has rushed for 501 yards and two more scores. The rushing attack is spearheaded by Turner White and his team-leading 581 yards and eight touchdowns. Senior receiver John Vardzell is the top target in the passing game with 15 receptions for 312 yards and four touchdowns.
Kickoff for tonight's game between North Allegheny and Seneca Valley is slated for 7:30 p.m. The game will be broadcast live by the North Allegheny Sports Network with the pregame show getting underway at 7:10 p.m. To listen to tonight's broadcast, click here.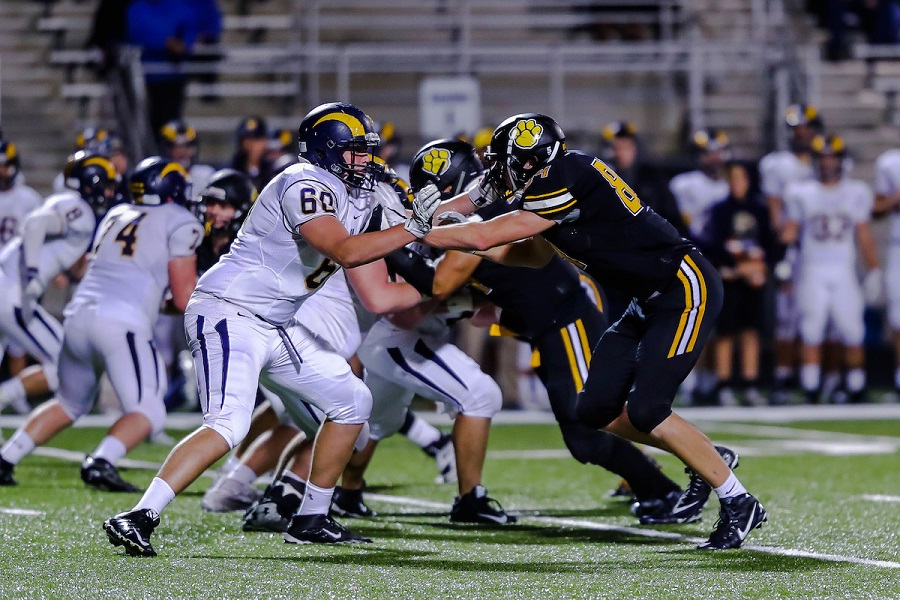 The North Allegheny Tigers (3-2) take to the road for the second straight week for a non-section clash with the high-powered Mt. Lebanon Blue Devils. The Tigers sit in third place in the Northern Seven Conference with a 2-1 conference mark following back-to-back blowouts of Shaler and Butler. Meanwhile, Mt. Lebanon is a perfect 3-0 in the Southeastern Conference and in first place, a half-game ahead of Bethel Park.
After a hard-fought game and defeat to Central Catholic in week two, the Tigers bounced back with two straight victories in conference play. Senior running back Turner White has led the charge with three consecutive 100-yard rushing performances and has churned up a team-high 507 yards on the season and six touchdowns. Junior tailback Ben Maenza has provided a terrific change-of-pace and also has six scores to go along with 202 yards on the year. Look for the Tigers to utilize the ground game, which includes quarterback Luke Trueman and his 307 rushing yards, to control the clock and keep the football away from Mt. Lebanon.
The Blue Devils possess a quick-strike offense that runs plays at a hurried pace and averages 35.8 points per game, second best in Class 6A. The top threat in the offense is senior receiver Aiden Cain who has already amassed over 1,000 yards on 56 receptions. Finally healthy, Cain is one of the top receivers statistically in the nation after battling through two ACL injuries over the last two years. His 27 catch, 350-yard performance against Pine-Richland in week one set a new state record in both statistical categories.
The facilitator in the Mt. Lebanon offense is senior quarterback James Stocker who appears fully recovered from a torn tendon in his knee suffered while playing pickup basketball in the offseason. Stocker has passed for 637 yards, six touchdowns and two interceptions on the year. His backup, Seth Morgan, saw the majority of the snaps in the early weeks of the season and has passed for 869 yards, eight touchdowns and only one interception. Both QB's are viable options in the passing game no matter who is in the contest. Anchoring the tailback position is senior Antonio LaSota who has gained 421 yards and three touchdowns on 80 carries.
Defensively, Mt. Lebanon has permitted 22.2 points per game, sixth most in Class 6A. Safety Michael Palmer leads the Blue Devils in tackles with 31. Senior lineman Coleman Coco is tops in sacks with four. North Allegheny has allowed only 12.6 points per game, second best in the Northern Seven Conference and third stingiest overall in Class 6A. The Tigers leading tackler is junior Dante Caputo who has 38 stops and two sacks on the year.
Kickoff for tonight's game between North Allegheny and Mt. Lebanon is slated for 7:30 p.m. The game will be broadcast live by the North Allegheny Sports Network, with the pregame show getting underway at 7:10 p.m. You can listen to tonight's game by clicking here.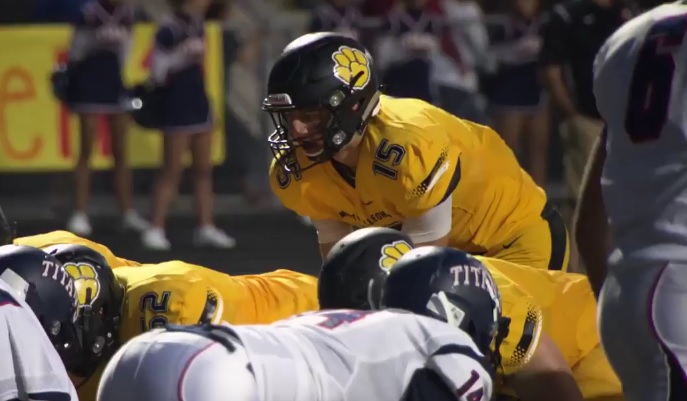 The North Allegheny Sports Network will provide a pay-per-view video stream of tonight's Northern Seven Conference clash between the North Allegheny Tigers(2-2) and the Butler Golden Tornado (1-2). The live pay-per-view video stream is $8.00 and can be seen by clicking this link.
The Tigers are coming off a 55-7 blowout win over the Shaler Titans last week. Senior running back Turner White posted a game-high 124 yards on just five carries and two touchdowns in the victory. It was the second-straight 100-yard effort by White. For video highlights of last week's win, see below.
Butler, who hasn't had a winning season since 1997, was shutout by Seneca Valley last Friday night, 35-0. The Golden Tornado are led by senior multi-purpose back Luke Michalek who has rushed for 202 yards and four touchdowns this season.
Kickoff for tonight's game is slated for 7:30 p.m. The pregame show on the North Allegheny Sports Network gets underway at 7:10 p.m. and includes a pregame interview with Tigers head coach Art Walker.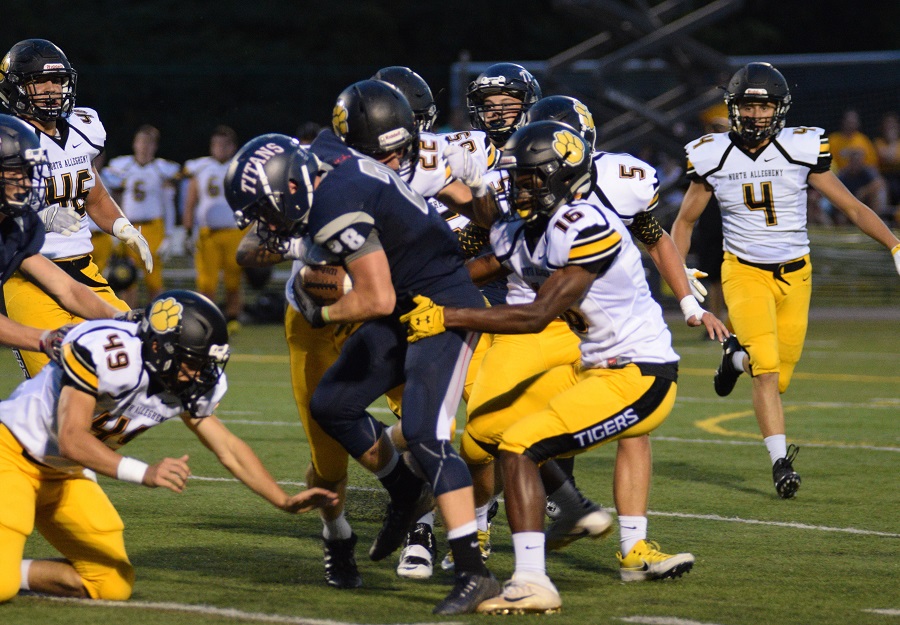 The North Allegheny Tigers (1-2) are eying their first conference win on Friday night with a home contest against winless Shaler (0-3) at Newman Stadium. The Tigers are coming off a hard-fought loss to No. 2-ranked Central Catholic last week, 14-7. Shaler dropped its 17th consecutive game in week two with a 27-7 defeat to the Norwin Knights.
The 17 straight losses for Shaler is the longest current losing streak in the WPIAL. This comes after the Titans ended a 34-game losing streak with a 30-20 victory over Butler during the 2015 season. Shaler's last victory came against Fox Chapel, 14-9, on October 9, 2015.
Faced with the task of rebuilding the Shaler program is first-year head coach Jim Ryan. Ryan is a former player and middle school football coach at Shaler who also played collegiately at Slippery Rock University. Ryan, who graduated in 2000 from Shaler, played on the Titans only team to win a section title in 1998 under former head coach Frank Rocco. For Ryan, progress can't be measure in wins and losses but in strides that are made by his players each week. The Titans certainly displayed a strong desire and improved fundamentals in last week's game against Norwin. Shaler played to a 7-7 tie at halftime until the Knights took control in the second half.
Providing a nucleus to build around are running backs Jake Pollak and Joey Kramer. The junior duo has combined for 271 yards rushing so far this season and saw significant playing time as sophomores last year. Starters on defense as well, look for Kramer and Pollak to make some plays during the coarse of the 2017 season.
For North Allegheny, the approach against Shaler is the same as it is against any other team and that is to play fundamental football and capture a victory. The Tigers turned the ball over three times in the first half against Central Catholic last week and that is certainly an area that head coach Art Walker wants to see addressed on Friday night.
Minus a couple big plays, the Tigers defense performed extremely well against the Vikings. Junior linebacker Dante Caputo led NA with nine tackles last week and owns a team-best 21 stops on the season. Sophomore defensive back Luke Collella grabbed the defense's first interception of the season and junior Ethan Augustine corralled a Vikings turnover by recovering a fumble.
On offense, running back Turner White delivered his first 100-yard rushing performance of the season with 161 yards and a score against Central Catholic. On the season, White leads the team with 237 yards rushing and averages 5.3 yards per carry. Quarterback Luke Trueman has passed for 335 yards on the year and rushed for 210 yards, combining for three total touchdowns. The leading receiver for NA is senior John Vardzell who has hauled in seven passes for 98 yards.
Kickoff for Friday's contest between North Allegheny and Shaler is slated for 7:30 p.m. from Newman Stadium. The game will be broadcast live via the internet on the North Allegheny Sports Network with the pregame show getting underway at 7:10 p.m. The pregame show will include an interview with head coach Art Walker. To listen to the game, click here.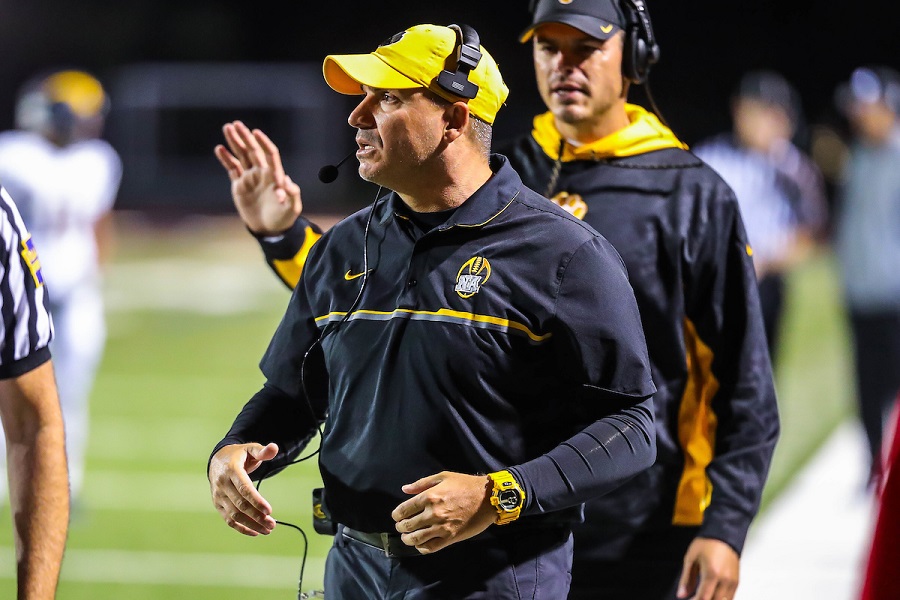 The North Allegheny Tigers (1-1) look to bounce back from a week one loss to Bethel Park with a home contest against conference rival Central Catholic (1-1) tonight at Newman Stadium. The Tigers fell to the Black Hawks last week in non-conference play, 35-15, but are hungry to face the reigning Class 6A champions this evening. The Vikings, meanwhile, rebounded nicely from a 40-7 defeat to a strong Cathedral Prep team in week zero with a 49-0 waxing of the Shaler Titans last Friday. Along with last year's WPIAL crown, Central Catholic has won three WPIAL titles in the last four seasons.
The Vikings lost 17 starters from last year's championship team and entered the 2017 campaign as a much younger squad than in recent years. However, Central Catholic still boasts several players with Division-I talent and an experienced field general at quarterback. Senior Troy Fisher is a three-year starter at the position and has committed to play collegiately at Lafayette College in the Patriot League. A pro-style quarterback, Fisher has thrown for 330 yards, three touchdowns and no interceptions so far this season. Fisher is coming off a junior season in which he threw for almost 1,900 yards and 22 touchdowns, to go along with 571 yards rushing and 12 more scores.
In addition to Fisher, another Viking that has received some headlines is senior fullback and defensive lineman, David Green. Green is headed to the University of Pittsburgh next season where he's tabbed to play on the defensive front. Senior receiver and defensive back Khalil Weathers is drawing Division I interest and will be another player to keep an eye on tonight. Central Catholic is coached by Terry Totten who is in his 13th season leading the Vikings and boasts a head coaching record of 148-22.
North Allegheny head coach Art Walker is in his 13th season leading the Tigers and previsously spent time as Central Catholic's head coach from 1998-2004. With a career record of 180-54 with five WPIAL titles and three state crowns, Walker and the Tigers would like to add another important victory to the win column tonight against a familiar foe.
Senior quarterback Luke Trueman continues to develop and is the Tigers team leader in passing and rushing. Trueman has thrown for 228 yards and two touchdowns, and has rushed for 143 yards and one score. Running back Ben Maenza has toted the football 13 times for 84 yards and three touchdowns, while backfield mate Turner White has gained 76 yards and one touchdown. At receiver, John Vardzell leads the team with seven catches for 98 yards. Junior wideout Joey Porter Jr. has hauled in six passes for 83 yards with all of his production coming in last week's game against Bethel Park.  On defense, linebacker Dante Caputo is the leading tackler with 15 stops and one sack. Seniors Josh Sanders and Alex Hays have 12 tackles each, followed by middle linebacker Ryan Langdon who has 10 tackles.
Central Catholic has won four of the last five meetings with North Allegheny, including a 55-14 victory in week two last season. North Allegheny's lone win in that span is a 24-17 triumph over the Vikings on September 18, 2015 at Newman Stadium.
Kickoff for tonight's game is slated for 7:30 p.m. The North Allegheny Sports Network will provide an audio broadcast of the game with the pregame show slated for 7:10 p.m., including an interview with NA head coach Art Walker. Randy Gore and Rick Meister will have the call. To listen to tonight's broadcast, click here.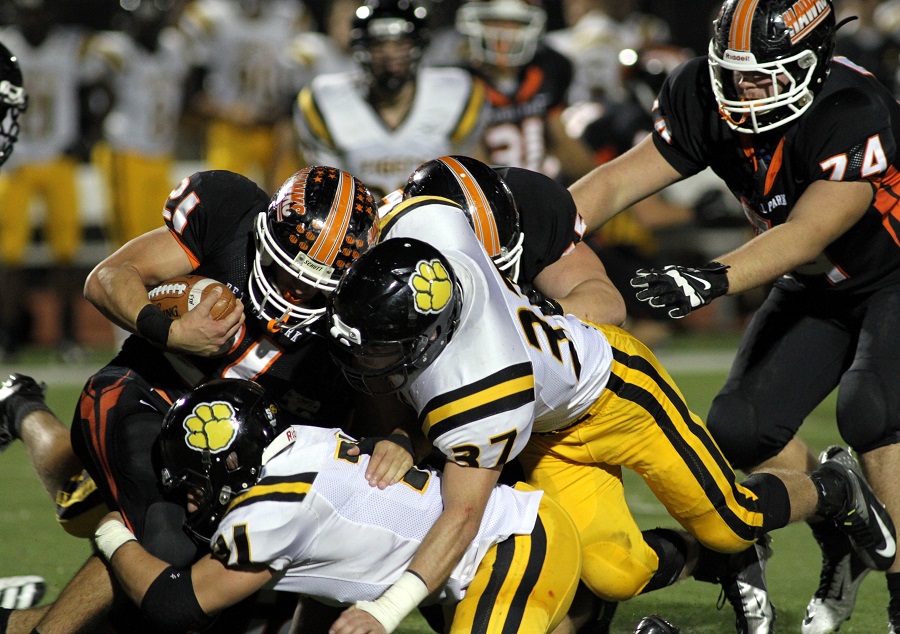 Following a dominating victory over Morgantown at the Western Pennsylvania Football Classic, the North Allegheny Tigers (1-0) will take on a familiar WPIAL opponent with a visit to Bethel Park to play the Black Hawks. Electing to participate in a scrimmage last week rather than play a Week Zero game, the Black Hawks will be playing in their season opener on Friday night. This interconference matchup between the Tigers and Black Hawks will be video streamed live from Bethel Park via pay-per-view ($8.00) by the North Allegheny Sports Network. If you can't make it to the game, you can watch the contest by clicking here.
Led by longtime head coach Jeff Metheny, the Black Hawks have been known for their consistency and fundamentally sound football. Entering his 24th season as head coach, Metheny has guided Bethel Park to 18 playoff appearances and a WPIAL title in 2008. Bethel Park is coming off a 5-5 season a year ago which ended with a quarterfinal round exit to Pine-Richland, 35-32. The season finale was a microcosm of the entire season for Bethel Park as it took a last-second field goal by the Rams to claim victory. Bethel Park lost four games last season by a touchdown or less, bringing to reality the fine line that exists between winning and losing. One of those losses was a week one defeat to North Allegheny, 21-14, in which the Tigers broke a 14-14 deadlock with a rushing touchdown by Michael Pope with 3:43 remaining in the third quarter.
While there are some question marks at the skill positions, there's little doubt that the strength of the 2017 Black Hawks will be the line of scrimmage. Bethel Park returns all five starters on the offensive line, headlined by WVU recruit James Gmiter at tackle. Joining Gmiter at tackle is Connor Wholey who is being recruited by Ivy League schools. Guard Gavin Vargesko can bench press 330 pounds and fellow guard Dan Kwiatkoski is the younger brother of Nick Kwiatkoski who currently plays linebacker for the Chicago Bears. At center is senior Liam Williams and David Opferman is a returning starter at tight end.
Clearly the line of scrimmage is expected to be a focal point for Bethel Park on a weekly basis, but who will operate behind the line is still a mystery. A spirited preseason battle at quarterback has ensued between senior Carmen Esposito, junior Luke Surunis and sophomore Anthony Chicitt. Whoever gets the start under center on Friday night will try to replace southpaw quarterback Cole Rodgers who performed admirably last season. The most experienced skill player for Bethel Park is senior John Doleno who rushed for 265 yards and caught 15 passes for 259 receiving yards. Doleno was used as a slotback last season and scored four total touchdowns. Bethel Park will need to make up the offensive production left behind by former running back Terron Murphy who posted back-to-back 1,000-yard seasons over the last two years.
If there were any question marks about the North Allegheny quarterback position heading into last week's game, senior Luke Trueman turned those question marks into exclamation points with a fabulous debut in his first varsity start. Trueman keyed the 45-0 rout of Morgantown with 165 yards passing, 56 yards rushing and three total touchdowns en route to Wright Automotive Player of the Game honors. Last week's contest was a complete victory for the Tigers with the defense limiting Morgantown to only 83 total yards of offense and just five first downs. The shutout was NA's first since posting a 49-0 whitewash at Shaler on September 19, 2016. Senior Alex Hays was the top tackler against Morgantown with six stops and one sack. The NA special teams chipped in as well courtesy of a Joey Porter Jr. 46-yard punt return touchdown.
Kickoff for North Allegheny's non-conference battle with Bethel Park is slated for 7:30 p.m. in the south hills. The game will be broadcast and video streamed live by the North Allegheny Sports Network. Randy Gore and Rick Meister will have the call.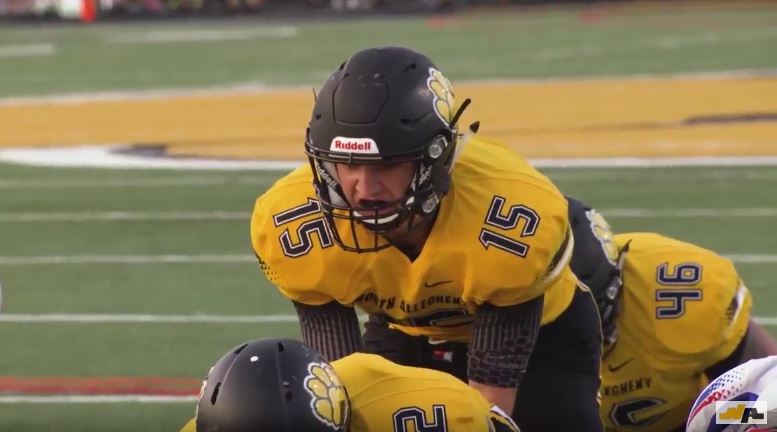 The North Allegheny punished the Morgantown Mohigans to open the Western Pennsylvania Legends Football Classic on Friday, August 25. Video highlights are below:
Wright Field at Newman Stadium played host to three additional games at the Football Classic on Saturday, August 26. Highlights from our live video stream on the North Allegheny Sports Network are below: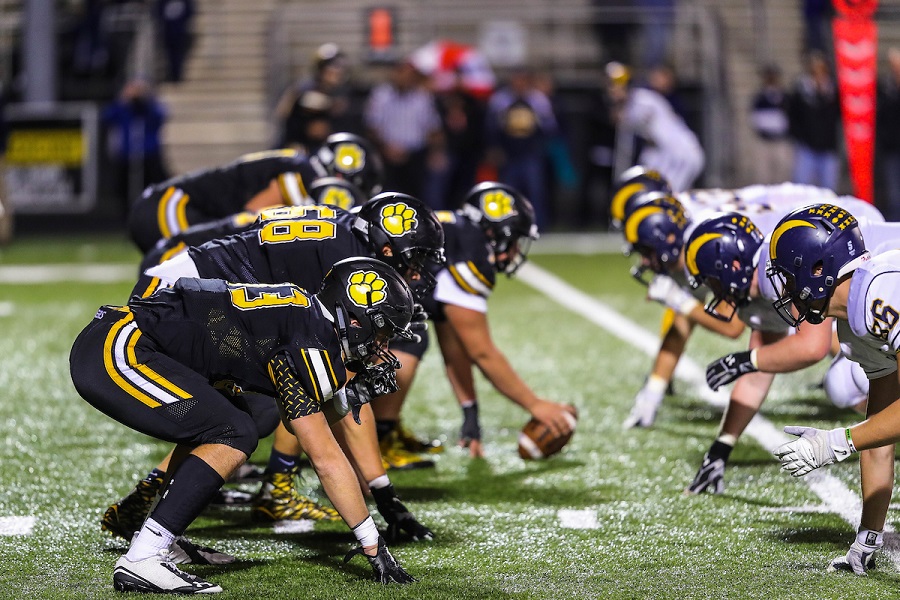 The North Allegheny Athletic Department is excited to announce that all three football games on Saturday, August 26 at the Western Pennsylvania Legends Football Classic will be video streamed live on a Pay-Per-View basis. Each game can be viewed at a $10 cost. Broadcast links are provided below next to each game preview.
South Side vs. Our Lady of the Sacred Heart – 12:00 p.m. – CLICK HERE TO WATCH VIDEO
Saturday's first contest matches up a pair of playoff teams from 2016. The South Side Rams are looking to return to the postseason for the fourth consecutive season out of Class AA's Midwestern Conference but will need to retool following the graduation of several key pieces to last year's playoff puzzle.  Second-year head coach Luke Travelpiece will look to two-way lineman Jake Navarra for senior leadership. Navarra is in his third year as a team captain and will try to steer the Rams' ship on the front lines. The running game will have to move on after the graduation of 1,300-yard rusher A.J. Crider who is now at Toledo. His younger brother, Jaelen Crider, seems poised for a breakout campaign and could be a big source of offense for South Side.
After posting a combined 1-17 record from 2014-2015, the 2016 OLSH squad charged to a 7-2 regular season and an appearance in the WPIAL playoffs out of Class A's Big Seven Conference. Unlike South Side, there will be a wealth of experience returning for second-year head coach Dan Bradley. Back at quarterback is the head coaches' son, Tyler Bradley, who threw for almost 2,400 yards and 23 touchdowns last year.  Also returning is junior RB/DB Austin Wigley who posted 624 yards rushing, 88 yards receiving and 15 touchdowns. Tyler Bradley and Wigley help comprise a deep talent pool for the Chargers this season.  Last year's postseason appearance was the first in the short seven-year history of OLSH football and is a big reason for optimism heading into season number eight for the Chargers.
Frazier vs. McGuffey – 3:30 pm – CLICK HERE TO WATCH VIDEO STREAM
The second game of the day is a rematch from last year's inaugural Western Pennsylvania Legends Football Classic as the Frazier Commodores take on the McGuffey Highlanders. A season ago, McGuffey outlasted Frazier for a 38-28 victory at Newman Stadium. The victory propelled the Highlanders to a 3-1 start to the season. However, devastating injuries and losses in four of its last six games denied McGuffey a playoff spot in Class AAA's Interstate Conference.
Despite losing starting quarterback and 1,000-yard rusher Marcus Czulewicz to graduation, McGuffey returns seven starters on offense and nine on defense, including lineman Marko Olivarez and linebacker Chase Miller who head coach Ed Dalton describes as "legit Division I recruits." A member of the McGuffey track & field team, Olivarez finished second in the shot put at the WPIAL Class AA championship. Running back Christian Clutter is the top returning skill player who was the second-leading rusher and receiver, posting a combined 561 yards and seven touchdowns.
Frazier's course in 2016 ran in contrast to McGuffey's. Getting off to a sluggish 2-4 start, the Commodores rebounded and used a three-game winning streak to reach the playoffs out of Class AA's Century Conference. Brentwood ultimately ended Frazier's run in the WPIAL first round but the late-season surge has provided some momentum heading into this season. There are five returning starters on offense for the Commodores, including multi-purpose back J.D. Celaschi. Celaschi was the second-leading receiver last year with 41 catches for 647 yards and six touchdowns and is the favorite to take over at quarterback for grad Chris Pierce.
Penn Hills vs. Plum – 7:00 pm – CLICK HERE TO WATCH VIDEO STREAM
The nightcap of Saturday's tripleheader pits the Penn Hills Indians against the Plum Mustangs. Both teams missed the playoffs last season in their respective classifications but there is much optimism for both teams entering Week Zero.
For Class 6A Penn Hills, the game signifies the dawn of a new era of Indians football with the arrival of first-year head coach Jon LeDonne. After spending the past three seasons as the head coach at Shaler, LeDonne inherits a talent-rich roster from former head coach John Peterman who departed to become the Athletic Director at Kiski Area High School. LeDonne's offense will be spearheaded by two top-flight Division I recruits. Quarterback Hollis Mathis has big shoes to fill in taking over for 2,300-yard passer Cam Tarrant, but he's already gaining the attention of major colleges and received an offer from Howard in May. Mathis will have the luxury of throwing to Michigan State recruit Julian Major who reeled in 31 passes for 433 yards and seven scores a season ago.
After an injury-riddled 2-7 season, the Plum Mustangs are hoping to get back to the playoffs out of Class 5A's Big East Conference. The Mustangs reached the postseason in 2014 and 2015 and have playoff aspirations this year because of a senior-laden roster. Considered a major strength for Plum entering the year is an experienced offensive line that includes Nic Florek, Nick Stitt, Aaron Shefler, Mike Giannuzzi and Mike Jones.  This offensive front will pave the way for a hard-charging rushing attack that features senior tailback Corey Thomas and fullback Dakota Sunday. Thomas' propensity to run with physicality shouldn't be surprising to opponents considering he was an All-Big 56 Conference selection at linebacker in 2016. Head coach Matt Morgan, a former University of Pittsburgh and St. Louis Rams offensive lineman, also enjoys churning out yardage on the ground if possible.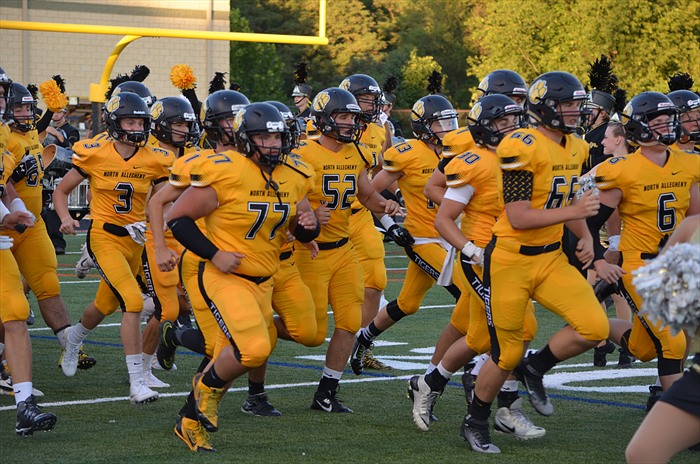 The North Allegheny Tigers open the 2017 season on Friday night against the Morgantown Mohigans at Newman Stadium. The contest is not only the season opener for the Tigers but also the kickoff to this weekend's Western Pennsylvania Legends Football Classic. Along with the NA vs. Morgantown game, there will be three additional contests played on Saturday. (Click here for a preview of the three Saturday games at the Western Pennsylvania Legends Football Classic.)
Following a 9-3 season and appearance in the WPIAL semifinals, the Tigers are eager to build upon their efforts from last season. There will be several new faces in the starting lineup, including quarterback Luke Trueman who takes over for the 2016 Class 6A Player of the Year, Ethan Maenza. Trueman's older brother, Riley, also played QB at North Allegheny and Luke should be well-groomed to trigger the offense. An all-conference selection on the baseball diamond, Trueman possesses the strong arm and athleticism necessary to play quarterback for the Tigers.
Trueman will have plenty of talented surrounding him and two new explosive receivers to throw to. Senior John Varzdel is a transfer from Wando High School in South Carolina and already has an offer from Georgetown. Junior wideout Joey Porter Jr. is a transfer from North Catholic who bears the name of his father who played linebacker for the Pittsburgh Steelers and is currently the Steelers outside linebackers coach. Along with Varzdell and Porter Jr., the Tigers return veteran receivers Jack Potts and Corey Melzer.
At running back, Turner White will carry the load and proved that he is more than capable with ball in his hands during the 2016 playoffs. White rushed for 101 yards and two touchdowns against Hempfield in the WPIAL quarterfinals and toted the football for 130 yards and a score against Seneca Valley in the WPIAL semifinals. White will look for rushing lanes behind the offensive lineman Derek Devine (University of Virginia commit), Dylan Wall, Ian Truesdell, Jack Graham and Elijah Boyd. Matt Sanfilippo and Quinn Rodak could also rotate into the lineup. Tight ends Brennan McCauley and Canyon Tuman, son of former Steelers tight end Jerame Tuman, bring a wealth of experience and muscle to the position.
On defense, the starting linemen on Friday night will consistent of Tuman, Wall, McCauley and King Gildon, son of former Steelers linebacker Jason Gildon. The linebackers will be led by Ryan Langdon who finished second on the team in tackles last season with 63 stops and added five sacks and a pick six. Langdon will be joined by starting outside linebackers Alex Hays and Dante Caputo. At defensive back, Melzer, Porter Jr., Nikko Rankin and Josh Sanders will anchor as starters in the secondary. Sanders is the most experienced returnee in the secondary and posted 37 tackles and an interception a year ago.
In the kicking game, Trueman will serve as NA's punter for the second straight year while Dom Falo and Isaac West will compete for time as placekicker.  The Tigers are coached by Art Walker Jr. who enters his 13th year of coaching the black and gold. Overall, Walker is in his 21st year and boasts a record of 179-53 with five WPIAL titles and three state championships.
The Tigers enter the year ranked No. 6 in the state in Class 6A. Playing in the powerful Northern Seven Conference, things won't be easy and a tough tune-up game against Morgantown will prove important to prepare for the season ahead.
The Mohigans of Morgantown are coming off a 10-3 campaign and a semifinal appearance in the West Virginia State playoffs. The 2017 Mohigans will have little resemblance to the team that reached the state semifinals. Twenty-three seniors graduated from last year's squad, and along with them, 90-percent of the team's offensive production. On top of that, last season's starting quarterback, Logan Holgerson, transferred to a Baltimore prep school in the offseason.
Morgantown will look to carry on its proud football tradition with an abundance of new starters and will turn to junior Aaron Alvarez at the quarterback position. Alvarez has already received praise as the new starter and performed well in the team's scrimmage against Laurel Highlands last week. The most experienced offensive skill player is slot receiver Alajuan Robinson who hauled in 18 catches for 181 yards and a touchdown last season.
On defense, the Mohigans boast a hard-hitting middle linebacker in senior Cole Streyle. Adding muscle in the offseason, Streyle has been called a "weight-room warrior" by the coaching staff and hopes to build on a junior season that saw him make 38 tackles to go along with one sack and an interception. Additional leadership will be provided by senior Javohn Moore at free safety. Moore led Morgantown with 68 tackles in 2016 and collected two interceptions and three forced three fumbles.
Morgantown is led by second-year head coach Matt Lacy, the sixth head coach in program history. Lacy graduated from MHS in 1995 and joined the coaching staff in 1999 at the age of 21. After many years as an assistant, Lacy took over as head coach last season and installed a new spread offense, getting away from the old Wing-T offense the team had been using prior. The team continues to utilize a 3-4 look on defense.
Kickoff for the season opener between North Allegheny and Morgantown is set for 7:30 p.m. The contest will be broadcast live via the internet on the North Allegheny Sports Network with the pregame shot getting underway at 7:10 p.m. Randy Gore and Rick Meister will have the call. Click here to listen to the broadcast.
Tickets for Friday night's game are $9 for adult reserved seats, $8 for adult general admission, and $5 for students.  Tickets for Saturday are $8 for adults and $5 for students.  All Saturday tickets are general admission and are good for all three games.
The Classic is partnering with Transitional Paths to Independent Living (TRPIL), a non-profit organization that aids people with disabilities to live in a manner they choose in a location that they also choose. TRPIL will receive a portion of the proceeds from the event.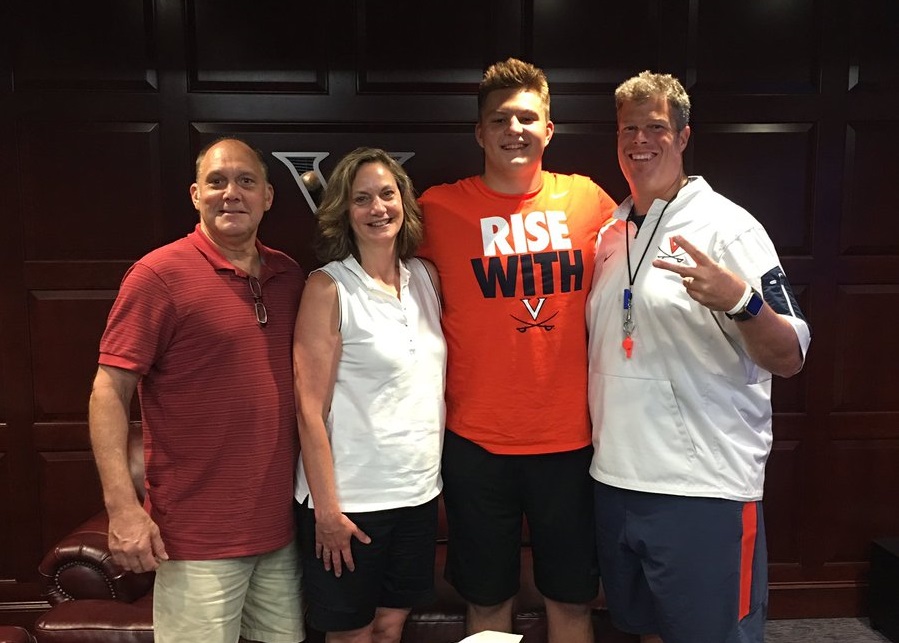 The kickoff to the 2017 season is a little more than a month away and North Allegheny senior Derek Devine has announced that he'll play college football at the University of Virginia. Devine made the decision public in late June via Twitter and wrote, "I am proud to announce that I am 100% committed to the University of Virginia!! #hoosrising18." The 6-foot-6, 280-pound lineman chose the Cavaliers over offers from Bowling Green, Buffalo and Eastern Kentucky.
After starting his junior season at right tackle, Devine will again be one of the anchors on the O-Line for what should be a strong North Allegheny football team this fall. A dual-sport athlete, Devine is also an outstanding grappler for the North Allegheny wrestling team. Last season, Devine captured a Section 3-AAA individual championship at 285 pounds and posted a record of 31-19.
Devine and the North Allegheny football team will open the 2017 season on August 25 against Morgantown (WV) at home at 7:30 p.m. The contest will be the opening game for the second annual Western Pennsylvania Legends Football Classic to be held at Wright Field at Newman Stadium.
(For a video of Devine's junior year highlights, see below.)