View News For
2017-2018 News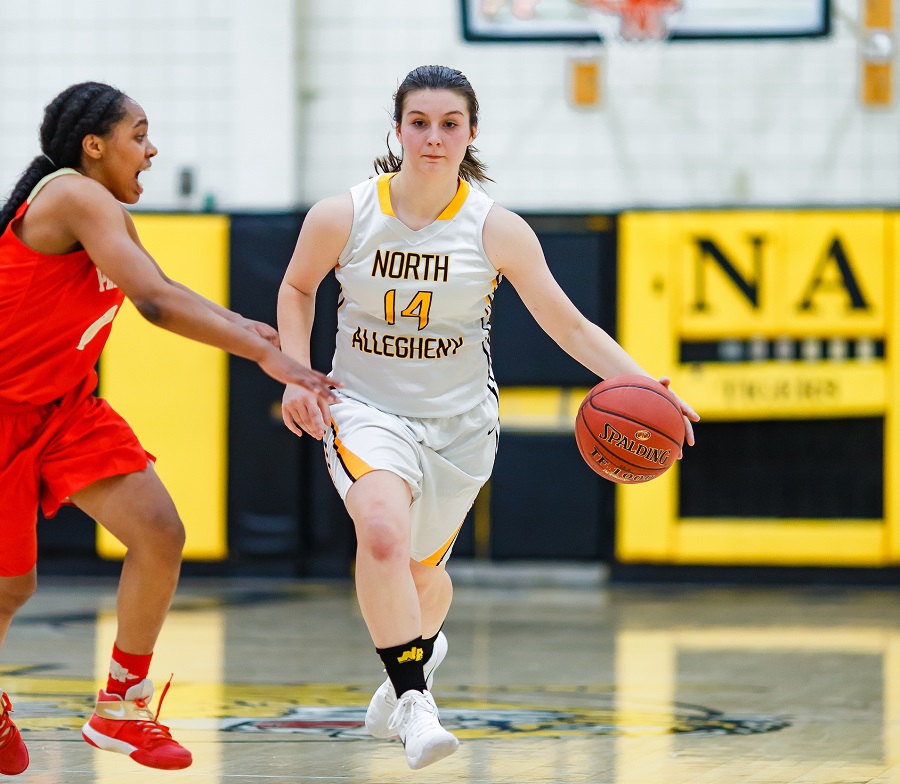 Monday night brought to a conclusion an exciting opening weekend at the annual Wright Automotive Tip-Off Tournament. Listed below is the All-Tournament Team as chosen following the four-day event.
Wright Automotive Tip-Off All-Tournament Team
| Player | School |
| --- | --- |
| Olivia Hudson | Altoona |
| Caranda Perea | Altoona |
| Megan McConnell | Chartiers Valley |
| Mackenzie Wagner | Chartiers Valley |
| Magen Polczynski | Norwin |
| Jayla Wehner | Norwin |
| Piper Morningstar | North Allegheny |
| Maddie Fischer | North Allegheny |
| Alyssa Hyland | Mt. Lebanon |
| Tayonna Robertson | Penn Hills |
| | |
| Most Valuable Player | |
| Rachel Martindale | North Allegheny |
| | |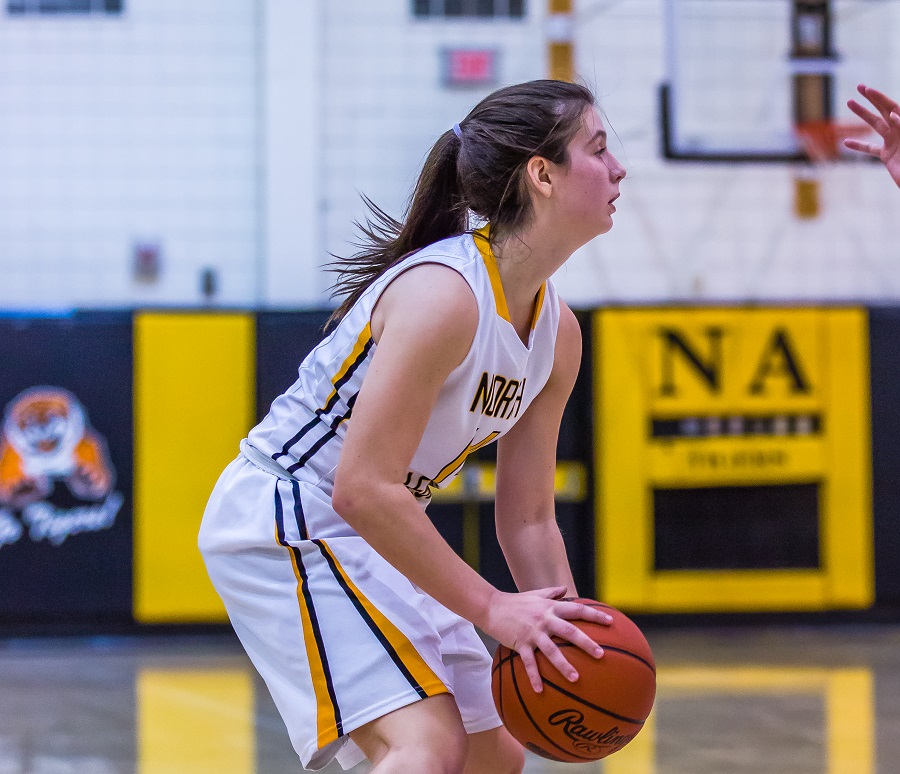 The 2017-2018 basketball season tips off on Friday night and North Allegheny is yet again hosting one of the top girls' basketball tournaments in the area this weekend. The Wright Automotive Tip-Off Tournament is a four-day hoops spectacular that features six of the most prominent programs in girls' basketball in Western Pennsylvania, including the reigning WPIAL champions in Class 6A and 5A. Here is a preview of this weekend's varsity action.
Friday, December 8
Chartiers Valley vs. Altoona – 3:45 p.m.
The Chartiers Valley Colts gallop into the 2017-2018 season as the defending WPIAL champions in Class 5A following a 20-8 season and is currently the No. 1-ranked team in the classification. The Colts trotted past Oakland Catholic in the WPIAL title game, 52-36, before falling to Trinity in the PIAA second round. A wealth of talent returns from last year's championship team, including PA Big 56 Conference first-team selections Mackenzie Wagner, Megan McConnell and Gabi Legister. Wagner and McConnell make up one of the most exciting guard tandems in the WPIAL. Wagner averaged 15 points per game last season and McConnell averaged 11 points per game as a freshman. McConnell's older brothers are T.J. (Philadelphia 76ers) and Matty (Robert Morris) who had storied high school careers and are continuing their lore in the pros and college, respectively. Legister is a 6-2 forward who has committed to Division I Kennesaw State where she will play for former Pitt women's basketball coach Agnus Berenato who is in her second season of a rebuild at Kennesaw.
The Altoona Mountain Lions are returning to the Wright Automotive Tip-Off Tournament for the second straight season and were one of the few teams that defeated Chartiers Valley a year ago with a 60-53 victory at last year's tournament. The Mountain Lions clawed their way to a 15-9 record last season and won the Class 6A District 6 title with a 54-42 triumph over State College in the championship game. Altoona rolled through the District 6 playoffs with an average margin of victory of 24.8 points before losing to Cedar Cliff in the first round of the state playoffs. The Mountain Lions were hit hard by graduation, losing all five starters and their sixth-man off the bench from last year's squad.
Mt. Lebanon vs. Norwin – 5:30 p.m.
Like Chartiers Valley and Altoona, the Mt. Lebanon Blue Devils reached the state playoffs last season and are coming off a 19-7 season and a Section 3 title in arguably the toughest section in Class 6A. The Blue Devils lost their top two scorers from last year but still have one of the best coaches in the WPIAL in head coach Dori Oldaker. Mt. Lebanon won three consecutive PIAA titles under Oldaker from 2009-2011. Junior forward Jamey Napoleon, who averaged eight points and five rebounds per game last year, and guards Alyssa Hyland and Jess Wilhelm are expected to be top contributors this season.
The Norwin Knights saw their bid for a WPIAL three-peat come to an end last season at the hands of the Blue Devils in the WPIAL quarterfinals, 47-44. Two years ago, it was Norwin who bounced Mt. Lebanon in the WPIAL and PIAA playoffs during their march to a second straight WPIAL title and appearance in the PIAA quarterfinals. In a series that has developed into an exciting, competitive rivalry, Norwin and Mt. Lebanon will hook up again in day one at the Wright Automotive Tip-Off Tournament. Despite their loss in the WPIAL quarterfinals, the Knights had another successful season with a 17-6 record and second-place finish in Section 2-6A under seventh-year head coach Brian Brozeski. Norwin suffered significant losses due to graduation and return only two players with varsity experience, senior Megan Polcynski and junior Jessica Kolesar.
North Allegheny vs. Penn Hills – 7:15 p.m.
The night cap of Friday's tripleheader pits the North Allegheny Tigers against the Penn Hills Indians. The Tigers enter the season as the top-ranked team in the state in Class 6A and the Indians are ranked fifth in the state, setting the stage for an epic season opener. The expectations are high for North Allegheny after reaching the PIAA title game last season and capturing its first WPIAL crown in program history. The Tigers surrender only one senior from last year's team and return leading scorer Rachel Martindale, senior guard Piper Morningstar (Radford University) and senior forward Madelyn Fischer (Seton Hill University).
The Penn Hills Indians have been one of the top teams in the largest classification over the past few years and have reached the state tournament three consecutive seasons. Their opening night opponent has been a thorn in their side, however, knocking them out of the PIAA playoffs two of the last three seasons. North Allegheny owns a 14-game winning streak over Penn Hills. The Indians will try to snap that losing skid but will have to do so without Desiree Oliver and Jade Ely who are now playing Division I college basketball, and Diamond Jay-Whittington who is out for the season with a knee injury. Despite those losses, coach Robert Cash has a deep and talented roster that is headlined by Tayonna Robertson. Receiving Division I interest, Robertson is a 6-1 junior who averaged over 12 points per game as a sophomore. Juniors Ariana Dunson and Adia Brisker should be major players for a Penn Hills team coming off a 23-4 season and undefeated Section 2-6A title.
For the entire varsity schedule for the four-day Wright Automotive Tip-Off Tournament, see below.
| Tip-Tournament Schedule | | | |
| --- | --- | --- | --- |
| | Friday, December 8 | | |
| Game 1 | Chartiers Valley vs. Altoona | 3:45 p.m. | |
| Game 2 | Mt. Lebanon vs. Norwin | 5:30 p.m. | |
| Game 3 | North Allegheny vs. Penn Hills | 7:15 p.m. | |
| | | | |
| | Saturday, December 9 | | |
| Game 4 | Penn Hills vs. Chartiers Valley | 11:00 a.m. | |
| Game 5 | Altoona vs. Mt. Lebanon | 12:45 p.m. | |
| Game 6 | North Allegheny vs. Norwin | 2:30 p.m. | |
| | | | |
| | Sunday, December 10 | | |
| Game 7 | North Allegheny vs. Altoona | 1:30 p.m. | |
| | | | |
| | Monday, December 11 | | |
| Game 8 | Norwin vs. Chartiers Valley | 6:00 p.m. | |
| Game 9 | Mt. Lebanon vs. Penn Hills | 7:45 p.m. | |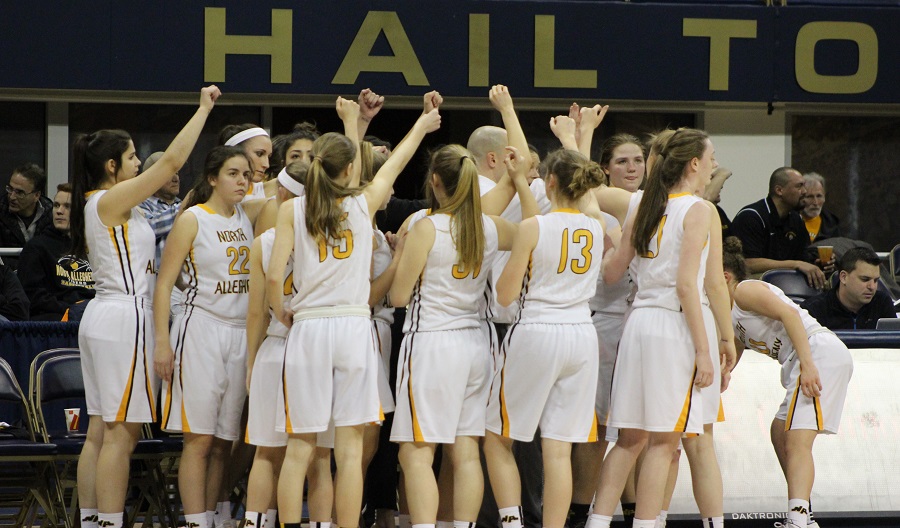 North Allegheny athletics recently concluded a dazzling fall sports season with three state titles (Girls Tennis, Girls Golf and Girls Volleyball) to go along with an individual state champion (Ashley Huang – Girls Tennis) as well. Before the winter sports season has even tipped off, the North Allegheny girls' basketball team is projected as Class 6A's No. 1 team in the state of Pennsylvania by Lancaster Newspapers and Jeff Reinhart.
The Tigers are coming off a banner season in 2016-17, winning the program's first WPIAL title and reaching the PIAA championship game in Hershey. North Allegheny loses only one senior and returns several key pieces from last year's championship team.
Senior forward Madelyn Fischer, a Seton Hill commit, and senior guard Piper Morningstar, a Radford University commit, are two valuable contributors on the inside and perimeter. Also back is the team's leading scorer from a season ago, junior guard Rachel Martindale who averaged 12 points per game and poured in a team-high 69 3-pointers, hitting at a 37-percent clip. Martindale initially gave a verbal commitment to play softball at the University of Pittsburgh but reconsidered in the fall. She is receiving numerous looks from Division I programs for college basketball. Senior guard Courtney Roman returns to provide additional fire power from beyond the arc.
Always a hallmark for teams led by Spencer Stefko, entering is third season at North Allegheny, is a stifling and turnover creating defense. Junior guard Brynn Serbin, a player who notched 46 steals last season, will again spearhead the defensive efforts. A tremendous facilitator as well, Serbin posted a team-best 91 assists.
The No. 1-ranked North Allegheny Tigers will open the 2017-2018 season on Friday, December 8 against the Penn Hills Indians at the Wright Automotive Tip-Off Tournament. The Indians are ranked No. 5 in the state in the same poll. The season opener will be broadcast live by the North Allegheny Sports Network.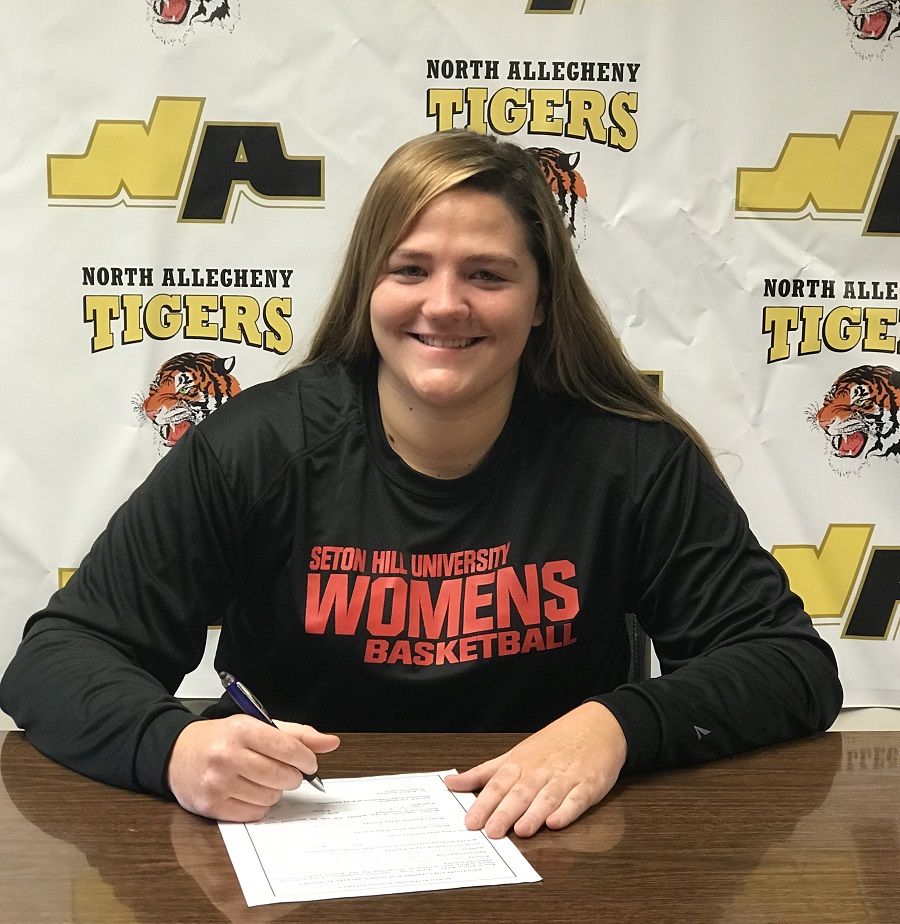 With the upcoming basketball season just a month away, North Allegheny girls' basketball player Madelyn Fischer signed her letter of intent to play collegiate basketball at Division II Seton Hill University.
Fischer was a consistent force in the paint and helped NA to 28-2 season, a WPIAL championship and an appearance in the state title game in Class 6A.
As a junior, Fischer was second on the team in rebounds, averaging 5.6 boards per game for a total of 167 on the season. She averaged 7.8 points per game and was the team's top shooter from the charity stripe (min 50 attempts) with a 78-percent free-throw shooting percentage.
Fischer will join a women's basketball program at Seton Hill that finished with a 16-13 record a season ago. The Griffins are coached by Mark Katarski who won the PSAC West Coach of the Year award last season and is currently in his fifth year as head coach.
Fischer looks to build upon a terrific junior campaign in the upcoming season with the Lady Tigers. Madelyn is the daughter of Dawn and Mike Fischer.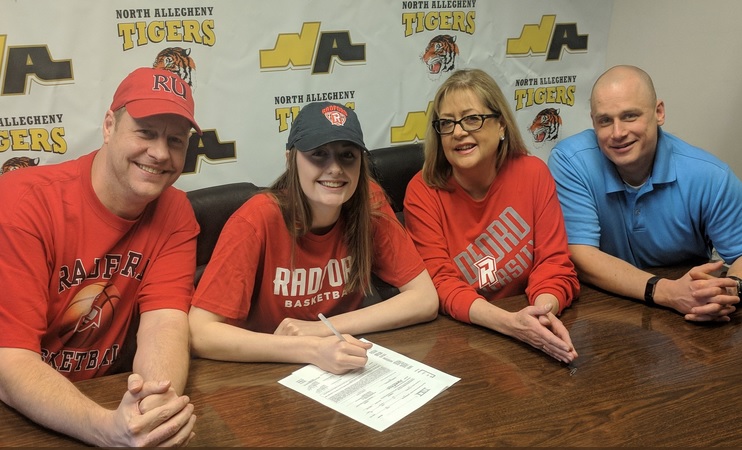 North Allegheny senior basketball player Piper Morningstar has signed her letter of intent to play college basketball at Division I Radford University in Virginia. A terrific all-around player for the Lady Tigers, Morningstar helped NA to 28-2 season, a WPIAL championship and an appearance in the state title game in Class 6A.
As a junior, Morningstar averaged nine points per game, third best on the team, and poured in 57 3-pointers at a 34-percent clip. She also hauled in 105 rebounds, made 14 blocks and dished out 63 assists.
Morningstar will be a great addition to the Radford University women's basketball team which posted a 24-9 season in 2016-2017. Radford reached the Big South Conference championship game and made an appearance in the WNIT tournament.
Morningstar hopes to study at Radford's College of Business and Economics while playing basketball for the Highlanders. Piper is the daughter of Darren and Kim Morningstar and has two sisters, Meg and Paige.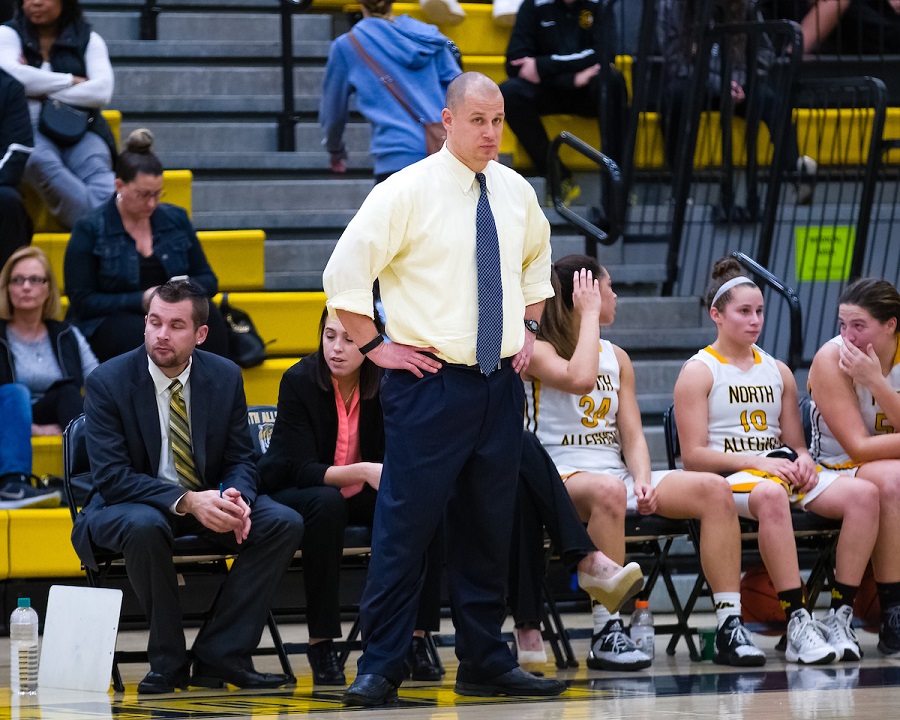 North Allegheny girls' basketball coach Spencer Stefko was recently recognized by the Tribune Review for his efforts in raising money for cancer research and to honor his father with a 180-mile bike ride in Columbus, Ohio. The fundraising continues through October 6. Click here to read this inspirational feature story on Coach Stefko.