View Game Summaries For
2018-2019 Game Summaries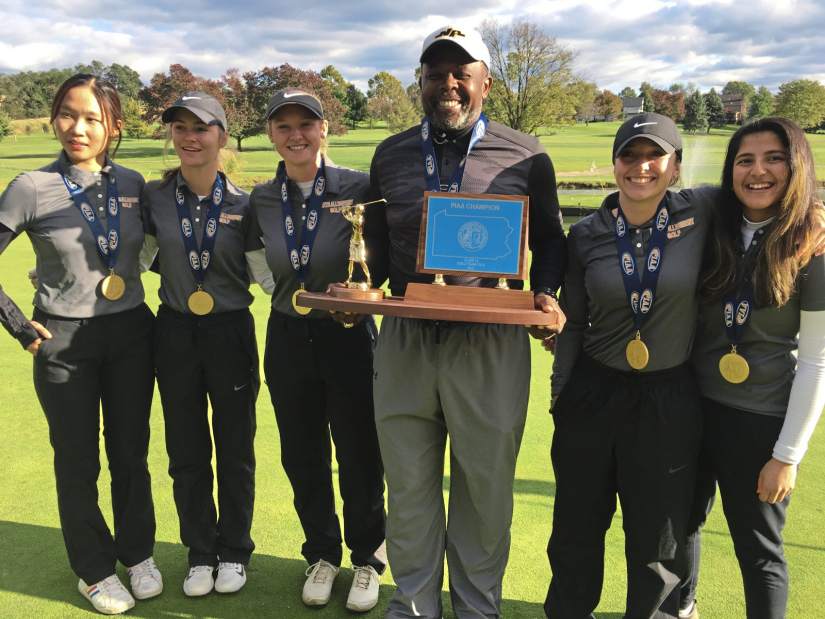 The North Allegheny girls' golf team won its third PIAA Class AAA title in the last four years with a team score of 243 at the state championship in York, PA on Wednesday afternoon. The Tigers finished four strokes ahead of second-place Downingtown East.
PIAA individual champion Caroline Wrigley led the Tigers by shooting a 2-under par 70. Juniors Esha Vaidya and Bella Walter shot an 86 and 87, respectively. Senior Christina Lewis carded an 88 and junior Christina Zhou checked in with a 91.
North Allegheny concludes the 2018 season with a fourth straight WPIAL title and third PIAA crown in that span, also winning a state title in 2015 and 2017. Congratulations to the NA girls' golf team and head coach Mike Hambrick for their achievements this season.
(Photo courtesy of Paul Schofield and Trib HSSN.)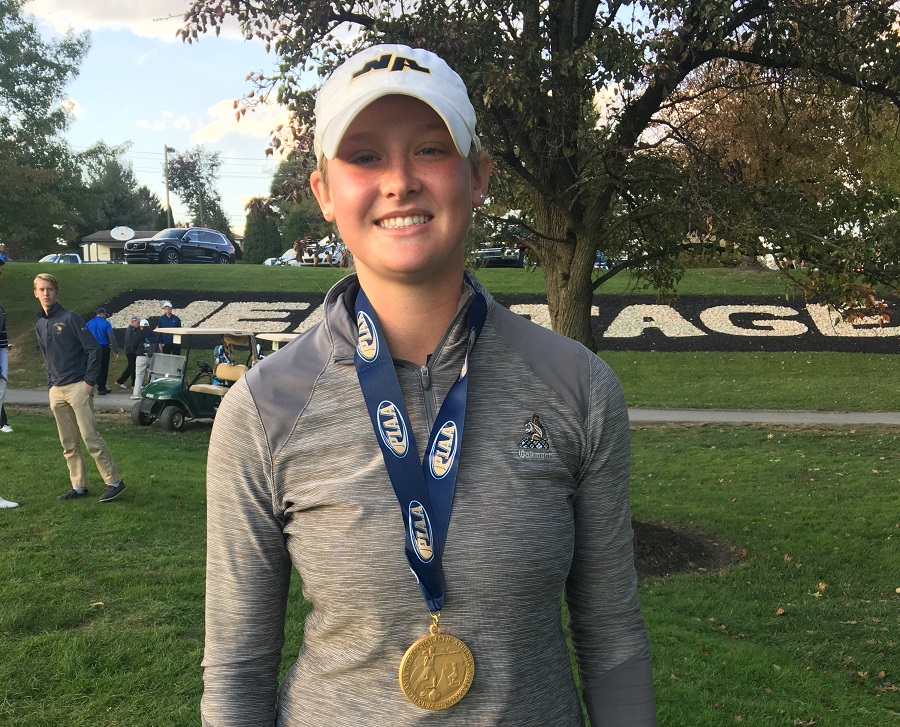 North Allegheny senior Caroline Wrigley continued one of the most successful golfing careers in WPIAL history on Tuesday afternoon by winning gold at the PIAA Class AAA individual golf championship. A three-time WPIAL champion, Wrigley earned her first individual state crown by shooting a 147 at the two-day event. She finished seven strokes better than the second-place finisher, Mary Kate Norcross of Chambersburg. For a look at the PIAA leaderboard, click here.
Wrigley and the rest of the North Allegheny girls' tennis team will turn their focus toward a team PIAA title on Wednesday at Heritage Hills Golf Club in York, PA.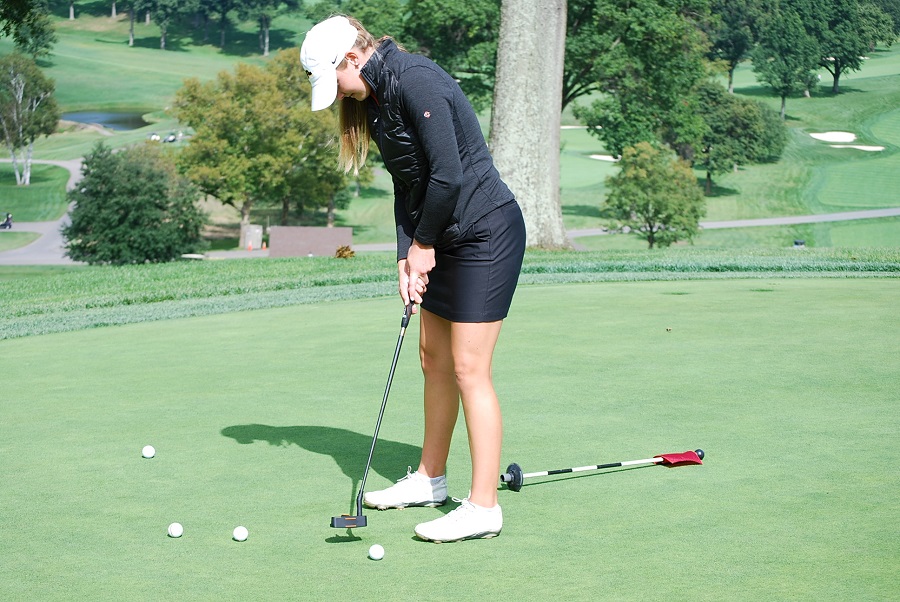 Senior Caroline Wrigley turned in another great performance at the PIAA Western Regional Qualifier on Monday at Tom's Run. Wrigley took first place and qualified for the PIAA finals. Her 1-under par 71 was one of two scores under par for the boys' and girls' AAA and AA competitors. The score was also impressive given the rainy and windy conditions.
The top five girls move on to the state finals in York, PA. South Fayette's Caroline McConnell (74), Upper St. Clair's Sara Steve (78), Uniontown's Danae Rugoala (78) and Oakland Catholic's Jessica Meyers all qualified.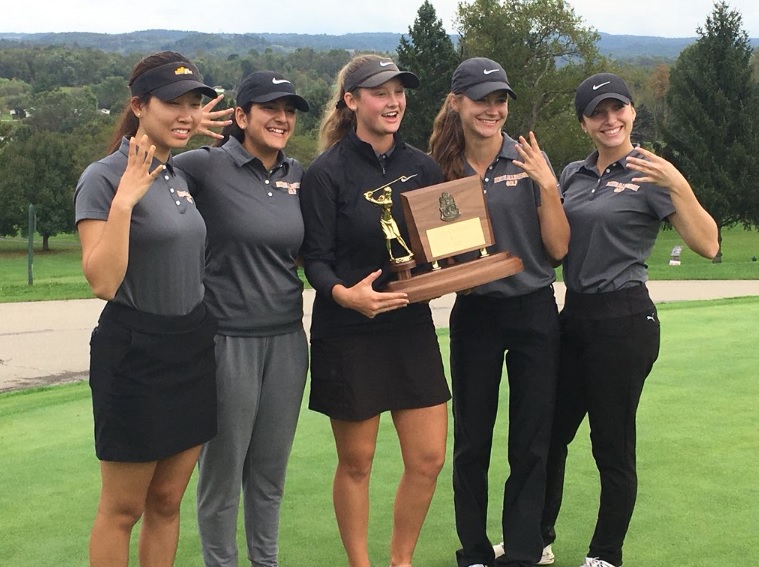 With record-low score of 294, the North Allegheny girls' golf team ran away with its fourth consecutive Class AAA WPIAL championship on Thursday afternoon at Cedarbrook Golf Course. Its the seventh WPIAL crown in program history. Upper St. Clair came in second place with a score of 332. Penn-Trafford finished in third place and Mt. Lebanon took fourth with scores of 357 and 370, respectively.
Three-time WPIAL individual champion Caroline Wrigley led the scorecard with a 6-under 65. Senior Christina Lewis and junior Esha Vaidya each carded a 75. Junior Bella Walter chipped in with a 79 and Christina Zhou added a 95.
The victory qualified the Tigers for the PIAA Finals where they look to defend their state title from 2017. Wrigley will compete in the Individual PIAA State qualifier next Monday.
(Photo courtesy of Bill Beckner and the Trib Live HSSN.)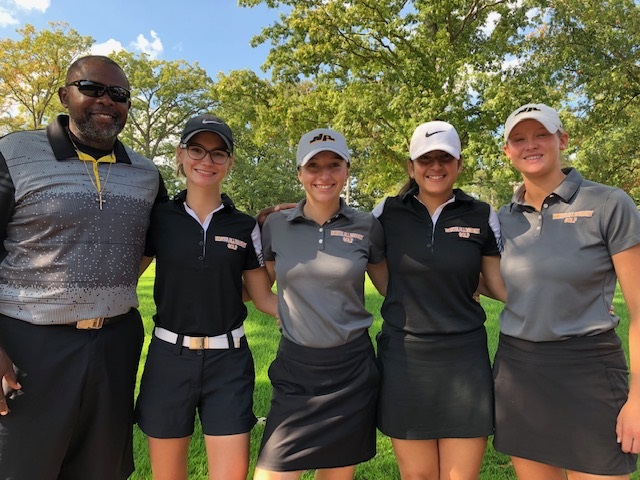 The North Allegheny girls' golf team traveled to Rolling Acres Golf Course on Monday for the WPIAL team semifinals. With a score of 310, the three-time defending champions topped the 10-team field to advance to the WPIAL finals on Thursday. North Allegheny's score was the lowest 18-hole score in the past five years of WPIAL play in girls' golf.
Senior Caroline Wrigley turned in a dominant performance with a 3-under par 70 to pace the Tigers. Bella Walter turned in her best score of the year with an even-par 73.
Along with the Tigers, Upper St. Clair (342), Mt. Lebanon (358) and Penn-Trafford (360) also advanced to the WPIAL finals.