View Game Summaries For
2017-2018 Game Summaries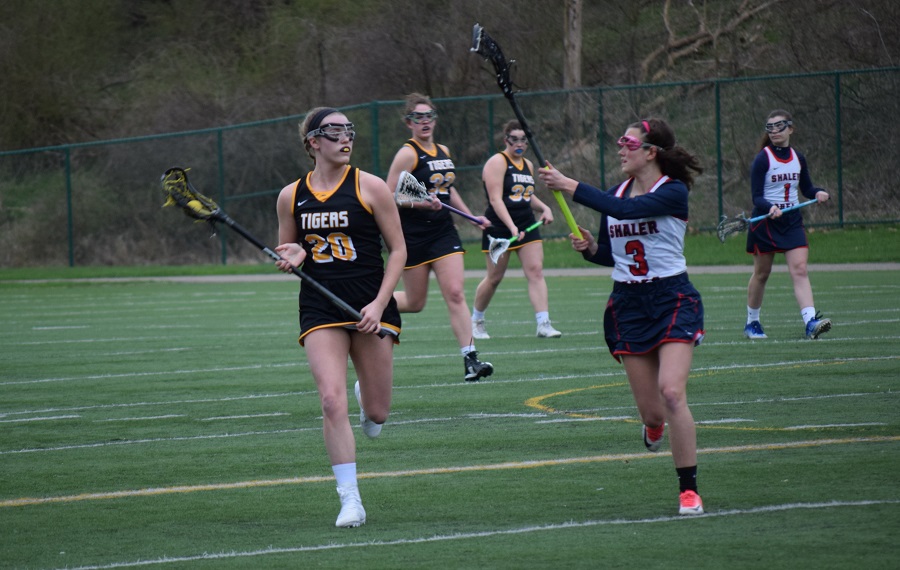 The North Allegheny girls' lacrosse team snapped a four-game losing skid with a 9-7 come-from-behind victory at Shaler on Wednesday night. The Section 3-AAA victory capped a season sweep of the Titans.
Staying true to form, the Tigers trailed 4-3 at intermission but stormed back with a big second half to claim the win. Junior Brooke Ferringer led the comeback charge for North Allegheny with four goals and two assists. Shaler was paced by Madaline Wightman with three goals in a losing effort.
Joining in the NA rally was junior Nicole Atkinson who tallied a goal and kept NA in possession most of the night by winning 12 of 17 draw controls. Junior Paige Jones netted two goals, caused two turnovers and collected a team-high eight groundballs.  Freshman Skye DePrado chipped in with a goal, a beautiful assist to Ferringer, a timely caused turnover and three groundballs. Freshman Katie Oates scored a goal and reeled in seven ground balls.
On defense, Josie Barton and Julia Puntil each contributed two ground balls and a caused turnover. Junior goalie Becca Wickett was outstanding in net with 18 saves on the night.
Following the win, North Allegheny improves to 3-5 overall and 3-4 in Section 3-AAA. Shaler falls to 1-5 in section play. The Lady Tigers visit Moon on Friday night at 8:00 p.m.
Girls Lacrosse Summary vs. Shaler, 4-18-18
| GAME SUMMARY | | | |
| --- | --- | --- | --- |
| SCORE BY HALVES | 1 | 2 | FINAL |
| North Allegheny | 3 | 6 | 9 |
| Shaler | 4 | 3 | 7 |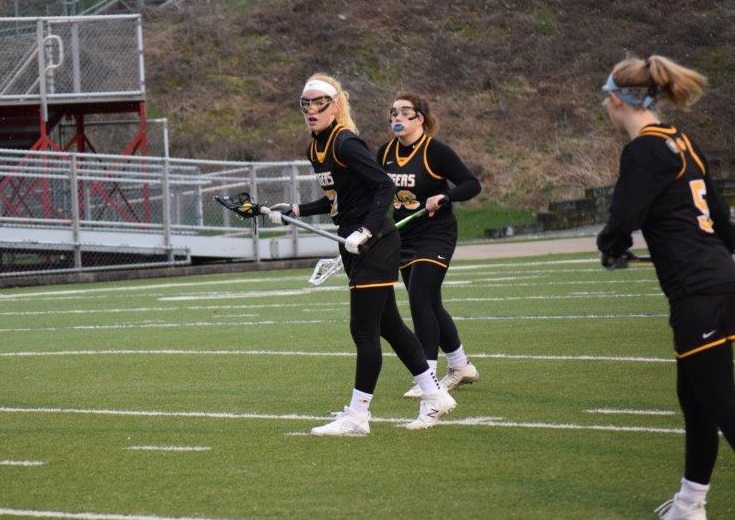 Three goals and nine groundballs from freshman Katie Oates were not enough as North Hills edged the North Allegheny girls' lacrosse team on Monday night, 9-8, in Section 3-AAA action. As has been ritual this season, the Lady Tigers trailed at halftime but stormed back in the second half.
Down 4-2 at intermission, NA opened the second half with three of the first four goals to tie the game at 5-5, getting markers from Nicole Atkinson, Ryley McClellan and Oates.
The Indians answered North Allegheny's second-half spurt with two straight goals for a 7-5 advantage with 12:59 to play.
Unrelenting, the Lady Tigers second-half surge continued with three of the next four goals to even the score at 8-8 with 4:24 remaining. Junior Brooke Ferringer, freshman Skye DePrado and Oates all tallied goals for the Tigers down the stretch. Ferringer totaled two goals in the game for her team-best 26th and 27th on the season. Junior Lexi McClure notched an assist to help support the offense. Atkinson had a strong performance by winning 14 of 20 draw controls.
Despite the comeback bid, North Hills pulled out the win in the late stages of the contest when Julea Jamison scored her fourth goal of the night with 4:24 left in the game for a 9-8 triumph.
Following the loss, North Allegheny slides to 2-5 overall and 2-4 in Section 3-AAA. North Hills improves to 4-2 overall and 4-1 in the section. The Lady Tigers will try to snap a four-game losing skid with a visit to Shaler on Wednesday night.
Girls Lacrosse Summary vs. North Hills, 4-16-18
| GAME SUMMARY | | | |
| --- | --- | --- | --- |
| SCORE BY HALVES | 1 | 2 | FINAL |
| North Allegheny | 2 | 6 | 8 |
| North Hills | 4 | 5 | 9 |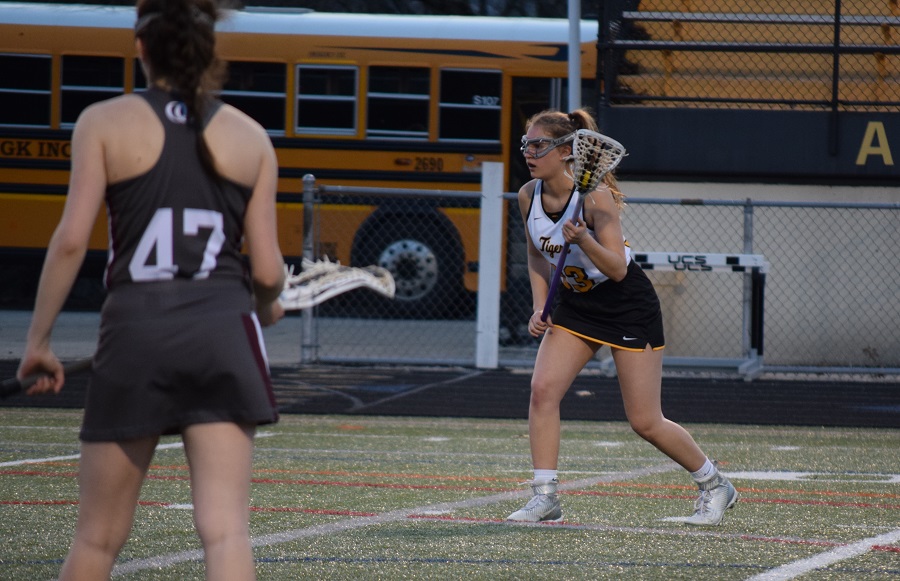 Undefeated Oakland Catholic survived a second-half rally by North Allegheny for a 14-12 win at Newman Stadium on Friday night. For the third straight game, the Tigers dug themselves an early hole only to rally back with a spirited second half effort. NA trailed by as much as six goals and came from behind to take a 12-11 lead with 7:05 remaining. Oakland Catholic, however, scored the final three goals of the contest to claim the non-section win.
Down 10-5 at halftime, North Allegheny passed the ball more effectively in the second half and ignited a rally by creating six assists on the night as a team. The Tigers began their comeback bid with two goals from Brooke Ferringer and one by Nicole Atkinson to cut the score to 10-8 within the first eight minutes of the second half. Oakland Catholic temporarily halted NA's momentum with a goal with 15:07 remaining to give the Eagles an 11-8 advantage.
The Tigers rattled off four consecutive goals to grab a 12-11 lead. Junior Ryley McClellan scored her second goal of the night with 14:29 to play to trim the deficit to 11-9. Freshman Skye DePrado tallied her second goal of the contest just 36 seconds later to bring the score to 11-10. Junior Paige Jones tied the game at 11-11 with a marker with 8:01 on the clock. DePrado completed her hat trick and the comeback by scoring with 7:05 remaining in regulation to give NA its only lead of the game at 12-11.
Unfortunately for the Tigers, Oakland Catholic proved resilient and scored three straight goals for a 14-12 victory.
Helping lead the charge for NA was Ferringer who scored a team-high four goals. The Old Dominion recruit also forced two turnovers and collected five groundballs. DePrado added an assist and three groundballs to her three-goal effort. On defense, senior Julia Puntil contributed with two groundballs and two caused turnovers.
With the loss, North Allegheny slides to 2-4 overall. Oakland Catholic remains unbeaten with a 4-0 record. The Tigers return to section action on Monday at 7:30 p.m. with a visit to North Hills.
Girls Lacrosse Summary vs. Oakland Catholic, 4-13-18
| GAME SUMMARY | | | |
| --- | --- | --- | --- |
| SCORE BY HALVES | 1 | 2 | FINAL |
| Oakland Catholic | 10 | 4 | 14 |
| North Allegheny | 5 | 7 | 12 |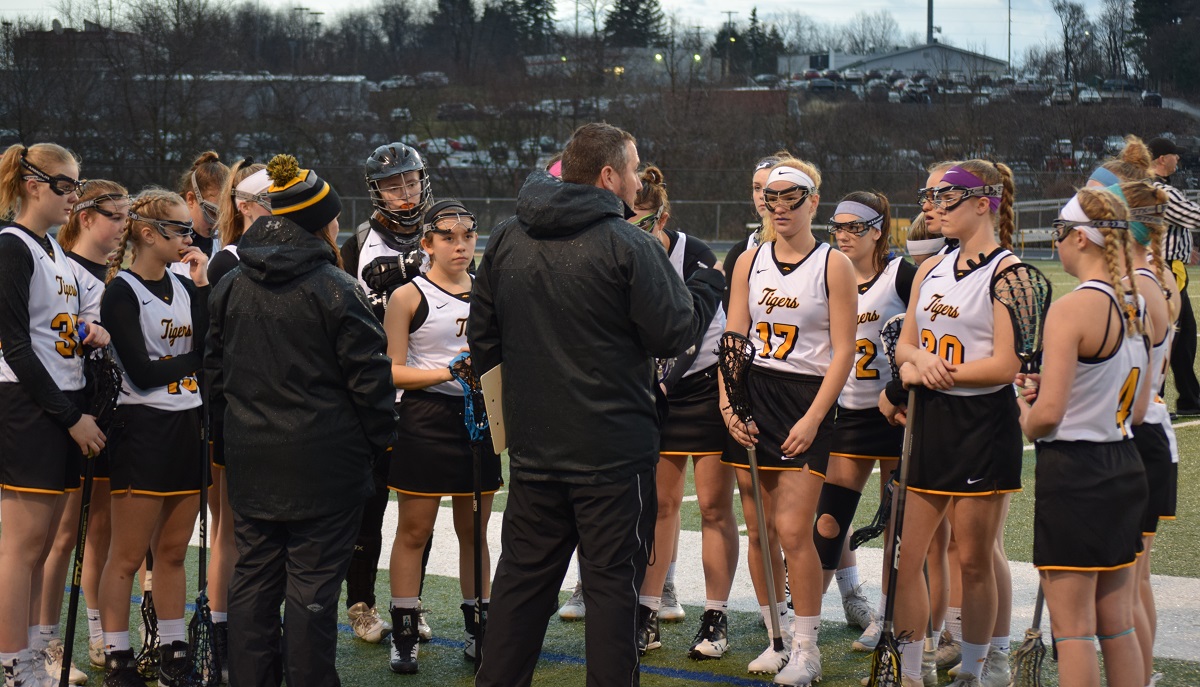 by Jared Barton
A four-goal night for freshman midfielder Katie Oates was not enough to lead North Allegheny past Seneca Valley in a 13-12 overtime loss at Newman Stadium Wednesday.
Sophomore Olivia Rupert started the scoring quickly for Seneca Valley, netting the first two goals less than two minutes into the contest. Rupert would go on to lead all scorers with five goals on the night. The Tigers were down 3-0 before NA broke the ice on a Val Davis free position goal with 19:47 left in the half. The teams went back-and-forth offensively for the rest of the first frame. Ryley McClellan tallied two goals and Brooke Ferringer, Oates and Skye DePrado netted three straight to tie the game at 6-6 with just under fives minutes left in the first half. Seneca Valley held an 8-6 lead at halftime.
North Allegheny started the second with quick goals from Paige Jones and Oates to tie the game at 8-8. A free position goal from Lexi McClure gave the Tigers its first lead of the game 11-10 with 8:14 left in the contest. The Raiders eventually tied the game and then took the lead with 5:26 remaining off of a hat trick goal scored by junior midfielder Emily Meredith. With just 12 seconds left, a late surge from Oates and the Tiger offense led to the game-tying goal.
In overtime, Seneca Valley won the opening draw and never looked back. The Raiders held possession for the rest of the game. Junior midfielder Madi Edkins scored the game-winner with 1:43 left in the extra period, her third of the game.
Oates was named the Wright Automotive Player of the Game with a great two-way performance highlighted by her play in the offensive zone. Oates now has seven goals on the year.
The Tigers now post a 2-3 record in Section 3-AAA action, while the Raiders improve to 2-2 in conference play. North Allegheny next hosts Oakland Catholic at Newman Stadium on Friday. Start time is set for 7:30 p.m.
Girls Lacrosse Summary vs. Seneca Valley, 4-11-18
| GAME SUMMARY | | | | |
| --- | --- | --- | --- | --- |
| SCORE BY HALVES | 1 | 2 | OT | FINAL |
| Seneca Valley | 8 | 4 | 1 | 13 |
| North Allegheny | 6 | 6 | 0 | 12 |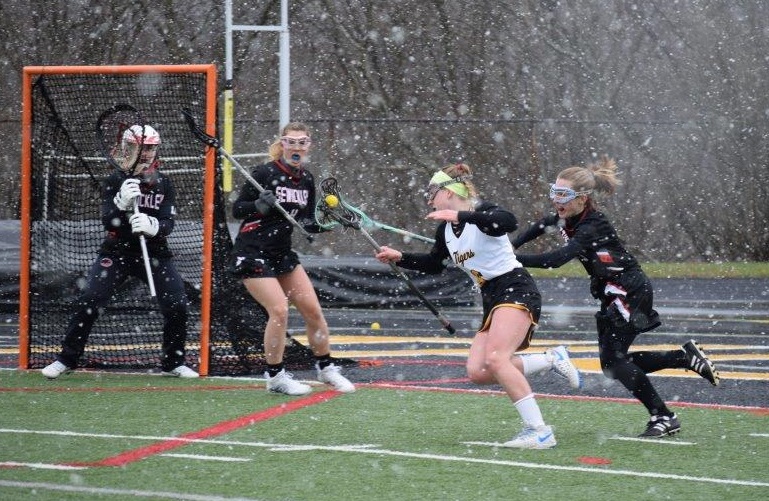 North Allegheny's second half rally fell just short as Sewickley Academy staved off the Tigers for a 14-13 win on Monday afternoon at Newman Stadium. Junior Paige Jones led the Tigers with four goals, two assists, seven groundballs, two caused turnovers and great defensive play.
The first half was a seesaw affair with five lead changes. North Allegheny erased an early 1-0 deficit with back-to-back goals from Ryley McClellan and Brooke Ferringer for a 2-1 lead. The Panthers rattled off four straight goals for a 5-2 lead with 14:54 remaining in the first half before the Tigers responded yet again.
North Allegheny netted four consecutive goals, two each from Jones and Ferringer, for a 6-5 lead with 8:55 to play in the half. However, the Panthers finished strong to close out the first half, tallying five straight goals for a 10-6 lead at intermission.
The Tigers mounted a comeback in the second half and trimmed the deficit to 14-13 with 5:58 remaining in the game. North Allegheny appeared to have tied the game on two separate occasions but two apparent goals by Ferringer were waived off by penalties. The Panthers scratched and clawed their way to the finish line in the waning minutes and held on for a one-goal victory.
Along with Jones, Ferringer also finished with four goals to pace the NA attack and spearheaded the comeback bid in the second half. McClellan notched a hat trick and junior Lexi McClure posted two goals and six groundballs. Freshman Katie Oates had a goal and three groundballs.
Junior Nicole Atkinson teamed up with her wings for 14 draw control wins on 21 attempts and scooped up three groundballs. Junior goalie Becca Wickett made 11 saves in net.
North Allegheny dips to 2-2 in Section 3-AAA action following the loss. Sewickley Academy improves to 4-1 in section play. The Tigers will host Seneca Valley on Wednesday night in a game that can be heard live via the internet on the North Allegheny Sports Network. Start time is slated for 7:30 p.m.
Girls Lacrosse Summary vs. Sewickley Academy, 4-9-18
| GAME SUMMARY | | | |
| --- | --- | --- | --- |
| SCORE BY HALVES | 1 | 2 | FINAL |
| Sewickley Academy | 10 | 4 | 14 |
| North Allegheny | 6 | 7 | 13 |