View Game Summaries For
2018-2019 Game Summaries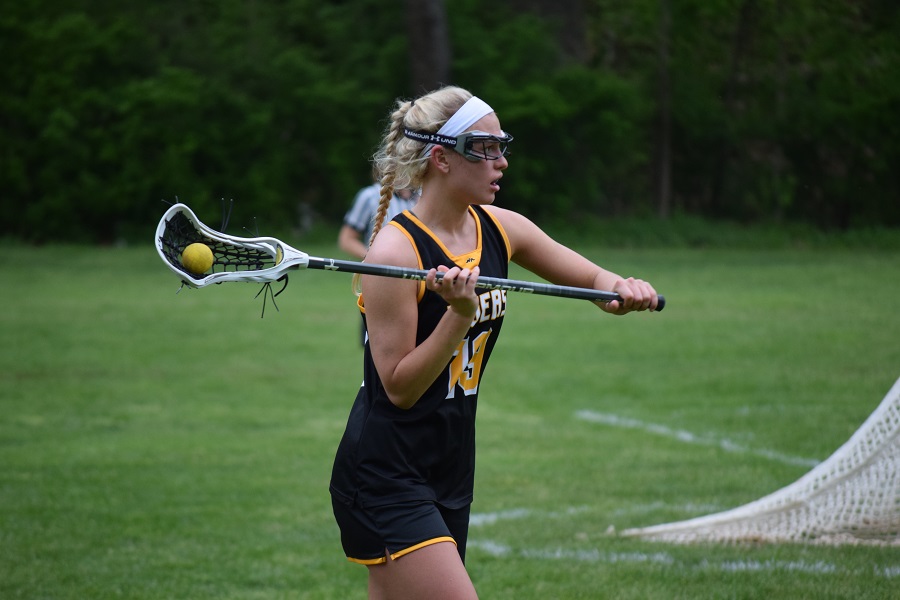 The 2019 season came to an end for the North Allegheny girls' lacrosse team on Thursday night with a 20-4 defeat to top-seeded Upper St. Clair in the WPIAL Class AAA quarterfinals. Celena Kerr led the Panthers with a game-high five goals.
North Allegheny's scoring came from Lola Wilhite, Lexi McClure, Katie Oates and Skye DePrado, who all netted one goal each.
The loss concludes a banner season for the Tigers with 12-7 mark, ending the year with a new program record for wins. The 12 victories were the most since NA went 10-10 in 2006. North Allegheny also hosted and won its first ever home playoff game earlier in the week with a 18-8 triumph over Canon-McMillan at Newman Stadium.
Congratulations to the Tigers and head coach Harry Datz for a memorable and successful 2019 season.
Girls Lacrosse Summary vs. Upper St. Clair, 5-16-19
| GAME SUMMARY | | | |
| --- | --- | --- | --- |
| SCORE BY HALVES | 1 | 2 | FINAL |
| North Allegheny | 2 | 2 | 4 |
| Upper St. Clair | 14 | 6 | 20 |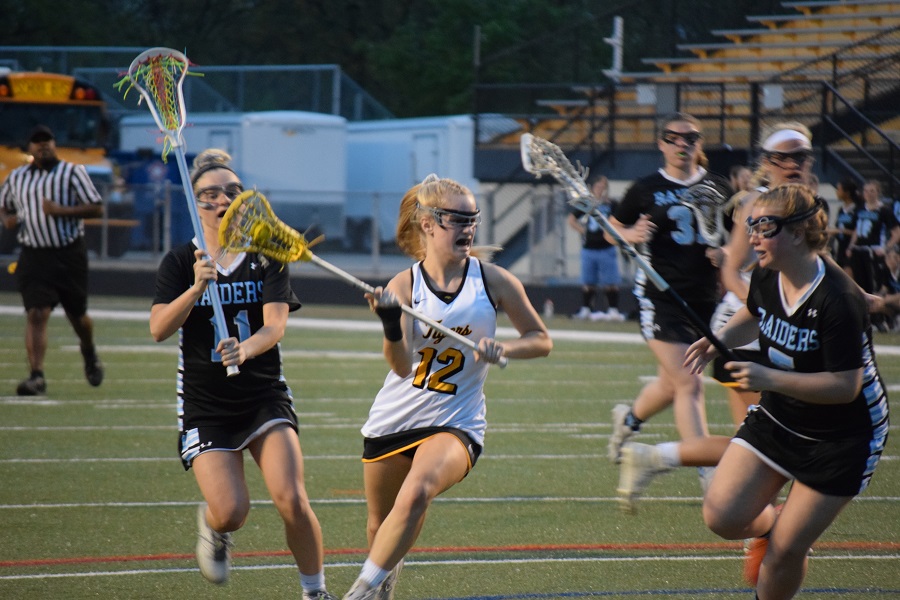 by Jared Barton
The North Allegheny Girls Lacrosse program had never hosted a playoff game in the team's history until Tuesday night when the Tigers took down Canon-McMillan 18-8 in the opening round of the WPIAL Playoffs.
Canon Mac was playing in its first playoff game in program history, but a deep and experienced North Allegheny squad took control and cruised to the victory.
Camryn Whipple opened the scoring for the Big Macs and gave CM the early lead, but it did not last long. Less than 40 seconds later, sophomore Katie Oates netted the tying score on a free position opportunity.
Then the Skye DePrado show took over.
The sophomore netted back-to-back goals, including a free position marker to extend the Tigers' lead to 3-1. Canon Mac junior Ashley Irwin scored to cool the NA offense, one of four goals she went on to score in the matchup. DePrado netted the hat trick with roughly 14 minutes to go in the half, followed by Irwin's second of the night to make it 4-3.
From that point on, it was nearly all Tigers, as DePrado scored goals four and five, back–to-back, leading NA on a tear of six straight markers to take a 10-3 advantage with three minutes left in the half.
Irwin scored a hat trick of her own before halftime, but DePrado netted her seventh and Makenna Tuman added another score to take a 12-4 lead.
The Tigers continued the domination in the second half, as Oates achieved a hat trick, Deprado added her eighth of the game and senior Paige Jones scored a pair.
DePrado earned Wright Automotive Player of the Game Honors in the win for her eight-goal performance. Also tallying goals for NA were Brooke Ferringer, Lola Wilhite, Lexi McClure, and Valerie Davis.
With the win, the Tigers improve to 12-6 overall on the season and advance to the second round of the playoffs. NA battles Upper St. Clair on the road on Thursday night at 7:30.
Canon Mac falls to 11-7 on the season as the Big Macs most successful year in team history comes to an end.
Girls Lacrosse Summary vs. Canon-McMillan, 5-14-19
| GAME SUMMARY | | | |
| --- | --- | --- | --- |
| SCORE BY HALVES | 1 | 2 | FINAL |
| Canon-McMillan | 4 | 4 | 8 |
| North Allegheny | 12 | 6 | 18 |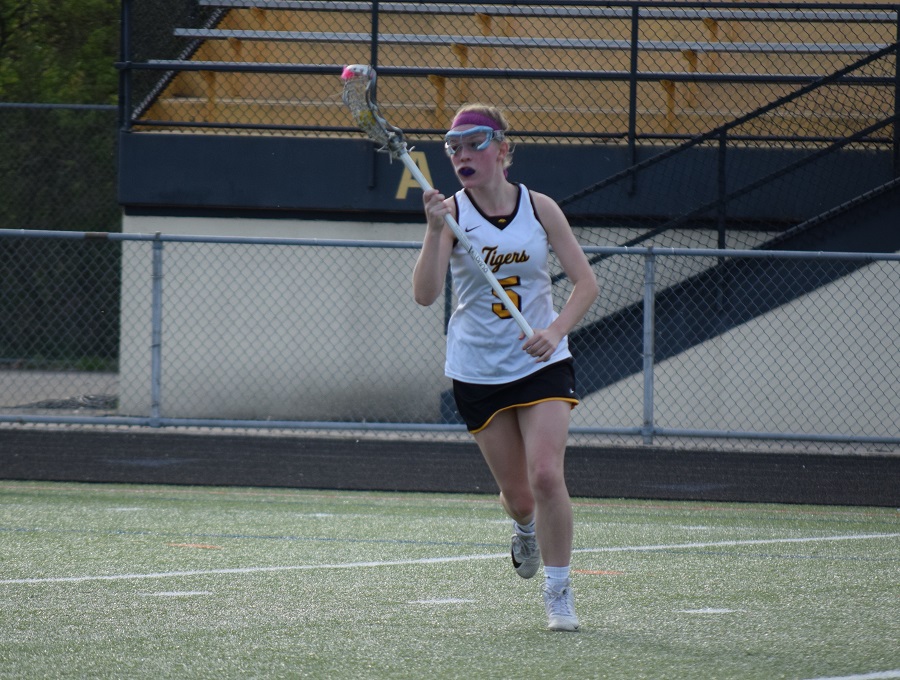 In their final tune-up game before the WPIAL playoffs next week, the North Allegheny Tigers hammered the Hempfield Spartans, 21-4, on Friday night at Newman Stadium.
Most of the roster saw action in this one in a well-rounded victory by NA. Eleven different players scored goals for the Tigers, including Lola Wilhite and Katie Oates, who each posted a hat trick. Skye DePrado, Paige Jones, Brooke Ferringer, Nicole Atkinson and Lexi McClure all tallied two goals each. Makenna Tuman, Val Davis, Bella Falo and Emma Lafayette also netted goals for the black and gold.
North Allegheny rounds out the regular season with an 11-6 overall record following the win over Hempfield. The Tigers will host the Canon-McMillan Big Macs on Tuesday night in the opening round of the WPIAL playoffs at 7:00 p.m. The game will be broadcast live via the internet on the North Allegheny Sports Network. For a look at the entire Class AAA bracket, click here.
Girls Lacrosse Summary vs. Hempfield, 5-10-19
| GAME SUMMARY | | | |
| --- | --- | --- | --- |
| SCORE BY HALVES | 1 | 2 | FINAL |
| Hempfield | 3 | 1 | 4 |
| North Allegheny | 14 | 7 | 21 |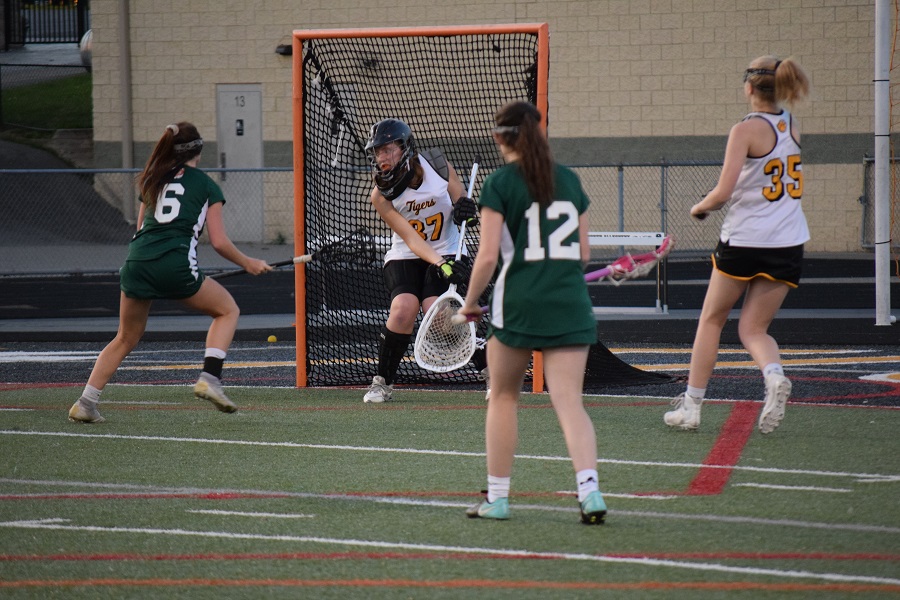 The North Allegheny girls' lacrosse team picked up a non-section victory on Wednesday night with a 15-10 decision over Ellis School at Newman Stadium. The Tigers controlled the contest from the start and held a 7-2 lead at the half. The Tigers cruised in the second half for their third straight victory and fifth in their last six tries.
Senior Paige Jones led all scorers with four goals, with sophomore Skye DePrado following closely behind with three markers. Senior Brooke Ferringer was efficient with two goals on only two shots on net. The two goals were the 166th and 167th of Ferringer's career. Sophomore Katie Oates and senior Nicole Atkinson tallied two goals apiece.
Netting one goal each were seniors Ryley McClellan and Lexi McClure. Senior Becca Wickett got the start in net and made 10 saves to earn the victory.
For Ellis School, Kat Ference, a club teammate of Jones and Ferringer, totaled a game-high six goals. Miranda Lightner had four goals.
North Allegheny improves to 10-6 overall with the win. The Tigers look to extend their winning streak on Friday night against Hempfield in the regular season finale at 7:30 p.m.
Girls Lacrosse Summary vs. Ellis School, 5-8-19
| GAME SUMMARY | | | |
| --- | --- | --- | --- |
| SCORE BY HALVES | 1 | 2 | FINAL |
| Ellis School | 2 | 8 | 10 |
| North Allegheny | 9 | 6 | 15 |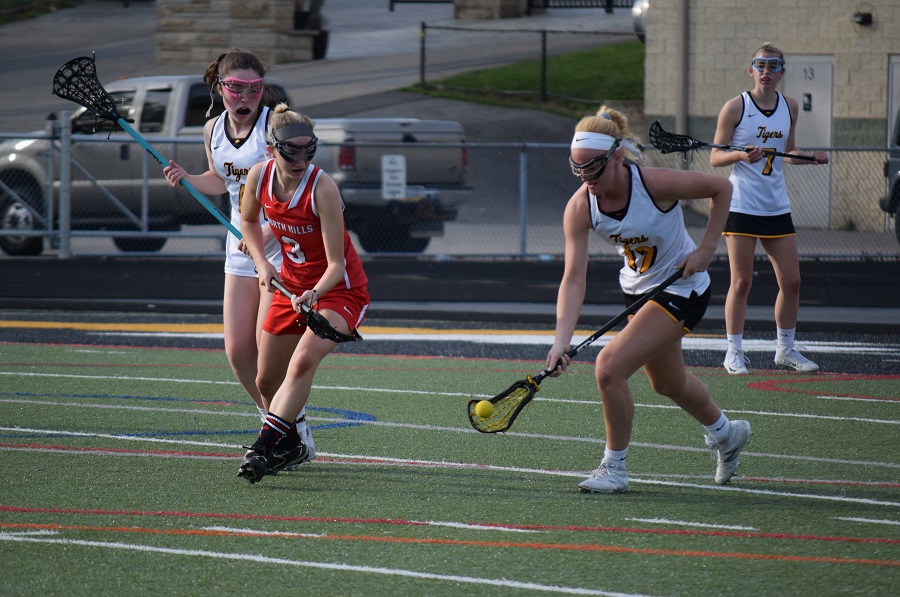 The North Allegheny girls' lacrosse team secured a WPIAL playoff berth on Monday night with a 16-12 victory over rival North Hills. The Tigers will appear in the playoffs for the fifth time in program history and second time in the last three years. Meanwhile, North Hills has been eliminated from playoff contention. Having already fallen to Seneca Valley earlier in the season, North Hills loses any possible tie-breaker scenario with the Raiders thus eliminating the Indians.
In a playoff-like atmosphere at Newman Stadium, North Allegheny received balanced scoring from across the lineup to take charge. Senior Paige Jones and sophomore Skye DePrado paced the attack with four goals apiece. In a strong all-around performance, Jones five caused turnovers and five ground balls to earn Wright Automotive Player of the Game honors from the North Allegheny Sports Network.
Sophomore Makenna Tuman had another strong game on draws and led an impressive team effort on groundballs with 10 on the night. Senior Brooke Ferringer contributed two goals, six caused turnovers and eight groundballs. Freshman Amelia Henderson chipped in with four groundballs.
North Allegheny secures a WPIAL playoff spot with the victory, improving to 7-4 in Section 2-AAA and 9-6 overall. North Hills falls to 6-5 in the section, concluding the competitive phase of its season. The Tigers will host Ellis school in a playoff tune-up on Wednesday at 7:00 p.m.