View News For
2021-2022 News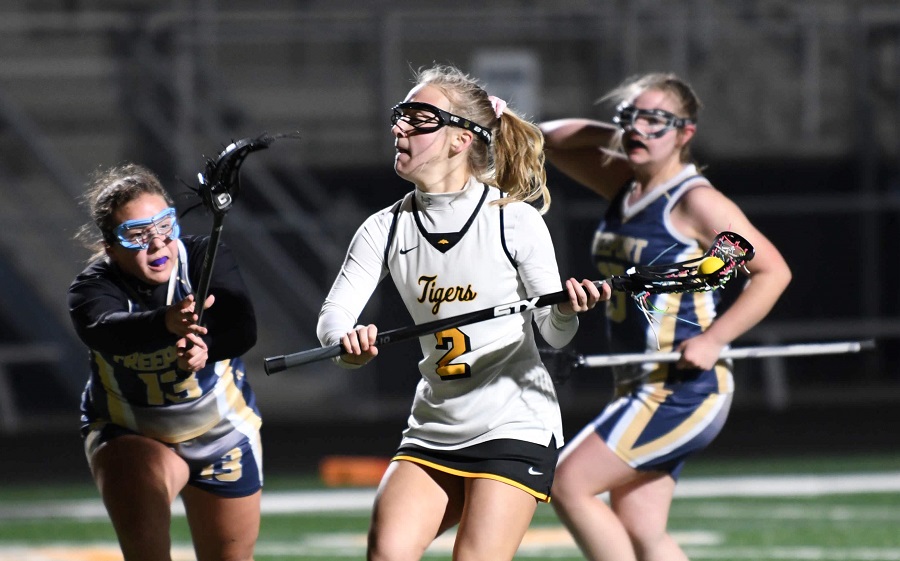 Four members of the North Allegheny girls' lacrosse team have been selected to the Section 2-AAA All-Section Team and one Tiger was tabbed All-WPIAL in Class AAA.
Senior Bella Falo earned WPIAL Class AAA All-Star recognition in addition to being named first-team All-Section. Finishing her illustrious lacrosse career with a splash, Falo netted a team-high 67 goals during her senior campaign and surpassed the century mark with 109 career goals.
Receiving Second-Team All-Section laurels were senior middie Allison Lyon, junior attack Mila Prusak and sophomore middie Isla Abrams. Lyon tallied 20 goals on the season, with three hat tricks, and provided tenacious all-around play and a knack for collecting ground balls. Prusak was the second-leading scorer on the squad with 47 goals and eight hat tricks. Abrams aided the Tigers in possession time by dominating the X in faceoff wins throughout the season.
In additional North Allegheny girls' lacrosse news, junior defenseman Leigh Failla competed for the USA Lacrosse National Team last week. Failla competed for Team Pittsburgh in the Violet Division, helping her team go 4-1 at the event. This prestigious event was held in BelAir, Maryland on May 28-29.
North Allegheny Team Awards are listed as follows below:
2022 GIRLS LACROSSE MOST OUTSTANDING PLAYER
ALLISON LYON
2022 GIRLS LACROSSE MOST OUTSTANDING JV PLAYER
VIOLA DELVECCHIO
2022 GIRLS LACROSSE MOST OUTSTANDING OFFENSIVE PLAYER
MILA PRUSAK
2022 GIRLS LACROSSE MOST OUTSTANDING DEFENSIVE PLAYER
AMELIA HENDERSON
2022 GIRLS LACROSSE OUTSTANDING ROOKIE PLAYER
MAYA EVANS
2022 GIRLS LACROSSE SPIRIT OF THE GAME
MAISY WADLOW
Team Captains for 2023
Leigh Failla
Mila Prusak
Becka Oates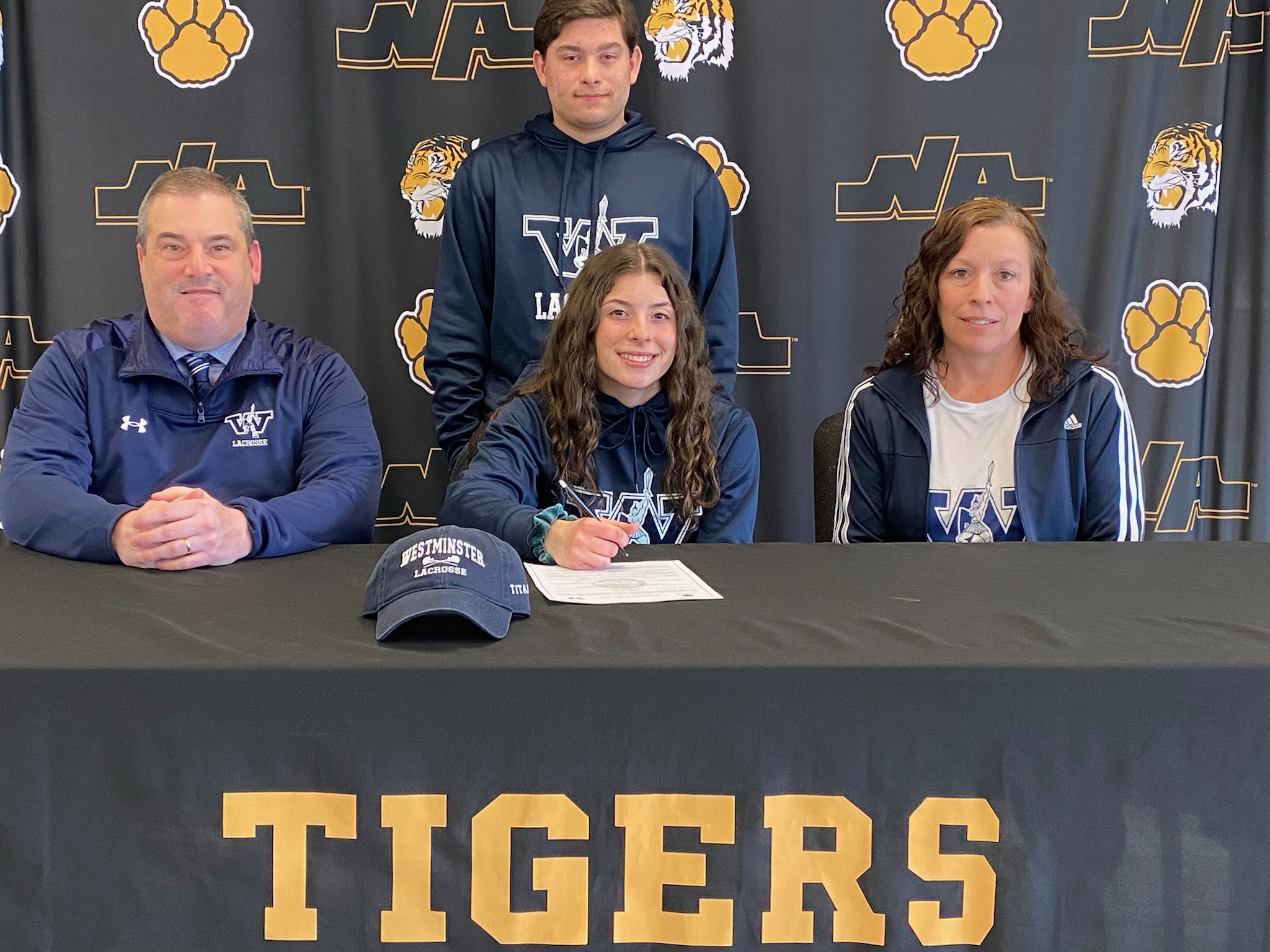 North Allegheny senior girls' lacrosse player, Emma Lafayette, signed her letter of intent on Thursday to continue her athletic and academic career at Westminster College in New Wilmington, PA.
Lafayette is a four-year varsity attack for the Tigers and helped the team reach the WPIAL Class 3A quarterfinals last season with a 15-4 record. The 15 wins were the most in a single season in program history.
Lafayette will join a Westminster College program in the NCAA Division III Presidents' Athletic Conference that is led by head coach Bethany Snider. The Titans are a perennial contender for the PAC crown and won the conference's inaugural women's lacrosse championship in 2019.
Lafayette will major in Nursing at Westminster. She is pictured above with her parents Mike and Tracey Lafayette, along with brother Cameron Lafayette.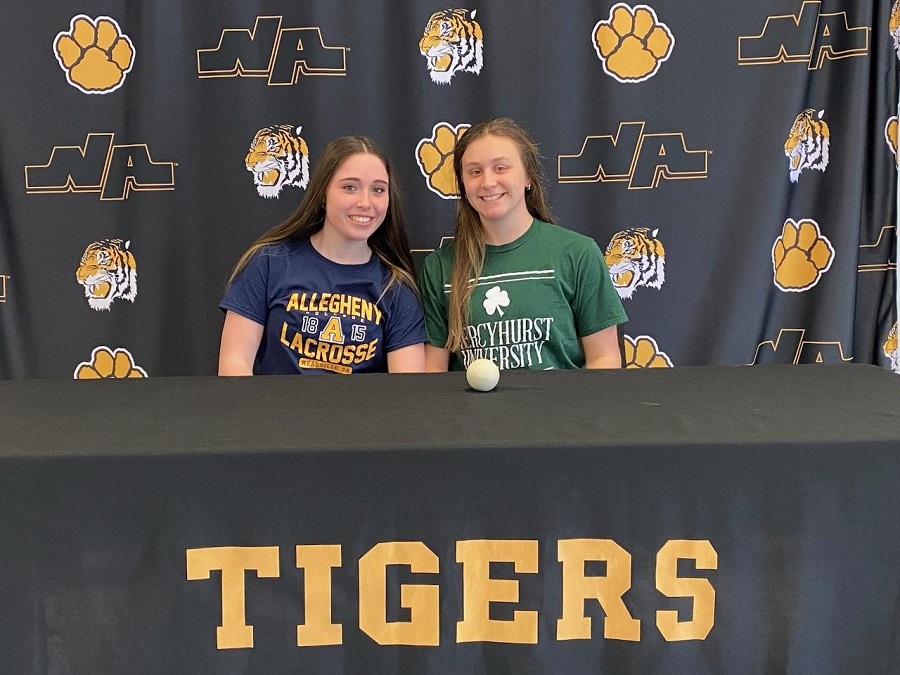 Two North Allegheny girls' lacrosse players signed their letters of intent on Tuesday to continue their academic and athletic career at the next level. Senior midfielder Allison Lyon signed her letter of intent to play at NCAA Division II Mercyhurst University and senior defenseman Amelia Henderson inked her LOI with Division III Allegheny College in Meadville.
As a junior, Lyon earned second-team all-section laurels and scored seven goals from her midfield position. She will join a Mercyhurst team that went 10-4 last season in a truncated season due to COVID and reached the semifinals of the Pennsylvania State Athletic Conference tournament. The Lakers were picked second in the 2022 PSAC preseason poll and are 3-1 on the young season. Lyon will major in Sports Medicine at Mercyhurst.
Henderson helped anchor the North Allegheny defense last season and chipped in to the offensive output with five goals. She will join an Allegheny team that is already off to a 4-0 start to the season under first-year head coach Patty Pehnke. The Gators will join the Presidents' Athletics Conference next season. Henderson will major in Education Studies at Allegheny.
Both Lyon and Henderson were members of a North Allegheny team last season that went 15-4 and reached the WPIAL quarterfinals before bowing out to eventual Class AAA champion, Shady Side Academy. The Tigers will open the 2022 season on Friday, March 25 at home against Upper St. Clair.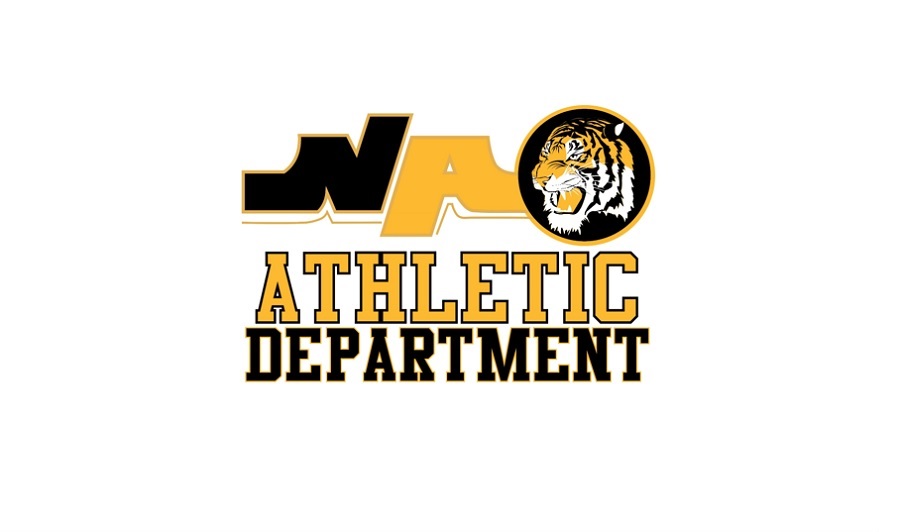 NASH Senior, Maisy Wadlow, a member of our girls' lacrosse team and several student activities, is doing something extraordinary. She has assembled a team to assist the Leukemia and Lymphoma Society to raise funds to help eradicate these diseases. As a result of her efforts, the Society has nominated Maisy as its Student of the Year candidate, where she will compete with students from around the area.
 https://events.lls.org/wpa/wpasoy22/mwadlow
In addition, on Tuesday, March 8th, Monte Cello's Corporation will donate a percentage of their sales on that day, including dine-in and takeout, to Maisy's project.
Your assistance is greatly appreciated.