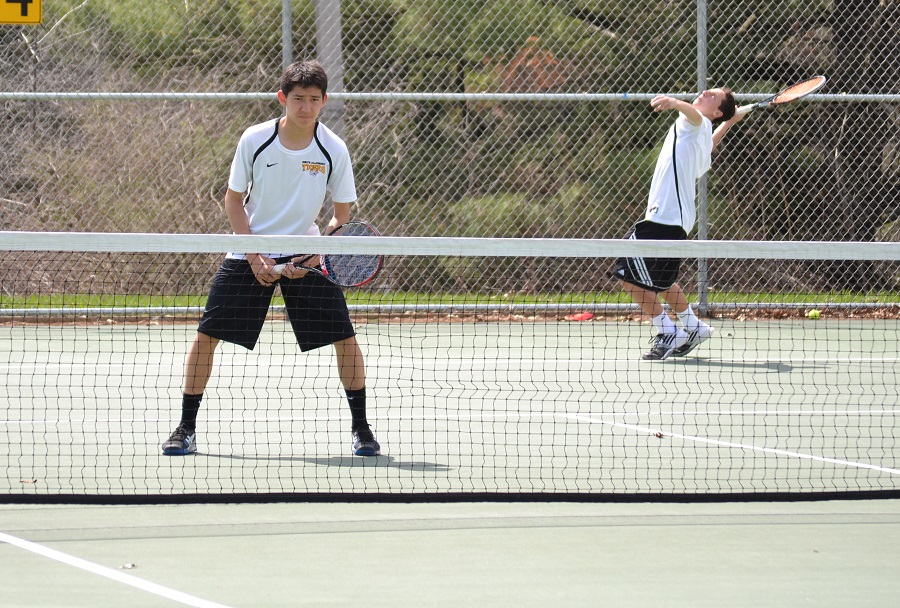 Tigers' Tennis Duo Reaches State Semifinals
After day one of the PIAA Boys Doubles Championship Tournament at the Hershey Racquet Club, the team of junior Jared Isaacs and freshman Richard Hofmann won two matches to reach Saturday's semi-final round.
Representing District 7 (WPIAL) as the number two team, the Tigers defeated Rishi Mulloth and Brandon Ostrowski of Abington Heights, the number one team from District 2, in straight sets.  That set the stage for a re-match in the quarterfinals against Chad Allender and Ryan Good, the same two representatives from Altoona whom the Tigers played last year.  Allender and Good once again were the winners from District 6.  The Tigers got off to a strong start and fashioned several quick breaks to coast to a 6-3 first set win.  The second set saw multiple breaks from the start, but on two occasions Isaacs held serve, down 15-40 to come back and hold.  That set the stage for a solid but hard fought win at 6-4, as the Tigers tamed the Mountain Lions for the second straight year in the quarters.
Issacs and Hofmann will take on the winner of the Conestoga-Erie McDowell match which started late and was still in progress at press time.  The match time for the Tigers Saturday morning at the Racquet Club will be 9 AM.
NA Results–PIAA Boys Double Tournament–Day One (5/22/15)
Jared Isaacs/Richard Hofmann (NA) def. Rishi Mulloth/Brandon Ostrowski (AH) 6-0, 6-1
Jared Isaacs/Richard Hofmann (NA) def. Chad Allender/Ryan Good (Altoona) 6-3, 6-4