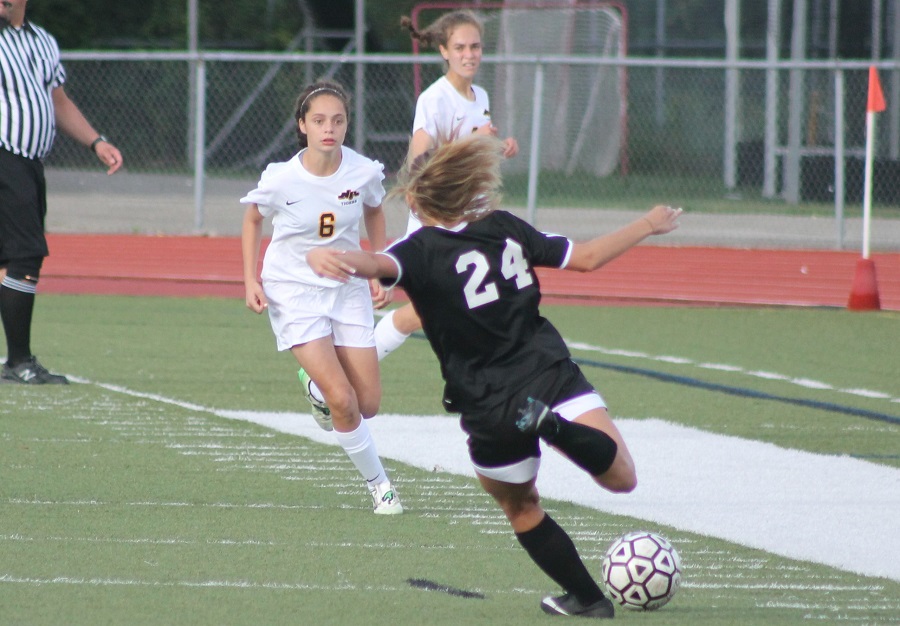 Alex Adams Scores A Pair, NA Bashes Butler, 4-1
by Lee Mohn
The North Allegheny Tigers notched their second win in a row with a 4-1 victory over the Butler Tornado on Monday night.
The Tigers struck early just seven minutes into the game when a corner kick from senior Marina Thornton found the foot of freshman Alex Adams, which was denied on her first shot, but found the back of the net on the rebound to put NA up 1-0.  The Tigers' continued to pressure paid off in the 33rd minute when junior Brooke Anderson scored to bring the score to 2-0, North Allegheny. Senior Amanda Miller assisted on the Anderson goal, the final marker before intermission.
The Tigers did not let Butler gain any momentum to start the second half.  Thirty seconds into the half senior Gabby Smychynsky fed Miller down the right side and she beat Butler goalie Hannah Miller for a 3-0 lead.  Adams scored her second of the night just a few minutes later on a nice assist from sophomore Morgan Anderson to bring the score to 4-0. The Wright Automotive Player of the Game was Alex Adams with her two-goal performance.
North Allegheny's defense was dominant and did not let Butler get their first shot on goal until 33 minutes into the game, and only gave up six total shots for the game.
The Tigers improve to 3-1 overall and 2-1 in section play and will travel to Pine Richland on Friday to take on the first-place Rams.