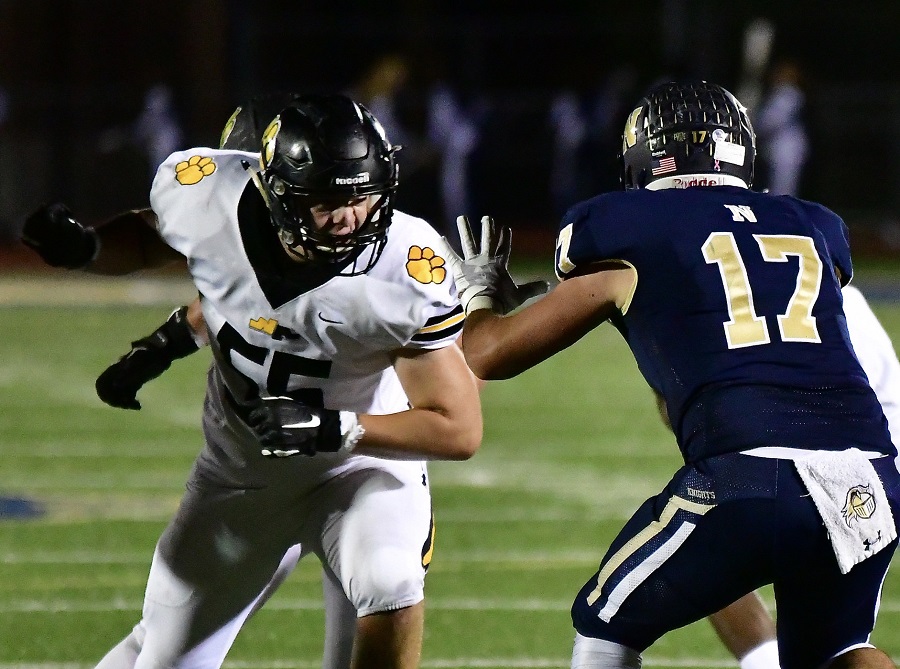 All-Conference Laurels For 16 Tigers, Seven First-Team Selections
The Big 56 Conference announced its all-conference teams on Friday afternoon and 16 Tigers earned all-conference accolades in Class 6A, including seven first-team members.
Earning first-team laurels on offense was senior Bene Caputo at tackle, senior Mason Kress at receiver and senior Khalil Dinkins at the at-large back position. On defense, first-team honorees were Jacob Porter at defensive end, seniors Brady Leczo and Nate Hoke at inside linebacker, and senior Sean Metcalf as an at-large pick. On Thursday, Dinkins and Hoke were also both tabbed for the Pittsburgh Post-Gazette's Fabulous 22.
Caputo anchored the offensive line from the right tackle position and helped power a North Allegheny rushing attack that averaged 158 yards per game. Kress was the top target in the passing game in receptions and receiving yardage with a team-best 29 catches for 296 yards and four scores. The versatile Kress added 133 yards rushing on 17 carries and two touchdowns. Dinkins, a swiss-army knife for the Tigers, was the focal point for the "Monster Package" that terrorized opponents all season. On the ground, Dinkins rushed for 222 yards and four touchdowns on 34 carries. Through the air, the Penn State commit hauled in 20 receptions for 284 yards and a team-leading four receiving touchdowns.
On defense, the combination of Porter, Leczo, Hoke and Metcalf helped limit opponents to 13.7 points per game and a scant 57.7 rushing yards per contest. At defensive end, Porter totaled 11.5 tackles and a team-best five sacks. Leczo posted 22.5 tackles, 4.5 sacks and an interception, while Hoke battled through an early-season thumb injury to total 16.5 tackles, four sacks and one interception. Metcalf was North Allegheny's leader in tackles with 24.5 stops, adding 2.5 sacks and a pick-six in week one against Penn Hills.
Second-team accolades went to senior offensive lineman Michael Dorn, junior defensive tackle Nick Frisco, senior defensive back Josh Humphries and junior defensive back Kolin Dinkins.
Earning honorable mention recognition from the Big 56 was senior quarterback Greg Phillips, junior running back J.R. Burton, senior at-large back J.P. Cantu, senior kicker Brandon Persad and senior defensive back Ben Rohan.
This awesome collection of Tigers helped North Allegheny reach the WPIAL Class 6A championship game for the first time since 2012 and post an overall record of 6-1 during an adverse 2020 season. Congratulations to all 16 North Allegheny players who were honored by the Big 56 Conference.