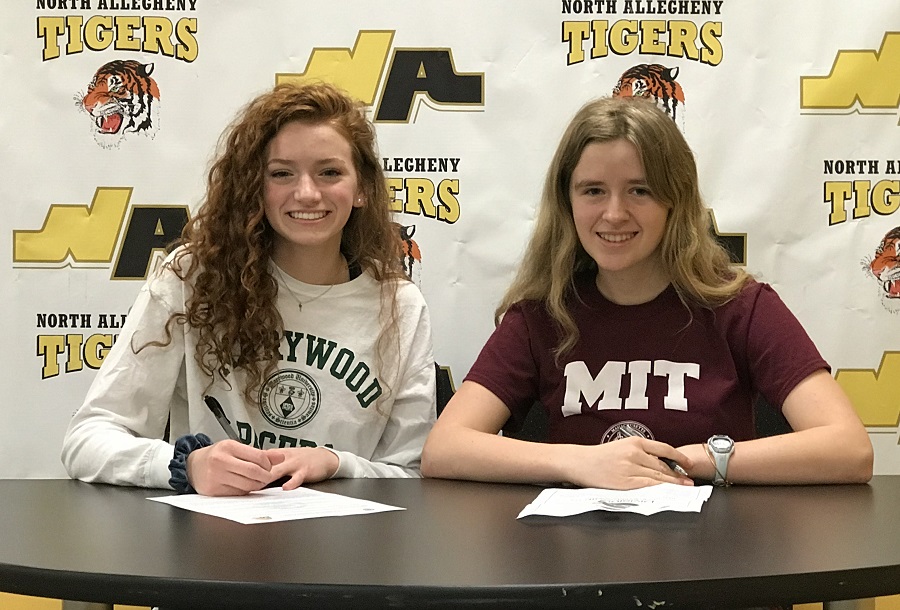 Angie Genter, Laura Schwendeman Sign Letters Of Intent
North Allegheny seniors Angie Genter and Laura Schwendeman have signed their letters of intent to play collegiate field hockey. Genter has committed to play for Marywood University and Schwendeman has tabbed the Massachusetts Institute of Technology to continue her career.
Genter, the team captain and season MVP, lead the team from mid-field this year. As a four-year varsity starter, she has been an integral part of NA Field Hockey's winning history. Genter also plays for Team Golden Triangle, a local Pittsburgh club, and has participated in several state and national indoor tournaments representing Western PA.
Schwendeman is a four-letter recipient and a three-year varsity starter. In 2018 she scored 6 goals and was among the leaders in assists as well as defensive plays. Schwendeman is the captain of the U19 Team Golden Triangle club team and obtained several sportsmanship awards from both the club coaches and North Allegheny team. Schwendeman is a National Merit Finalist, and in 2018-19 has received the Rensselaer Medal for Sciences, Duquesne University Award for Biomedical Engineering and the Society for Women in Engineering Award.
Genter is a member of the National Honor Society and plans to major in Speech Pathology at Marywood. Schwendeman will major in Mechanical/Biomedical Engineering.
Laura and Angie would like to wish all their friends and teammate great success with their own future academic and athletic achievements.