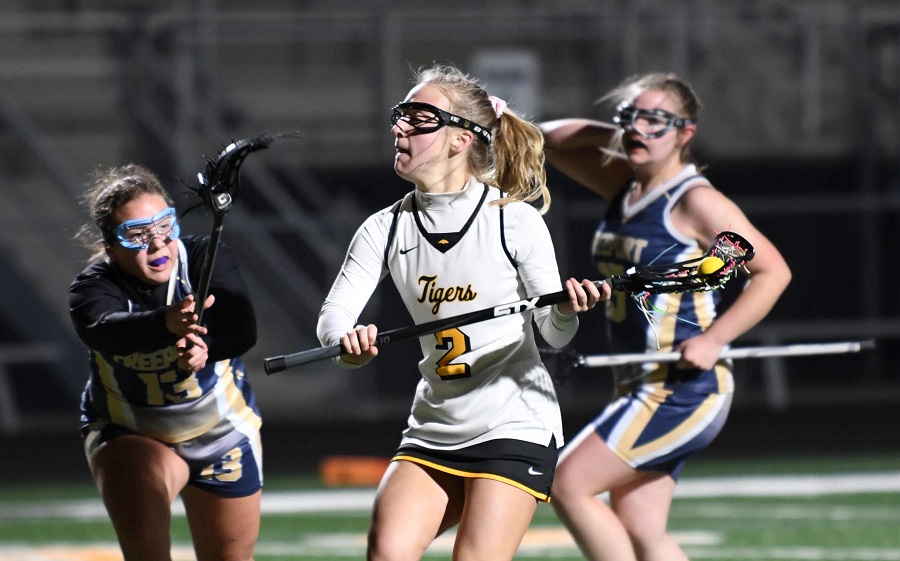 Bella Falo Tabbed WPIAL Class AAA All-Star, Four Named All-Section
Four members of the North Allegheny girls' lacrosse team have been selected to the Section 2-AAA All-Section Team and one Tiger was tabbed All-WPIAL in Class AAA.
Senior Bella Falo earned WPIAL Class AAA All-Star recognition in addition to being named first-team All-Section. Finishing her illustrious lacrosse career with a splash, Falo netted a team-high 67 goals during her senior campaign and surpassed the century mark with 109 career goals.
Receiving Second-Team All-Section laurels were senior middie Allison Lyon, junior attack Mila Prusak and sophomore middie Isla Abrams. Lyon tallied 20 goals on the season, with three hat tricks, and provided tenacious all-around play and a knack for collecting ground balls. Prusak was the second-leading scorer on the squad with 47 goals and eight hat tricks. Abrams aided the Tigers in possession time by dominating the X in faceoff wins throughout the season.
In additional North Allegheny girls' lacrosse news, junior defenseman Leigh Failla competed for the USA Lacrosse National Team last week. Failla competed for Team Pittsburgh in the Violet Division, helping her team go 4-1 at the event. This prestigious event was held in BelAir, Maryland on May 28-29.
North Allegheny Team Awards are listed as follows below:
2022 GIRLS LACROSSE MOST OUTSTANDING PLAYER
ALLISON LYON
2022 GIRLS LACROSSE MOST OUTSTANDING JV PLAYER
VIOLA DELVECCHIO
2022 GIRLS LACROSSE MOST OUTSTANDING OFFENSIVE PLAYER
MILA PRUSAK
2022 GIRLS LACROSSE MOST OUTSTANDING DEFENSIVE PLAYER
AMELIA HENDERSON
2022 GIRLS LACROSSE OUTSTANDING ROOKIE PLAYER
MAYA EVANS
2022 GIRLS LACROSSE SPIRIT OF THE GAME
MAISY WADLOW
Team Captains for 2023
Leigh Failla
Mila Prusak
Becka Oates