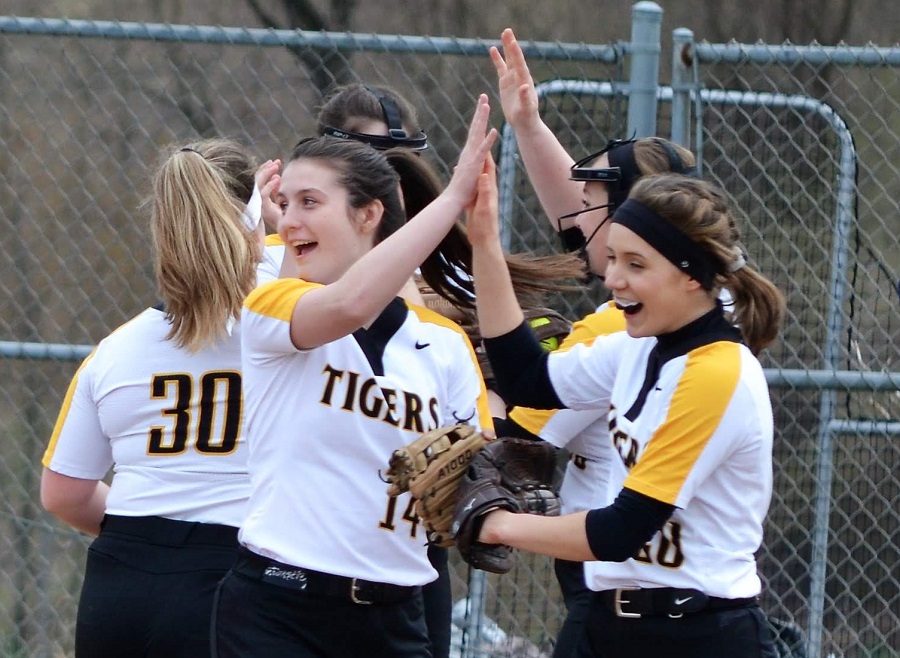 Big 7th Inning Leads NA To Come-From-Behind Win At Norwin
The North Allegheny Tigers earned their third section victory of the season with a 7-3 come-from-behind win over the Norwin Knights on Thursday. The Tigers rallied with five runs in the seventh inning to claim the road win.
Led by sophomore pitcher Sydney Lokay, the Knights held the Tigers through five scoreless innings, allowing only two hits. Norwin scored two runs in the second inning, and a third in the fourth.
However, things began to change for the Tigers when senior Rachel Martindale led off with a single in the sixth inning, followed by a double by senior Brooke Serbin. Senior Regan Brodine knocked in both runs to trim the score to 3-2, Norwin. Brodine finished the day with three RBIs.
The scoring continued in the seventh when another double by Serbin drove in a pair of runs to pull NA ahead, 4-3.  After scoring a total of five runs in the inning, the Tigers' defense shut down the top of the Knights' lineup to end the game. 
Senior Ashley Adams pitched a complete game, striking out five and driving in the last run of the game for the Tigers.
North Allegheny improves to an overall record of 4-0 and 3-0 in Section 2-6A. If weather permits, the Tigers will play Canon-McMillan for their home opener tomorrow at 7:00 p.m.
Box Score - Softball vs. Hempfield - 04/04/2019
| Score by Innings | 1 | 2 | 3 | 4 | 5 | 6 | 7 | R | H | E |
| --- | --- | --- | --- | --- | --- | --- | --- | --- | --- | --- |
| North Allegheny | 0 | 0 | 0 | 0 | 0 | 2 | 5 | 7 | 9 | 1 |
| Norwin | 0 | 2 | 0 | 1 | 0 | 0 | 0 | 3 | 8 | 1 |
WP - Ashley Adams (3-0) LP - Sydney Lokay