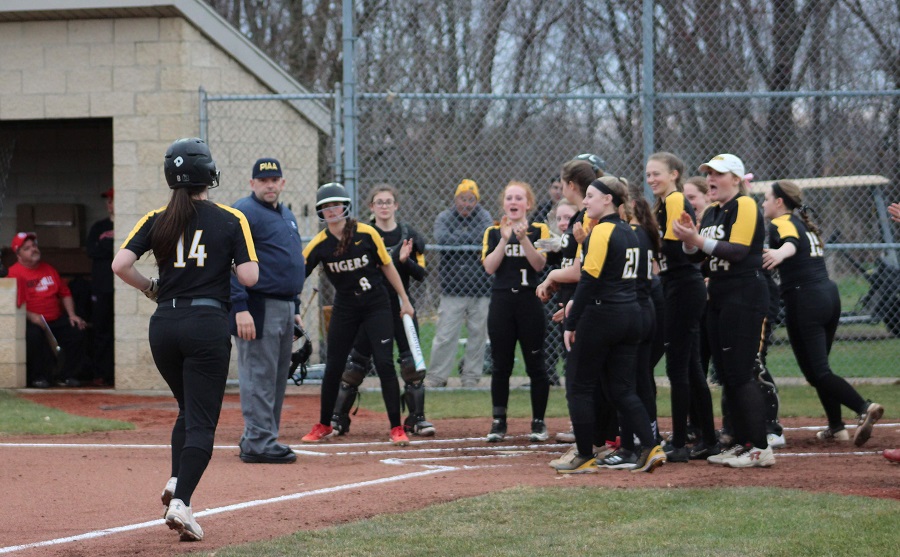 Big Bats Help NA Bash North Hills
North Allegheny defeated North Hills 8-3 Friday night, racking up eight runs on 12 hits.
Senior Rachel Martindale set the tone for the Tigers with a leadoff homerun in the bottom of the first inning. Senior Kristen Chomos doubled and was driven in by senior Ashley Adams to give NA an immediate 2-0 lead.
The offensive action continued in the bottom of the second when junior Bella Janowiak took first base after being hit by a pitch. Seniors Brooke Serbin and Regan Brodine both singled, with Brodine driving in Janowiak. Chomos then smacked a double down the right field line, scoring both baserunners. The inning increased the Tigers' lead to 5-0.
Chomos hit the ball where it hurt again in the fourth, driving in her third RBI. Adams and freshman Alaina Whipkey each drove in additional runs to bring the Tigers to a score of 8-0.
North Hills threatened in the sixth inning, scoring three runs off of three hits and two errors. However, the Tigers' defense, led by Adams on the mound, shut down the Indians with two solid infield plays and a strikeout. Adams pitched a complete game, allowing eight hits and striking out five.
The Tigers improve to an overall record of 8-0 and are 7-0 in section play.  They compete out of section on Saturday, hosting Howland High School (Warren, OH) at 5:00. 
Box Score - Softball vs. North Hills - 04/12/2019
| Score by Innings | 1 | 2 | 3 | 4 | 5 | 6 | 7 | R | H | E |
| --- | --- | --- | --- | --- | --- | --- | --- | --- | --- | --- |
| North Hills | 0 | 0 | 0 | 0 | 0 | 3 | 0 | 3 | 8 | 1 |
| North Allegheny | 2 | 3 | 0 | 3 | 0 | 0 | X | 8 | 12 | 3 |
WP - Ashley Adams (6-0) LP - Lauren Barnes