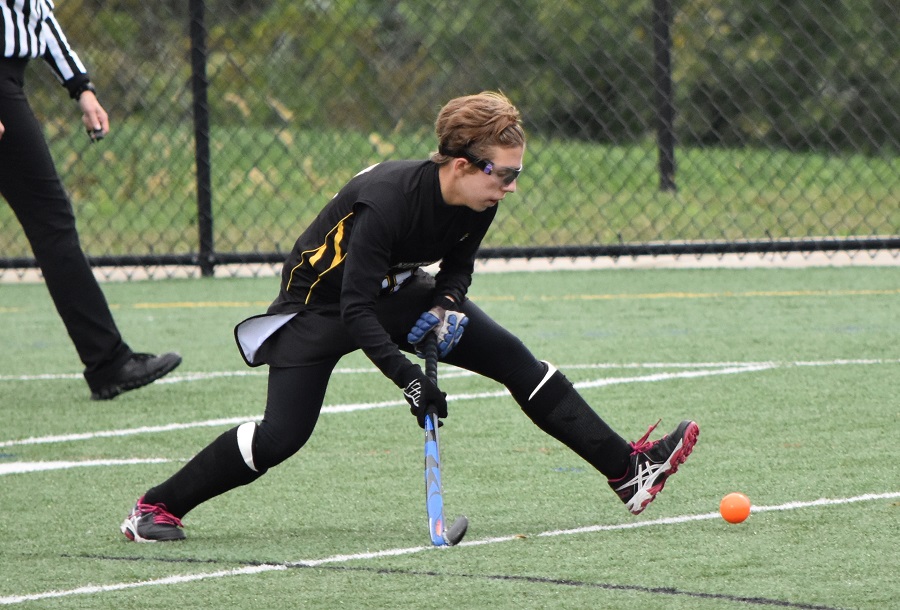 Field Hockey 0-2 In Elite Tournament
The North Allegheny Tigers traveled to the Harrisburg area to participate in the Falcon Classic, a four team tournament hosted by perennial power Lower Dauphin. It was a difficult task for the injury-laden Tigers who traveled East with six varsity players out with injuries. North Allegheny left the PA sweet spot without a victory, ending their four game win streak. In the first round of play, Lower Dauphin demonstrated why they are currently ranked No. 2 in the state as they were able to cruise past North Allegheny 6-1 behind four goals from junior midfielder Ally Bitting.
The game was played in unseasonably cold weather as the Falcons took charge with their precision passing attack – working the ball as a unit down the field and earning a penalty corner just two minutes into the half. The Falcon penalty corners were a display of textbook perfection, executed with great success in an awesome show of set play skill. Two thirds of their goals were scored in this fashion. The lone bright spot for North Allegheny came as the result of a turnover which culminated in senior midfielder Jessie Serody firing a pass into the circle where freshman forward Lexi McClure alertly pounced on the ball and shot it past the Lower Dauphin goalkeeper at the 22:35 mark. Lower Dauphin's dominance can be seen in the statistics which showed them with eleven penalty corners and 15 shots on goal, while NA had no penalty corners and only one shot on goal.
A heavy misty rain accompanied the Tigers as they took the field for the consolation game against the Cumberland Valley Eagles. The Tigers would lose the contest, 2-0. While senior Maddie Birmingham was reseated to help the defense, her dynamic influence on the NA attack was missed.  There were shining moments on defense, set in motion by senior Catie Kelly, but NA found itself in a defensive shell that they could not overcome. Kelly was named as North Allegheny's All Star for the tournament for her stalwart efforts on the defensive line. Game ended with Eagles – 4 corners and 9 hots, Tigers – 1 corner and no shots on goal.
Episcopal Academy defeated Lower Dauphin in the championship game, in overtime (strokes). And, as NA thawed on the bus back home, they were able to appreciate the level of competition they faced in the tournament; which, no doubt, will help their play in the remaining WPIAL games they face. Penn Trafford is the first of those – Tuesday night at 7:30 at Newman stadium.
Field Hockey Summary vs. Lower Dauphin, 10-3-15
| GAME SUMMARY | | | |
| --- | --- | --- | --- |
| SCORE BY HALVES | 1 | 2 | FINAL |
| North Allegheny | 1 | 0 | 1 |
| Lower Dauphin | 4 | 2 | 6 |
Field Hockey Individual Scoring vs. Lower Dauphin
| INDIVIDUAL STATS | | |
| --- | --- | --- |
| FIRST HALF | | |
| Lower Dauphin | Ally Bitting (Logan Gaughan) | 2:31 |
| Lower Dauphin | Sydney Dreisigmeyer (Halle O'Neill) | 6:45 |
| Lower Dauphin | Bitting (Gaughan) | 10:37 |
| North Allegheny | Lexi McClure (Jessie Serody) | 22:35 |
| Lower Dauphin | Rachel Yeager (Dreisigmeyer) | 26:27 |
| SECOND HALF | | |
| Lower Dauphin | Bitting (Gaughan) | 1:40 |
| Lower Dauphin | Bitting | 6:15 |
**********
Field Hockey Summary vs. Cumberland Valley, 10-3-15
| GAME SUMMARY | | | |
| --- | --- | --- | --- |
| SCORE BY HALVES | 1 | 2 | FINAL |
| North Allegheny | 0 | 0 | 0 |
| Cumberland Valley | 2 | 0 | 2 |
Field Hockey Individual Scoring vs. Cumberland Valley
| INDIVIDUAL STATS | | |
| --- | --- | --- |
| FIRST HALF | | |
| Cumberland Valley | Maddie Brown-Scherer | 9:42 |
| Cumberland Valley | Taylor Nesmith (Brown-Scherer) | 19:37 |
| SECOND HALF | | |
| | NO SCORING | |