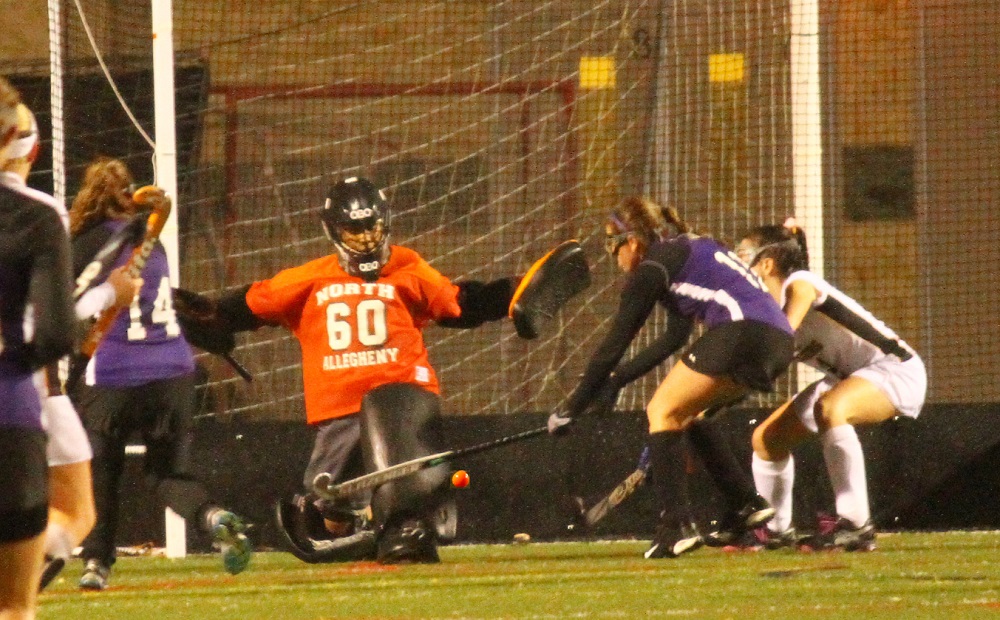 Field Hockey Season Ends As Mifflin County Defeats Lady Tigers
The NA field hockey season concluded at Newman Stadium on Thursday, when Mifflin County dealt a 1-0 loss to the Lady Tigers in the PIAA Play-in game.  Despite miserable weather conditions, the match was fast-paced, with each team developing early scoring chances.  The play went end to end several times, and Mifflin would appear to score at about 10 minutes in, though the goal was waved off, presumably due to the shot originating from outside the shooting circle.  However, with 13 minutes left in the half, Mifflin's Sara Neff would take advantage of a penalty corner, scoring on a rebound following a save by senior goalie Morgan Mendenhall.  Mifflin would be awarded two more penalty corners in the half, the first triggering a diving save by Mendenhall to hold Mifflin at bay.  The final Mifflin corner would come as time ran out, though Mifflin was held off by the Tiger's defense and the half would end 1-0.
NA showed determination throughout the second half, seeming not to notice the continuing challenge from the wind and rain.  The Tigers would be kept in the game by numerous additional saves from Mendenhall, though NA was unable to get on the board, and the match would end 1-0.
Although the season comes to an abrupt end, the future of NA field hockey looks bright, as many of the Lady Tigers will return to the line up next year.  Thank you to Agathe Jaillard, our foreign exchange student, and to the seniors for their years of contribution to the field hockey program:  Morgan Mendenhall, Veronica Iriart, Bree Monnin, Liza Pucciarelli, Amanda Jagus, and Bridget Zehr.  The Lady Tigers also extend their appreciation to the fans and parents throughout the season. 
Congratulations again to the NA field hockey team on their outstanding season and WPIAL Championship win!