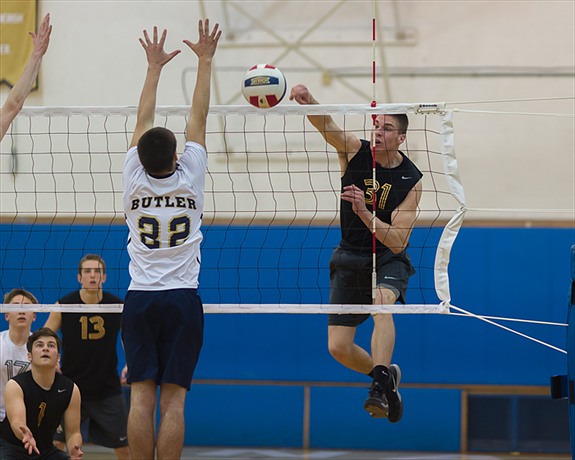 Four Tigers Named All-Section
The Class AAA Section 2 All-Section Team has been announced and the NA Tigers are well represented amongst first team selections. Earning First Team laurels are setter Antonios Balouris, middle blocker Brendan Brown, outside hitter David Haus and outside hitter Mitch Higgins. Balouris leads the Tigers with 978 assists. Brown owns the team lead in blocks with 107 and is third on the team with 240 kills. Haus is second in kills with 349 and is third in digs with 158. Higgins has team-highs in kills with 352 and aces with 52.
North Allegheny will be in action tomorrow night against the Latrobe Wildcats in the quarterfinals of the WPIAL Class AAA playoffs.  The reigning PIAA champions are the top seed in the tournament and received a first round bye.  Tomorrow night's game against Latrobe will be broadcast live via the internet on the North Allegheny Sports Network.
2014 Section 2 All-Section Team
| | | | | | |
| --- | --- | --- | --- | --- | --- |
| # | Name | Grade | Position | Height | School |
| 3 | Antonios Balouris | 12 | S | 6'1" | NA |
| 18 | Tommy Barone | 11 | OH | 6'1" | PR |
| 17 | Noah Bostick | 12 | OH | 6'3" | NH |
| 18 | Brendan Brown | 12 | MB | 6'5" | NA |
| 5 | Max DePellegrini | 11 | S | 5'11" | FC |
| 20 | David Haus | 12 | OH | 6'1" | NA |
| 31 | Mitch Higgins | 12 | OH | 6'3" | NA |
| 16 | Matt Huey | 12 | MB | 6'2" | Butler |
| 5 | Jared Todorowski | 12 | L | 5'7" | PR |
| 6 | Jaysen Zaleski | 11 | MB | 6'3" | FC |
| # | Name | Grade | Position | Height | School |
| 8 | Darren DePellegrini | 12 | OH/L | 6'2" | FC |
| 27 | Michael Eisner | 12 | Opp | 6'3" | FC |
| 21 | Chris Fiorina | 11 | L | 5'11" | Butler |
| 3 | Tyler Herrmann | 11 | OH | 6'1" | SV |
| 28 | Steve Jones | 11 | L | 5'9" | SV |
| 10 | Steve Jordan | 12 | S | 6'0" | Shaler |
| 11 | Sam Maszkiewicz | 12 | OH | 6'0" | Shaler |
| 5 | Taylor Matthews | 11 | MB | 6'3" | SV |
| 13 | John Price | 11 | OH | 6'0" | SV |
| 23 | Andrew Tublin | 11 | OH | 6'4" | FC |