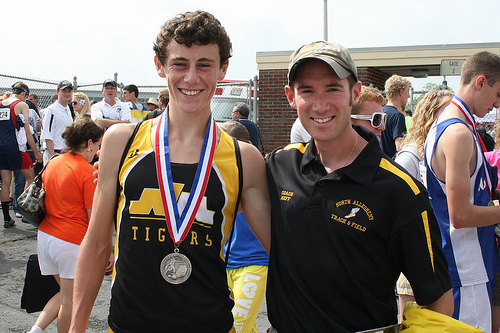 Help Nominate Coach Neff for the Brooks Inspiring Coach Award
At North Allegheny we are blessed to have two of the state's best programs in Track and Field and Cross Country, both of which are run by head coach John Neff. Success is reflected in the number of boys and girls that go to WPIAL individual championship and the Pennsylvania state championship meets each year.  It is also illustrated by the number of WPIAL team championships and state championships that Coach Neff's teams have won in the past 11 years since he began coaching at NA.  These accomplishments and the rich tradition of success upon which they were built, have established North Allegheny as one of Pennsylvania's premier high school track and field and cross country programs.
The most successful coaches around the country may have similar team and individual accomplishments, but what sets Coach Neff apart and makes him a uniquely inspiring coach is his commitment to encouraging broad participation in these sports. The cross country and track and field teams carry 150 athletes of wide ranging ability. Over the course of an eleven year career, Coach Neff has influenced hundreds of kids to give Cross Country and Track and Field sports a try and then rewarded them with the opportunity to train and compete for their own personal best results as well as competing against students from other high school teams. His efforts to encourage participation extend to grade school and middle school kids who attend the summer Tiger Cubs track and field camp as well as the summer recreational cross country running program he offers to all middle school and high school age kids. The opportunity to compete and the high level coaching provided for all athletes is a tremendous gift to our community that we wish to recognize by nominating Coach Neff for the Brooks inspiring coach award.
Brooks is sponsoring a national competition to recognize high school track and cross country coaches, known as the Inspiring Coaches Program.  It not only recognizes the country's finest coaches, but also provides generous benefits to the teams of the winner and finalists.  For more information and instructions on how to nominate Coach Neff for the Brooks Inspiring Coach Award, please click here.
(Photo of Coach Neff with former NA state Track & Field champion, Ryan Gil)