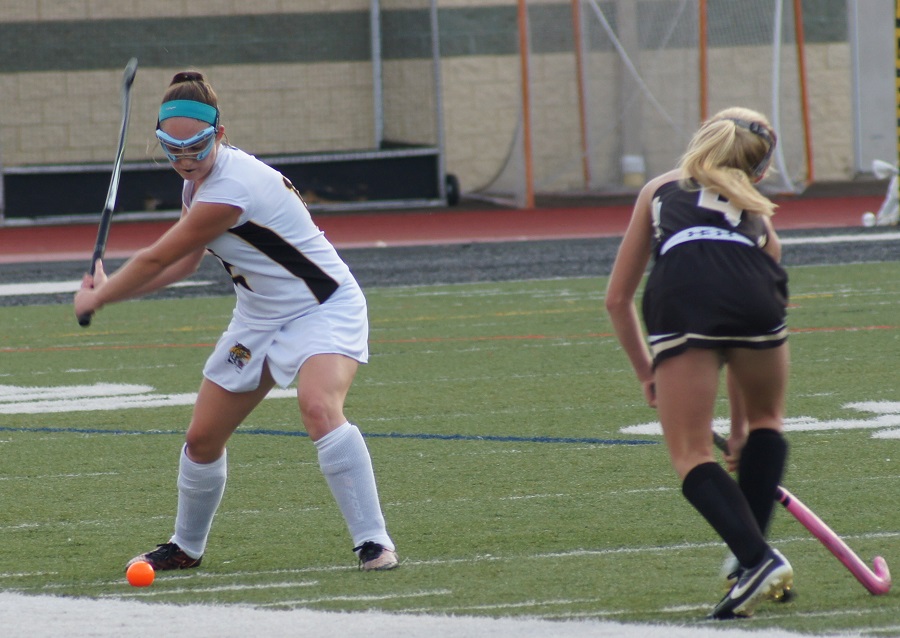 Hockey Day Opener Sees Tigers Narrowly Beaten By Hathaway Brown
Newman Stadium was the center stage for the North Allegheny Field Hockey invitational on Saturday. With all teams playing out of section, NA and WPIAL rival Fox Chapel each hosted two top Ohio teams – Shaker Heights and Hathaway Brown. A brief storm blew through right before the early morning start of play, and perhaps was an omen for the Lady Tigers, who fell short on the day- dropping both games by the scores of Hathaway Brown, 2-1, and Shaker Heights, 1-0.
The Tigers pounced early in the 8 am opener with Hathaway Brown, looking strong and unified, scoring just 58 seconds into the game when the team earned a penalty corner, and junior Brooke Cameron tipped in the shot from senior Jessie Serody, who was credited with the assist.   The goal prompted Hathaway Brown to shake the fatigue from their early morning drive from Ohio, and the Blazers fought back, using a precision passing attack to keep possession in the Tigers end. Katie Shideler was stellar in goal for NA, making split saves, and solid, smart clears.   With time running out in the first half, Hathaway Brown smoothly played the ball into the circle where forward Alexia Jones pounced on a rebound and fired it into the back of the cage. The goal came painfully with only four seconds remaining and the half ended with the score 1-1. For the half, Hathaway Brown had seven shots on goal and earned five penalty corners. NA had three shots on goal and earned one penalty corner.
The Tigers came out aggressively in the second half, led by the feisty midfield play of senior Maddie Birmingham, whose constant hustle helped NA press forward on the attack. Despite some individual offensive efforts, the team seemed unable to combine the plays necessary to finish with any goals to its credit. The contest remained tied until the 24:11 mark, when Hathaway Brown scored the game winner on a ball that barely crossed the line as the defense scrambled to prevent it from going in. It would be Jones' second goal of the game. NA fought valiantly to the end, but could not get the equalizer. Final score Blazers 2- Tigers 1. Hathaway Brown had three shots on goal in the second half and earned two penalty corners. NA had two shots on goal but failed to earn a penalty corner. Hathaway Brown would lose later in the morning to Section 2 power Fox Chapel, 4-2.
Field Hockey Summary vs. Hathaway Brown, 9-19-15
| GAME SUMMARY | | | |
| --- | --- | --- | --- |
| SCORE BY HALVES | 1 | 2 | FINAL |
| Hathaway Brown | 1 | 1 | 2 |
| North Allegheny | 1 | 0 | 1 |
Field Hockey Individual Scoring vs. Hathaway Brown
| INDIVIDUAL STATS | | |
| --- | --- | --- |
| FIRST HALF | | |
| North Allegheny | Brooke Cameron (Jessie Serody) | 0:58 |
| Hathaway Brown | Alexia Jones | 29:56 |
| SECOND HALF | | |
| Hathaway Brown | Jones | 24:11 |