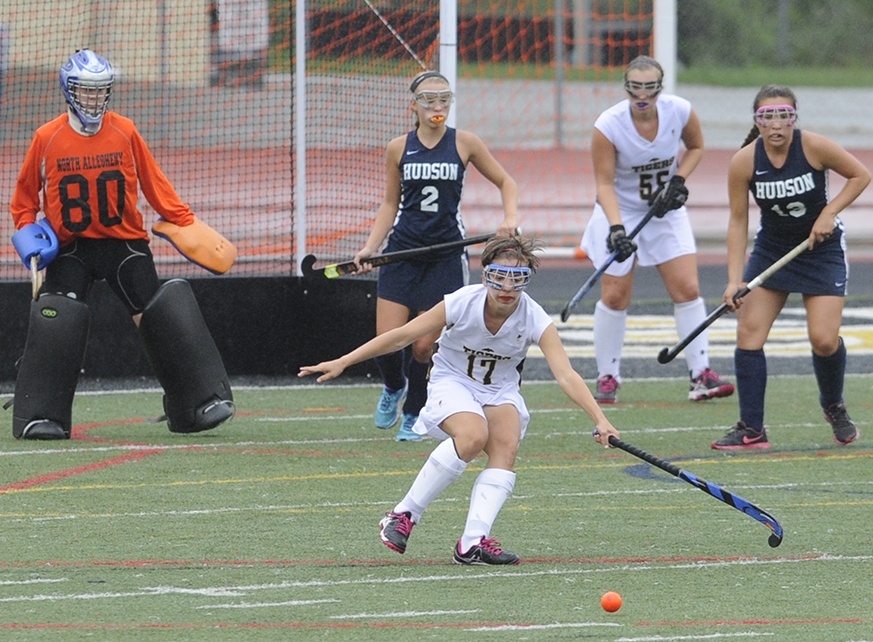 Hudson Explorers find win at Newman Stadium, 2-0
For the second time this week, the North Allegheny Field Hockey Team faced tough opposition in its Saturday afternoon home opener against the always formidable Hudson (Ohio) Explorers. In a hard fought game, the Tigers fell in a 2-0 decision at Newman Stadium.
The steady rain did not dampen the efforts of either team, as the game started with intense and strong attempts to control the field. The back and forth play occurring in the middle 40 yards yielded few offensive opportunities for either team. At the 16:19 mark, the Explorers earned a penalty corner and tallied a goal when Sarah Keller took a pass from Maddie Valko in the circle and fired a shot which found the right side of the cage. The score energized the Explorers who dominated play the rest of the half and generated a number of scoring chances. Despite the push by Hudson, the Tigers were able to keep the score at 1-0 to end of the first half. During the half, Hudson had 5 shots and 4 penalty corners, the Tigers had 2 shots and I penalty corner.
North Allegheny came out with renewed focus and energy in the second half and, led by the strong midfield play of seniors Catie Kelly, Jessie Serody, and Maddie Birmingham and supported by junior defender Lily DeNoma, began to apply consistent pressure to the Explorers. The pressure afforded NA some of its first true offensive opportunities of the year to the thrill of the teams' fans. With NA on the attack and pushing into the Explorer's end of the field, Hudson's transition game paid off as they quickly passed from their own zone to NA's 25 yard line where Keller received a pass and beat the NA defense for a breakaway that resulted in a goal at the 11:21 mark and a 2-0 lead. NA continued the surge forward, refusing to buckle to Hudson. Sophomore Gracie Limauro and junior Brooke Cameron were quick to the ball and generated scoring opportunities for the North Allegheny offense. NA showed promise with a succession of penalty corners toward the end of the game, but was unable to put the ball in the net and score its first goal of the season. Time ended with the score Hudson 2- North Allegheny 0. In the second half, the Tigers generated four shots on goal and earned 4 penalty corners, Hudson had 2 shots on goal and earned one penalty corner.
The Lady Tigers are finding their footing, and hope to garner their first win as they play in their first WPIAL section 1 game Monday night at Penn Trafford.
Field Hockey Summary vs. Hudson, 9-12-15
| GAME SUMMARY | | | |
| --- | --- | --- | --- |
| SCORE BY HALVES | 1 | 2 | FINAL |
| Hudson | 1 | 1 | 2 |
| North Allegheny | 0 | 0 | 0 |
Field Hockey Individual Scoring vs. Hudson
| INDIVIDUAL STATS | | |
| --- | --- | --- |
| FIRST HALF | | |
| Hudson | SARAH KELLER (MADDIE VALKO) | 16:19 |
| SECOND HALF | | |
| Hudson | KELLER | 11:21 |