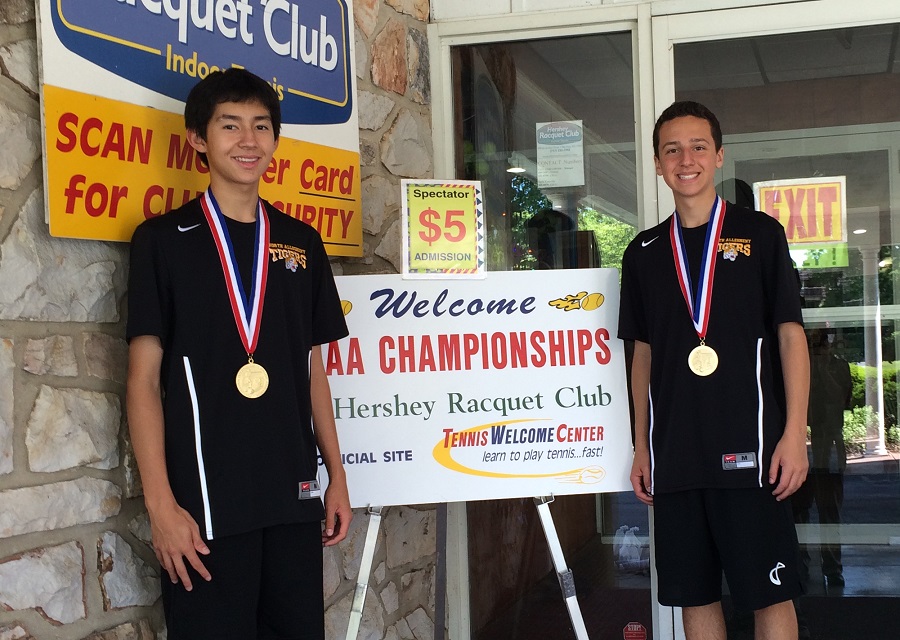 Isaacs, Hofmann Win PIAA Gold For Second Straight Year
A two day journey to Hershey, PA, resulted in sweet dividends for the NA tennis duo of junior Jared Isaacs and freshman Richard Hofmann who captured gold in the PIAA Boys' AAA Doubles Tournament Saturday afternoon.    It was the second straight year a North Allegheny team captured this crown.  This achievement was Isaacs' second straight Boys' AAA Doubles championship, becoming the first player to repeat since 2002 when a duo from Central Bucks West also completed the feat.
The semi-final match Saturday morning pitted the Tigers against the team of Steve Yang and Max Howarth of Conestoga High School, the number one seed in the tournament and District 1 champions from Philadelphia.   Isaacs and Hofmann took the match in straight sets to advance to the championship contest.  The final match of the day pitted the Tigers against the Mt. Lebanon team of senior Dane Bendel and junior Charlie Strohl, whom the Tigers defeated in the WPIAL semi-finals in April.  Both teams got off to a tense start, as the server was broken in each of the first four games of the opening set.  Isaacs was the first to hold serve in the 5th game.  Then, down 3-4, the Tigers broke Strohl, and Isaacs subsequently held serve to take a 5-4 lead.  The winning game and break against Bendel came after Isaacs split the middle on a strong forehand that squarely landed on the baseline between the two Lebo players.   The Tigers controlled the second set from the start, breaking out to a 5-1 advantage before losing an opportunity to serve for the match.  Breaking back, the Tigers broke Strohl to win the set, match and championship.  A great assortment of cross court plays and outstanding lobs from Isaacs and Hofmann highlighted the second set against the stellar Mt. Lebanon players.
Both Isaacs and Hofmann join the hallowed list of North Allegheny PIAA Champions, including Tom Liebenguth (singles, '76), Jason Gindele and Jay Woffington (doubles, '90) and Kevin Goth (doubles, '14, with Isaacs).  Isaacs, a junior, thus becomes the first NA player to win multiple PIAA championships.  His record in post-season doubles play the last two years, including District 7 (WPIAL) and PIAA, is now 14-2
Congratulations to Jared and Richard for an outstanding conclusion to the Tigers' Boys Tennis season!  A special thanks goes to Assistant Coach and doubles specialist, Tom Gammell, along with Rob Gregoire of Alpha.  Also, a special shout out goes to the NASD Athletic Office of Bob Bozzuto, Bonnie Woods and Patti McClure who offered their unwavering assistance and support all season long.
North Allegheny Summary –PIAA Boys AAA Doubles Championship—Day Two (5-23-15)
Semifinal Round
Jared Isaacs/Richard Hofmann (NA) def. Steve Yang/Max Howarth (Conestoga) 7-5, 6-3
Championship Round
Jared Isaacs/Richard Hofmann (NA) def. Dane Bendel/Charlie Strohl (Mt. Lebanon) 6-4, 6-2