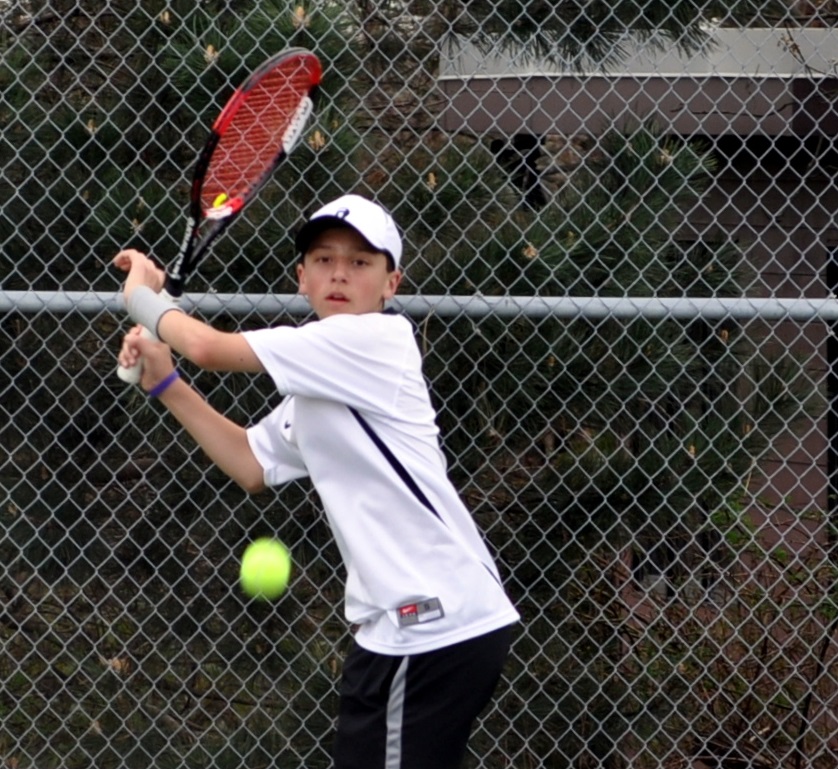 Kevin Goth, Jared Isaacs Take Section 2 Doubles Title
On a rainy Tuesday, a marathon series of Section 2 doubles matches took place at the Lakevue courts and upon completion, senior Kevin Goth and sophomore Jared Isaacscame away with the section crown.  Senior Kylie Isaacs and sophomore Andrew Xu finished a very strong third in the competition.  With the overall win and consolation victory, all four teammates now advance to the WPIAL AAA Doubles championship to be contested beginning April 28 at Bethel Park High School.  Goth and Isaacs (Jared) were seeded 2nd in the tourney and advanced to the semi-finals by beating Shaler's #2 squad in the first round and Hampton's #2 squad in the quarterfinals.  From there they took on Hampton's number one unit of Jon Harrison/Jung Bang and prevailed in straight sets in the semis.  Isaacs (Kylie) and Xu were the 5th seed and defeated Shaler's #1 squad in the first round and North Hills #1 team in the quarterfinals.    From there they took on Pine-Richalnd's #1 team (1st seed overall) of Caleb Kramer/Ben Vinarski, falling in straight sets in their semi-final.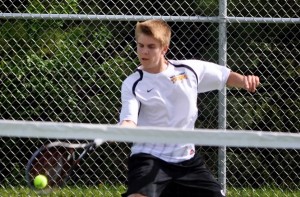 The consolation match then pitted Isaacs (Kylie) and Xu against Hampton's Harrison/Bang duo, with the NA pairing taking the match 6-2, 6-2 to advance as a qualifier to the WPIAL Championships.  The championship match featured Pine-Richland's Caleb Kramer/Ben Vinarski against Goth and Isaacs (Jared).  Both teams demonstrated high-caliber play from start, and each of the two sets ended in exciting tie-breaks with the NA duo taking each extra session.  This marked the second Section 2 Doubles Championship for Goth in his career to go along with his two Section 2 Singles Championships. While waiting for the WPIAL Doubles tourney, the Tigers return to Section 2 team action Wednesday afternoon at home against the Hampton Talbot starting at 3 PM.
North Allegheny Summary –AAA Section 2 Doubles Championship (4-22-14)
Round One
#2Kevin Goth/Jared Isaacs (NA) def. #15 Adam Bliel/Nick Buckshaw (Shaler) 10-0
#5 Kylie Isaacs/Andrew Xu (NA) def. #12 Evan Conti/Chris Siefried (Shaler) 10-0
Quarterfinal Round
#2Kevin Goth/Jared Isaacs (NA) def. #10 Wes Banks/Cam Raidna (Hampton) 10-1
#5 Kylie Isaacs/Andrew Xu (NA) def. #4 Pablo Morcate/ Mike Chutko (NH) 10-4 
Semifinal Round
#2 Kevin Goth/Jared Isaacs  (NA) def. #3 Jon Harrison/Jung Bang (Hampton) 6-0, 6-4
#1 Caleb Kramer/Ben Vinarski (PR) def. #5 Kylie Isaacs/Andrew Xu (NA) 6-3, 6-3
Consolation Match
#5 Kylie Isaacs/Andrew Xu (NA) def. #3 Jon Harrison/Jung Bang (Hampton) 6-2, 6-2
Championship Match
#2 Kevin Goth/Jared Isaacs (NA) def. #1 Caleb Kramer/Ben Vinarski (PR) 7-6 (7-5), 7-6 (9-7)