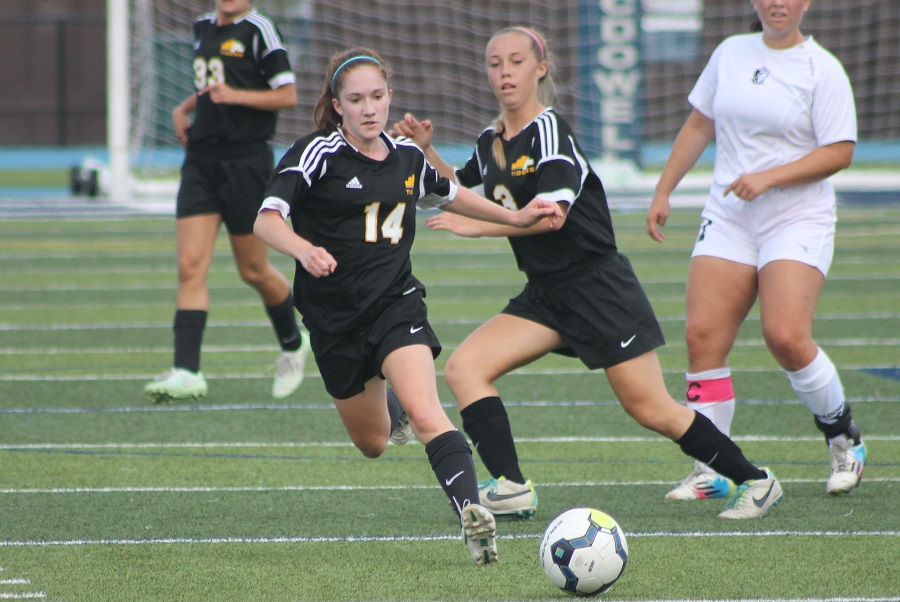 Lady Tigers Best McDowell In Overtime, 1-0
North Allegheny traveled to Erie on Saturday afternoon and left town with an exciting 1-0 overtime victory over the McDowell Trojans. Senior Amanda Miller tallied the game winning marker in the 1st minute of overtime to lift the Tigers to the season opening victory.
The match was a defensive struggle from the outset and remained a stalemate throughout regulation. In the first half, the Trojans generated a good scoring chance in the game's 13th minute when Nikki Saur broke through for a hard, low shot from the top of the 18 but was denied by NA goalie Cara Schwartz to keep the game tied, 0-0.
North Allegheny had its first golden opportunity to score in the 1st minute of the second half when Miller drew a penalty and was awarded a free kick from 20-yards out. However, Miller's kick went wide of the net and the game remained scoreless.
Saur and the Trojans tested NA goalie Jessica Robles in the second half with several scoring chances but were turned away each time. In the 78th minute, junior Brooke Anderson fed a ball forward to Miller whose shot was saved by the McDowell net minder. Sophomore Aly Longo was in position for the rebound but her shot hit the crossbar to end regulation.
North Allegheny wasted little time in the extra period as sophomore Morgan Anderson played the ball forward to Miller who hit a low line drive inside the far post for a 1-0 a victory in the season opener.
North Allegheny is 1-0 following the win and will open section play on Wednesday night against the Seneca Valley Raiders at Newman Stadium. The game will be broadcast live via the internet on the North Allegheny Sports Network. Kickoff is set for 7:30 pm.