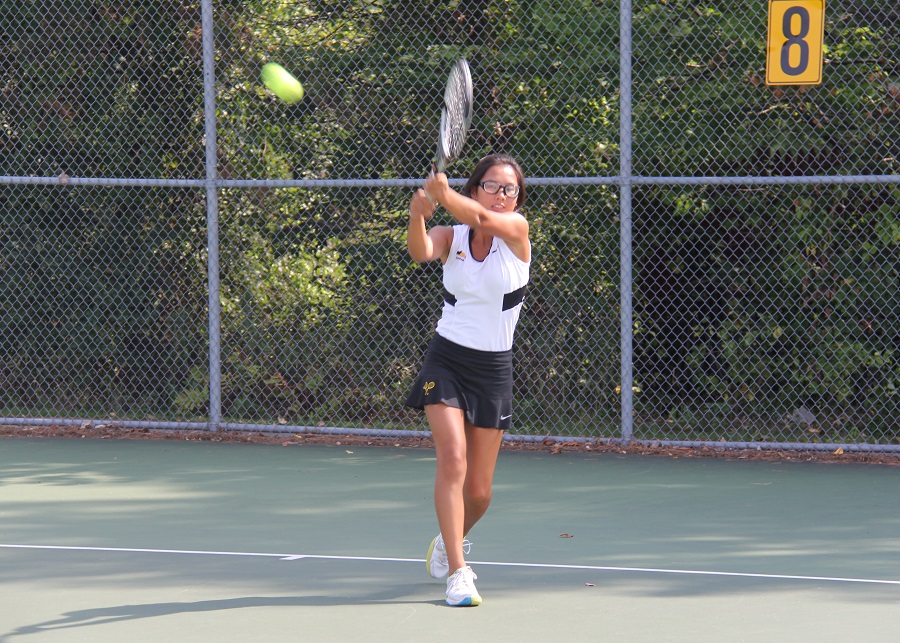 Lady Tigers Claw Past Panthers In WPIAL Quarterfinals
The North Allegheny girls' tennis team rolled to a 4-1 victory over the Upper St. Clair Panthers in the WPIAL quarterfinals on Wednesday afternoon.
The Panthers managed to scratch out a win at #1 singles courtesy of Charlotte Madison, but the match belonged to North Allegheny in what became a one-sided triumph for the Tigers. Tina Li defeated Avery Jencker at #2 singles by scores of 6-1, 6-1. Meanwhile, Ashley Huang topped Lizzy Schmitt at #3 singles with set scores of 6-1, 6-0.
In doubles play, the tandem of Eugenia Lee and Tristyn Maalouf streaked past Lauren Precknick and Fallon Wonseck, 6-0, 6-1. The duo of Elena Kolano and Jenna Kolano rounded out the win with a 6-1, 6-1, victory over Arusula Kewaslenca and Gacie Sebastian.
The Lady Tigers jump to 16-1 overall and advance to the WPIAL semifinals to face the Mt. Lebanon Blue Devils on Monday at 3:00 pm. The site has yet to be determined at the time this article was published.
Girls Tennis Summary vs. Upper St. Clair, 10-14-15
Match Summary

NORTH ALLEGHENY - 4
UPPER ST. CLAIR - 1
SINGLES
#1
Charlotte Madison (USC) def. Anna Li (NA)
6-3, 6-4
#2
Tina Li (NA) def. Avery Jencker (USC)
6-1, 6-3
#3
Ashley Huang (NA) def. Lizzy Schmitt (USC)
6-1, 6-0
DOUBLES
#1
Tristyn Maalouf/Eugenia Lee (NA) def. Lauren Precknick/Fallon Wonseck (USC)
6-0, 6-1
#2
Elena Kolano/Jenna Kolano (NA) def. Arusula Kewaslenca/Gacie Sebastian (USC)
6-1, 6-1