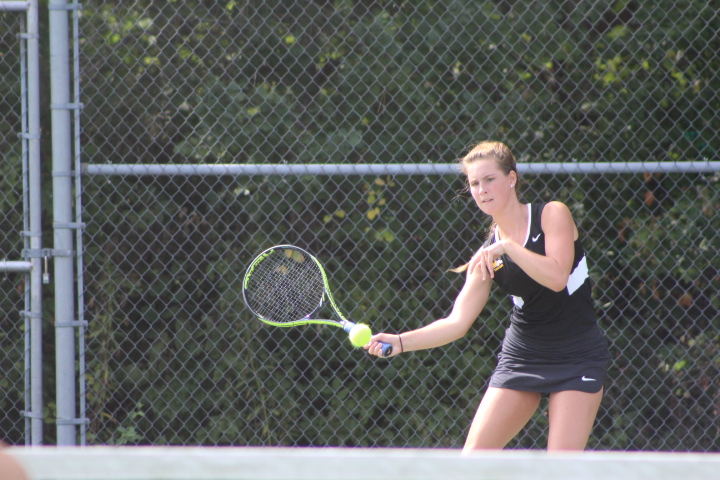 Lady Tigers Clobber Kiski, 5-0
North Allegheny controlled the action from start to finish in a thorough 5-0 defeat of the Kiski Area Cavaliers on Tuesday afternoon. The Tigers won all but one point in the non-section sweep.
In singles play, Tina Li and Vivian Shao collected 6-0, 6-0, wins over their opponents. At No. 3 singles, Rebecca Chen topped Marisa Johnson, 6-1, 6-0. In doubles play, 6-0, 6-0, triumphs were in order for the duo of Jenna Kolano and Rebekah Rest, along with the combo of Riya Yadav and Katherine Ambrose.
The Lady Tigers improves to 5-0 overall with the victory. North Allegheny jumps back into section play with a home match against Mars.
Girls Tennis Summary vs. Kiski, 8-30-16
Match Summary

NORTH ALLEGHENY - 5
KISKI - 0
SINGLES
#1
Tina Li (NA) def. Alexis Shaffer (KA)
6-0, 6-0
#2
Vivian Shao (NA) def. Kylie Zaffina (KA)
6-0, 6-0
#3
Rebecca Chen (NA) def. Marisa Johnson (KA)
6-1, 6-0
DOUBLES
#1
Rebekah Rest/Jenna Kolano (NA) def. Liv Shelby/Paige Horwitt (KA)
6-0, 6-0
#2
Riya Yadav/Katherine Ambrose (NA) def. Katelynn Brown/Allie Bruno (KA)
6-0, 6-0