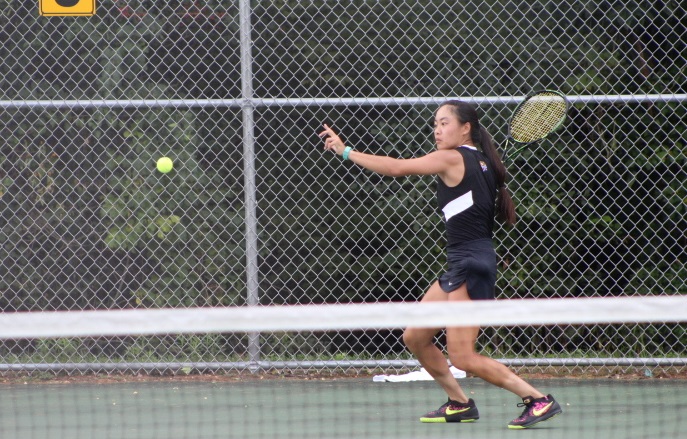 Lady Tigers Defeat Moon In Section Opener
The North Allegheny girls' tennis team opened the week with a 4-1 road victory at Moon on Monday afternoon. The victory was also the first in section play for the Lady Tigers who remain undefeated on the season.
In singles action, senior Tina Li earned the slot at No. 1 singles and delivered a 6-1, 7-5 triumph over Cam Beer. Sophomore Ashley Huang dominated Emma Patton at No. 2 singles, 6-0, 6-0. Moon's Rochelle Seltzer garnered the Planets only win on the afternoon with a 7-6 (8-6), 6-0 decision at No. 3 singles.
The Tigers solidified the win in doubles play where Rebekah Rest and Jenna Kolano picked apart Sravani Yagalla and Marilla Sawaya, 6-0, 6-0. Riya Yadav and Katherine Ambrose earned a 6-2, 7-5, win over Sam Vachino and Sierra Souza at No. 2 doubles.
North Allegheny sits at 4-0 overall and 1-0 in section play following the win. The Lady Tigers host Kiski this afternoon at 3:30 in a non-section affair.
Girls Tennis Summary vs. Moon, 8-29-16
Match Summary

NORTH ALLEGHENY - 4
MOON - 1
SINGLES
#1
Tina Li (NA) def. Cam Beer (M)
6-1, 7-5
#2
Ashley Huang (NA) def. Emma Patton (M)
6-0, 6-0
#3
Rochelle Seltzer (M) def. Katre Soran (NA)
7-6 (8-6), 6-0
DOUBLES
#1
Rebekah Rest/Jenna Kolano (NA) def. Sravani Yagalla/Marilla Sawaya (M)
6-0, 6-0
#2
Riya Yadav/Katherine Ambrose (NA) def. Sam Vachino/Sierra Souza (M)
6-2, 7-5