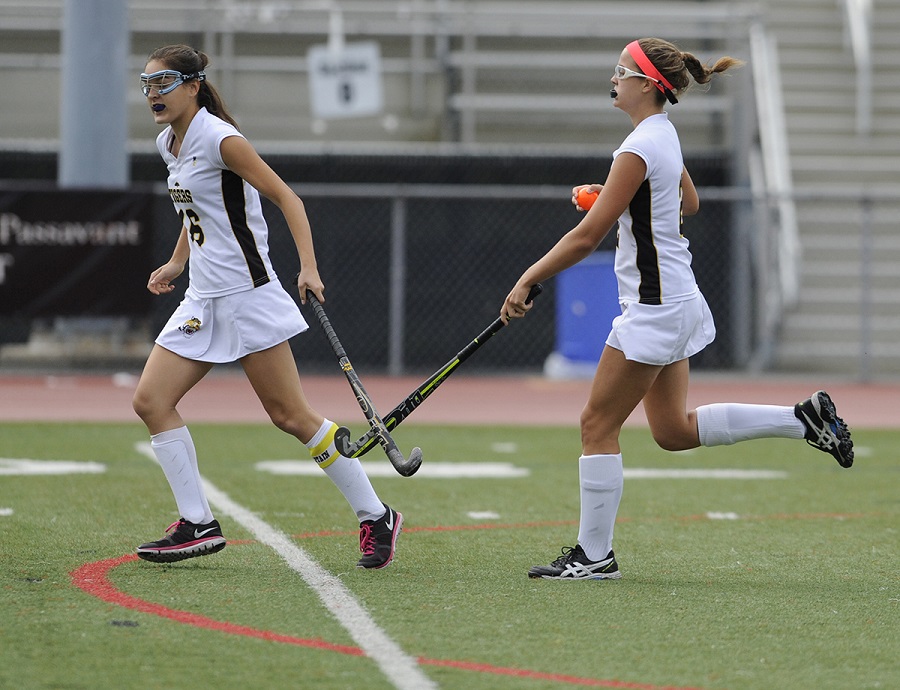 Lady Tigers Level Latrobe, 6-0
Continuing its dominance over Section 1-AAA foes, the North Allegheny field hockey team tamed the Latrobe Wildcats on Thursday night, 6-0. It was a well-rounded effort by the Lady Tigers as five different players scored goals in the victory. In a one-sided game, Latrobe never got a shot on goal as Katie Shideler and Rena Israel combined for the shutout.
North Allegheny opened the scoring with 22:21 on the first half clock with a goal by freshman Angie Genter for a 1-0 lead. To their credit, the Wildcats did their best to fend off the Tigers in the early going but NA's relentless pressure eventually broke down Latrobe late in the first half. With 5:21 remaining in the half, senior Maddy Snyder assisted on a tally by Brooke Cameron to bring the score to 2-0, North Allegheny. Cameron returned the favor on the final goal of the half as she passed to Snyder for a marker to bring the score to 3-0, Tigers, at intermission. With one goal and one assist, Cameron was named the Wright Automotive Player of the Game by the North Allegheny Sports Network.
Fresh off her hat trick against Pine-Richland on Monday night, Snyder made it a two-goal performance against the Wildcats and scored on assist by Alyssa Hillenbrand eight minutes into the second half and North Allegheny's lead swelled to 4-0. With the win well at hand, junior Alexa Hueston and freshman Kayley Cooper added goals to bring the final score to 6-0, Tigers. Senior Jessie Serody assisted on the final two goals of the night.
The win gives North Allegheny a 6-4 record overall and a 5-0 mark in Section 1-AAA. Latrobe drops to 0-3-1 in the section. The Lady Tigers will travel to the central part of the state for a pair of games at the Lower Dauphin Invitational on Saturday. North Allegheny will open the tournament against the host team at 3:00 pm.
Field Hockey Summary vs. Latrobe, 10-1-15
| GAME SUMMARY | | | |
| --- | --- | --- | --- |
| SCORE BY HALVES | 1 | 2 | FINAL |
| Latrobe | 0 | 0 | 0 |
| North Allegheny | 3 | 3 | 6 |
Field Hockey Individual Scoring vs. Latrobe
| INDIVIDUAL STATS | | |
| --- | --- | --- |
| FIRST HALF | | |
| North Allegheny | Angie Genter (Maddie Birmingham) | 7:39 |
| North Allegheny | Brooke Cameron (Maddy Snyder) | 24:39 |
| North Allegheny | Snyder (Cameron) | 28:29 |
| SECOND HALF | | |
| North Allegheny | Snyder (Alyssa Hillenbrand) | 8:00 |
| North Allegheny | Alexa Hueston (Jessie Serody) | 14:25 |
| North Allegheny | Kayley Cooper (Serody) | 18:54 |