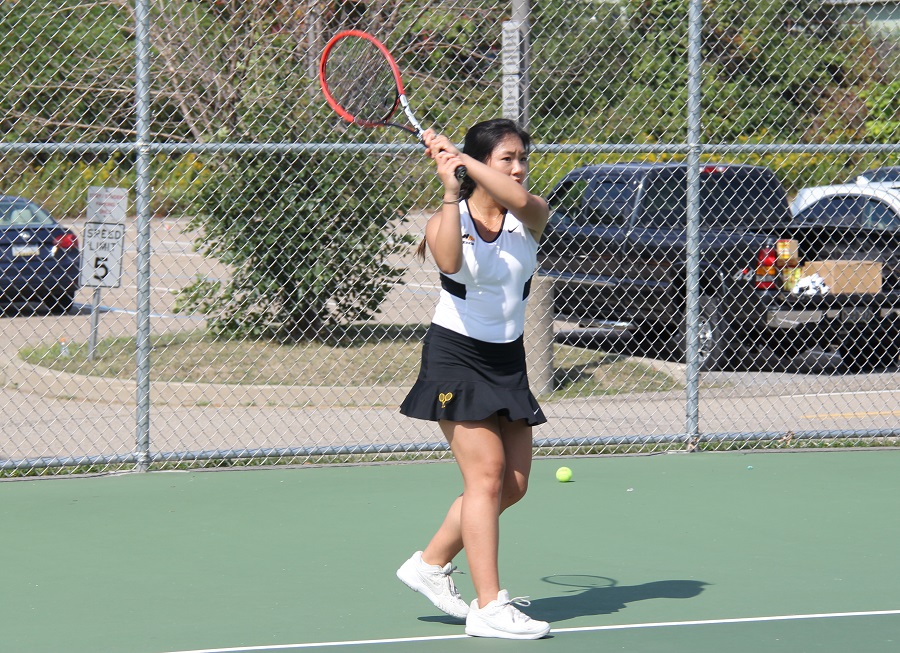 Lady Tigers Swat Shaler, 5-0
North Allegheny won its fifth straight match on Friday afternoon with another nearly perfect performance, defeating the Shaler Titans by a 5-0 decision. The Lady Tigers singles players did not allow a single point as Anna Li, Tina Li and Ashley Huang all blanked their opponents, 6-0, 6-0.
In doubles play, Tristyn Maalouf and Elena Kolano swept Emily Watts and Savannah Reynolds, 6-0, 6-0. Completing the victory, Riya Yadar and Maia Sowers took down Baylee Marta and Emily Rhodes, 6-0, 6-2.
With the win, North Allegheny is 5-1 overall and 4-0 in section play. The Lady Tigers visit Mars on Monday afternoon at 3:30 pm.
Girls Tennis Summary vs. Shaler, 9-11-15
Match Summary

NORTH ALLEGHENY - 5
SHALER - 0
SINGLES
#1
Anna Li (NA) def. Lily Buckshaw (SH)
6-0, 6-0
#2
Tina Li (NA) def. Faith Rihn (SH)
6-0, 6-0
#3
Ashley Huang (NA) def. Rachel O'Neil (SH)
6-0, 6-0
DOUBLES
#1
Tristyn Maalouf/Elena Kolano (NA) def. Emily Watts/Savannah Reynolds
6-0, 6-0
#2
Riya Yadar/Maia Showers (NA) def. Baylee Marta/Emily Rhodes (SH)
6-0, 6-2