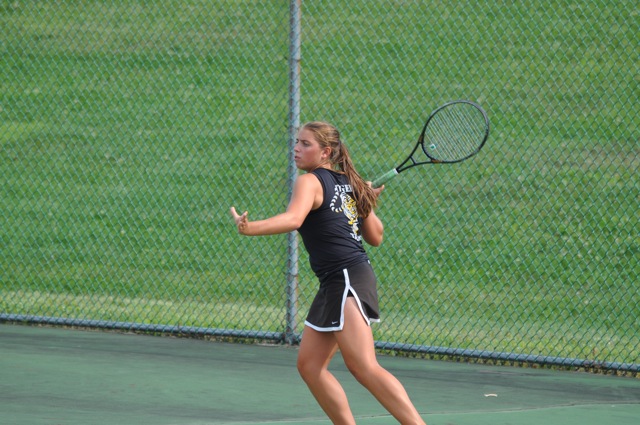 Lady Tigers Blank Knights, 5-0
The Lady Tigers Tennis Team collected its second straight shutout by blanking the Knoch Knights on Monday afternoon, 5-0. It was a straight sweep in singles competition as Anna Li, Eugenia Lee and Tristyn Maalouf did not lose a single set.
In doubles play, Catherine Liu and Jacqueline Cannella topped Alice Gordon and Molly Conlon, 6-1, 6-0. Completing NA' s dominant performance, Elena Kolano and Emma Seymour topped Maggie Blair and Sarah Luffy, 6-1, 6-0.
With the win, North Allegheny improves to 2-0 overall and in section play. The Lady Tigers will take on Mt. Lebanon this evening at Keystone Oaks.  Tee time is set for 5:30 pm.
Match Summary

NORTH ALLEGHENY - 5
KNOCH - 0
SINGLES
#1
Anna Li (NA) def. Carly Burdett (K)
6-0, 6-0
#2
Eugenia Lee (NA) def. Hope Crimbehin (K)
6-0, 6-0
#3
Tristyn Maalouf (NA) def. Sharyn Sefton (K)
6-0, 6-0
DOUBLES
#1
Catherine Liu/Jacqueline Cannella (NA) def. Alice Gordon/Molly Conlon (K)
6-1, 6-0
#2
Elena Kolano/Emma Seymour (NA) def. Maggie Blair/Sarah Luffy (K)
6-1, 6-0