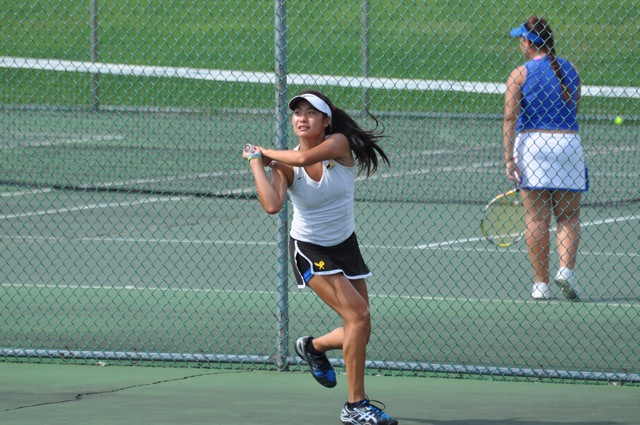 Reigning State Champions Sweep Mars In Season Opener
The reigning WPIAL and PIAA champion Lady Tigers Tennis Team leaped into section play in its season opener on Thursday morning with a 5-0 victory over the Mars Planets.  The Lady Tigers controlled the match from start to finish and lost only one set the entire day.  At #1 singles, sophomore Anna Li breezed past Jordan Sales for a 6-0, 6-0, win.  By the same score, freshman Eugenia Lee topped Maddy Brala at #2 singles. Junior Trystyn Maalouf earned a 6-1, 6-0, triumph over Meg McLaughlin at #3 singles.
In doubles competition, the combo of senior Sydney Boyd and senior Catherine Liu collected 6-0, 6-0, victories over Lizzie Austin and Emily Puras.  NA's Catherine Zhang and Jacqueline Cannella sailed by Hope Bermberg and Kandall Angelitti, 6-0, 6-0.
North Allegheny starts the season 1-0 with the victory over Mars and will return to the court on Monday afternoon with a match at Knoch at 3:30 pm.
Match Summary

NORTH ALLEGHENY - 5
MARS - 0
SINGLES
#1
Anna Li (NA) def. Jordan Sales (M)
6-0, 6-0
#2
Eugenia Lee (NA) def. Maddy Brala (M)
6-0, 6-0
#3
Tristyn Maalouf (NA) def. Meg McLaughlin (M)
6-1, 6-0
DOUBLES
#1
Sydney Boyd/Catherine Liu (NA) def. Lizzie Austin/Emily Puras (M)
6-0, 6-0
#2
Catherine Zhang/Jacqueline Cannella (NA) def. Hope Bermberg/Kandall Angelitti (M)
6-0, 6-0