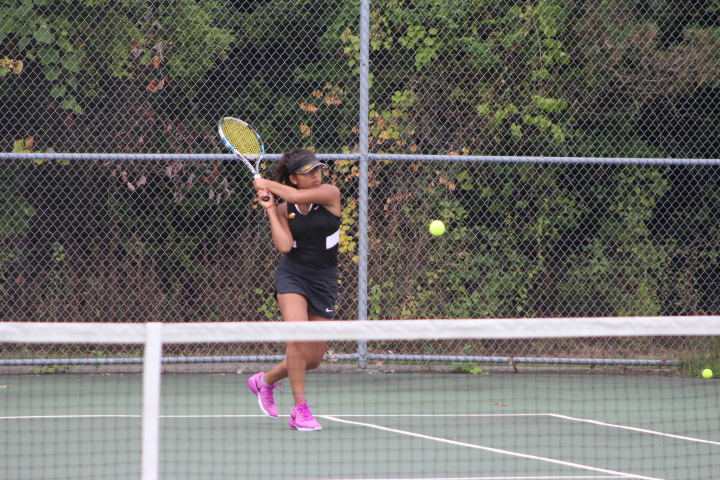 Lady Tigers Sweep Shady Side Academy, 5-0
The Lady Tigers picked up their second win of the season on Tuesday morning with a 5-0 sweep of Shady Side Academy in a non-section match. The home tilt saw North Allegheny dominate the action, including impressive 6-0, 6-0, wins by Anna Li and Ashley Huang in singles play. Tina Li posted a 6-1, 6-2, victory over Erin Gramley in her singles matchup.
In doubles action, Rebekah Rest and Jenna Kolano topped Isha Reddy and Aya Yoursef by a 6-1, 6-2, decision. Riya Yadav and Katherine Ambrose were triumphant as well in their doubles match, 6-1, 6-2.
North Allegheny improves to 2-0 overall with the win. The Lady Tigers host Mt. Lebanon on Thursday morning at 10:00 a.m. in another non-section contest.
Girls Tennis Summary vs. Shady Side Academy, 8-23-16
Match Summary

NORTH ALLEGHENY - 5
SHADY SIDE ACADEMY - 0
SINGLES
#1
Anna Li (NA) def. Devin Gramley (SSA)
6-0, 6-0
#2
Tina Li (NA) def. Erin Gramley (SSA)
6-1, 6-2
#3
Ashley Huang (NA) def. Paige Golden (SSA)
6-0, 6-0
DOUBLES
#1
Rebekah Rest/Jenna Kolano (NA) def. Isha Reddy/Aya Yoursef (SSA)
6-1, 6-2
#2
Riya Yadav/Katherine Ambrose (NA) def. Not Available
6-1, 6-2