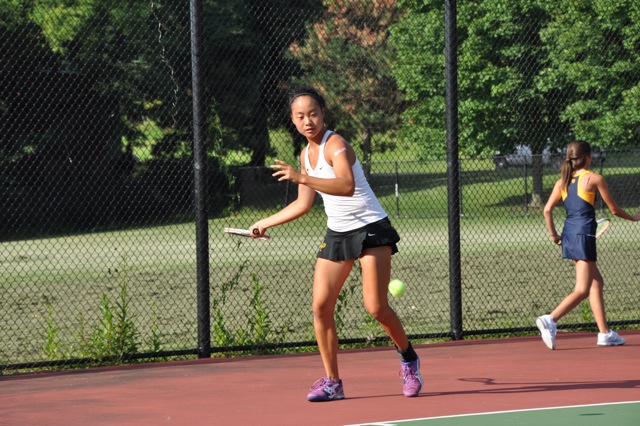 Lady Tigers Tennis Prevails Over Knoch In Section Opener
The Lady Tigers rebounded from their first loss in three years with a dominant 5-0 win over the Knoch Knights on Monday afternoon. North Allegheny barely broke a sweat, especially in singles play where Ashley Huang, Tristyn Maalouf and Elena Kolano overpowered their opponents.
In doubles play, freshman Riya Yadar and junior Jenna Kolano earned a 6-0, 4-6, 7-2, victory over Carly Burdett and Sarah Luffy. At #2 doubles, seniors Erica Cannella and Julie Choe cruised past Maggie Blair and Emma Zinsky, 6-1, 6-0.
North Allegheny sits at 2-1 on the season and 1-0 in section play. The Lady Tigers visit Hampton on Wednesday in another section match.
Girls Tennis Summary vs. Knoch, 8-31-15
Match Summary

NORTH ALLEGHENY - 5
KNOCH - 0
SINGLES
#1
Ashley Huang (NA) def. Molly Conlon (K)
6-0, 6-0
#2
Tristyn Maalouf (NA) def. Emma West (K)
6-0, 6-1
#3
Elena Kolano (NA) def. Hope Crimbehin (K)
6-0, 6-0
DOUBLES
#1
Riya Yadar/Jenna Kolano (NA) def. Carly Burdett/Sarah Luffy (K)
6-0, 4-6, 7-2
#2
Erica Canella/Julia Choe (NA) def. Maggie Blair/Emma Zinsky (K)
6-1, 6-0