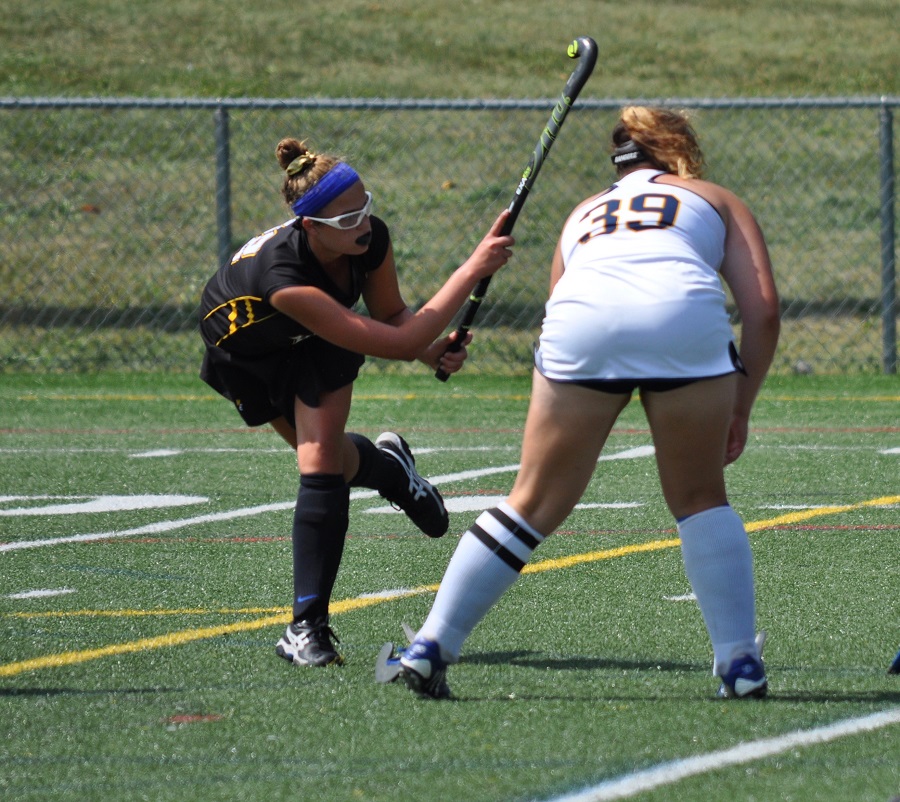 LADY TIGERS TIE ONE, DROP ONE IN RAIDER CLASSIC
Throughout her tenure, NA Field Hockey Head Coach Madelyn Berkley has scheduled a very tough pre-conference schedule to prepare her team for WPIAL play. This year was no different, as the Lady Tigers traveled to Twin Valley High School in Morgantown, Pennsylvania to play in the Raider Classic.  In addition to NA, the 2014 PIAA AAA Champions from Penn Manor High School, the 2015 PIAA AA Champions from Twin Valley, and Muhlenberg High School participated in the Classic.
The Lady Tigers drew Penn Manor in the opener, and it proved to be a daunting task. Despite NA's persistence on defense, led by captain and goaltender Katie Shideler, and senior defenders Gabby Herbert and Anna Hopkins, Penn Manor's offense proved too much as the Comets won 9-1.  The Lady Tigers' lone offensive bright spot came when senior midfielder Brooke Cameron fired a shot into the back of the cage on NA's only penalty corner of the match.  For their part, Penn Manor easily dispatched Twin Valley 8-0 in the final, and the Comets appear to be one of the top teams in the state this year.
The Lady Tigers next played Muhlenberg in the consolation game. The competition was much more even than in the opener, and NA had the better of the play for much of the game.  NA midfielders Cameron, junior Gracie Limauro, and sophomores Bridget Russell and Laura Schwendeman controlled play between the 30s, and NA outshot Muhlenberg in regulation 8-5 but could not register a goal.  NA's best chance in regulation came on a breakaway by senior Erin Coran that was thwarted by an excellent play from Muhlenberg's goalie.  Knotted at 0-0 at the end of regulation, the sides played a five minute 7 vs. 7 overtime period.  In the overtime period, NA goalie Shideler and the defense stood tall, shutting down two Muhlenberg penalty corners late to preserve the tie.
The Lady Tigers next play on Tuesday, September 13 in the conference and home opener against Latrobe. Game time is 7:30 pm (JV at 6:00 pm).
Field Hockey Summary vs. Penn Manor
| GAME SUMMARY | | | |
| --- | --- | --- | --- |
| SCORE BY HALVES | 1 | 2 | FINAL |
| North Allegheny | 0 | 1 | 1 |
| Penn Manor | 6 | 3 | 9 |
Field Hockey Individual Scoring vs. Penn Manor
| INDIVIDUAL STATS | | |
| --- | --- | --- |
| FIRST HALF | | |
| Penn Manor | Megan Ritchey | 28:29 |
| Penn Manor | Anna Barbusca | 19:53 |
| Penn Manor | Gabby Bitts | 19:03 |
| Penn Manor | Bitts | 15:20 |
| Penn Manor | Emma DeBerdine | 0:59 |
| SECOND HALF | | |
| Penn Manor | Alyssa Schriver | 27:24 |
| Penn Manor | Schriver | 21:18 |
| North Allegheny | Brooke Cameron (Angie Genter) | 8:05 |
| Penn Manor | Hannah Brown | 5:42 |
************
Field Hockey Summary vs. Muhlenberg
| GAME SUMMARY | | | |
| --- | --- | --- | --- |
| SCORE BY HALVES | 1 | 2 | FINAL |
| North Allegheny | 0 | 0 | 0 |
| Muhlenberg | 0 | 0 | 0 |