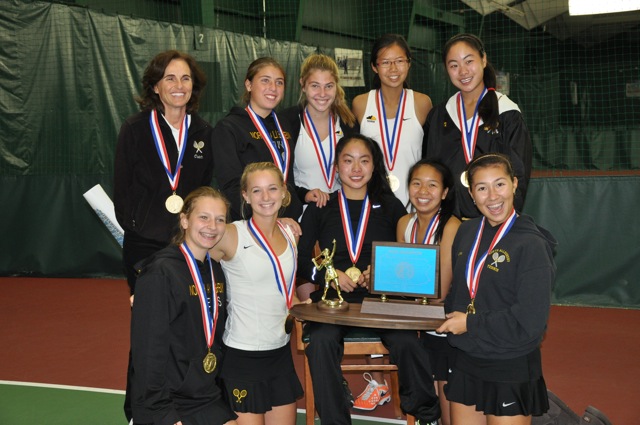 Lady Tigers Win State Title With Triumph Over Methacton
Winning its first state championship since 2008, the North Allegheny Girls Team defeated Methacton, 3-2, on Saturday evening for the 2013 PIAA Class AAA title.  Helping NA to the victory, freshman Tina Li posted a 6-1, 6-3, win at #3 singles.  In doubles play, Tristyn Maalouf and Jenn Hofmann earned a 6-0, 6-1, win and Sydney Boyd and Catherine Zhang picked up a 6-2, 6-3, victory.
To earn a berth in the championship match, the Lady Tigers defeated West Chester Henderson earlier in the day at the Hershey Racquet Club, 4-1, in the PIAA Semifinals.  North Allegheny breezed through singles play as Maddy Adams, Anna Li and Tina Li didn't lose a single set, all claiming 6-0, 6-0, victories.  At #1 doubles, Maalouf and Hofmann picked up a victory by a score of 6-0, 6-4.
North Allegheny concludes the season with a perfect 24-0 record, earning its first ever WPIAL crown and adding to the state title trophy case with the win over Methacton on Saturday.