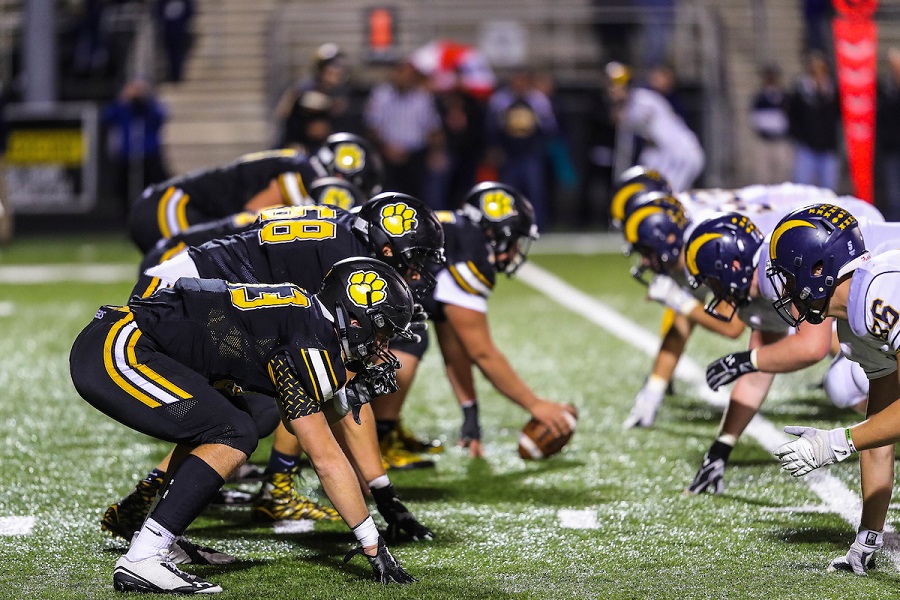 Live Video Stream & Previews For Saturday's Games at Football Classic
The North Allegheny Athletic Department is excited to announce that all three football games on Saturday, August 26 at the Western Pennsylvania Legends Football Classic will be video streamed live on a Pay-Per-View basis. Each game can be viewed at a $10 cost. Broadcast links are provided below next to each game preview.
South Side vs. Our Lady of the Sacred Heart – 12:00 p.m. – CLICK HERE TO WATCH VIDEO
Saturday's first contest matches up a pair of playoff teams from 2016. The South Side Rams are looking to return to the postseason for the fourth consecutive season out of Class AA's Midwestern Conference but will need to retool following the graduation of several key pieces to last year's playoff puzzle.  Second-year head coach Luke Travelpiece will look to two-way lineman Jake Navarra for senior leadership. Navarra is in his third year as a team captain and will try to steer the Rams' ship on the front lines. The running game will have to move on after the graduation of 1,300-yard rusher A.J. Crider who is now at Toledo. His younger brother, Jaelen Crider, seems poised for a breakout campaign and could be a big source of offense for South Side.
After posting a combined 1-17 record from 2014-2015, the 2016 OLSH squad charged to a 7-2 regular season and an appearance in the WPIAL playoffs out of Class A's Big Seven Conference. Unlike South Side, there will be a wealth of experience returning for second-year head coach Dan Bradley. Back at quarterback is the head coaches' son, Tyler Bradley, who threw for almost 2,400 yards and 23 touchdowns last year.  Also returning is junior RB/DB Austin Wigley who posted 624 yards rushing, 88 yards receiving and 15 touchdowns. Tyler Bradley and Wigley help comprise a deep talent pool for the Chargers this season.  Last year's postseason appearance was the first in the short seven-year history of OLSH football and is a big reason for optimism heading into season number eight for the Chargers.
Frazier vs. McGuffey – 3:30 pm – CLICK HERE TO WATCH VIDEO STREAM
The second game of the day is a rematch from last year's inaugural Western Pennsylvania Legends Football Classic as the Frazier Commodores take on the McGuffey Highlanders. A season ago, McGuffey outlasted Frazier for a 38-28 victory at Newman Stadium. The victory propelled the Highlanders to a 3-1 start to the season. However, devastating injuries and losses in four of its last six games denied McGuffey a playoff spot in Class AAA's Interstate Conference.
Despite losing starting quarterback and 1,000-yard rusher Marcus Czulewicz to graduation, McGuffey returns seven starters on offense and nine on defense, including lineman Marko Olivarez and linebacker Chase Miller who head coach Ed Dalton describes as "legit Division I recruits." A member of the McGuffey track & field team, Olivarez finished second in the shot put at the WPIAL Class AA championship. Running back Christian Clutter is the top returning skill player who was the second-leading rusher and receiver, posting a combined 561 yards and seven touchdowns.
Frazier's course in 2016 ran in contrast to McGuffey's. Getting off to a sluggish 2-4 start, the Commodores rebounded and used a three-game winning streak to reach the playoffs out of Class AA's Century Conference. Brentwood ultimately ended Frazier's run in the WPIAL first round but the late-season surge has provided some momentum heading into this season. There are five returning starters on offense for the Commodores, including multi-purpose back J.D. Celaschi. Celaschi was the second-leading receiver last year with 41 catches for 647 yards and six touchdowns and is the favorite to take over at quarterback for grad Chris Pierce.
Penn Hills vs. Plum – 7:00 pm – CLICK HERE TO WATCH VIDEO STREAM
The nightcap of Saturday's tripleheader pits the Penn Hills Indians against the Plum Mustangs. Both teams missed the playoffs last season in their respective classifications but there is much optimism for both teams entering Week Zero.
For Class 6A Penn Hills, the game signifies the dawn of a new era of Indians football with the arrival of first-year head coach Jon LeDonne. After spending the past three seasons as the head coach at Shaler, LeDonne inherits a talent-rich roster from former head coach John Peterman who departed to become the Athletic Director at Kiski Area High School. LeDonne's offense will be spearheaded by two top-flight Division I recruits. Quarterback Hollis Mathis has big shoes to fill in taking over for 2,300-yard passer Cam Tarrant, but he's already gaining the attention of major colleges and received an offer from Howard in May. Mathis will have the luxury of throwing to Michigan State recruit Julian Major who reeled in 31 passes for 433 yards and seven scores a season ago.
After an injury-riddled 2-7 season, the Plum Mustangs are hoping to get back to the playoffs out of Class 5A's Big East Conference. The Mustangs reached the postseason in 2014 and 2015 and have playoff aspirations this year because of a senior-laden roster. Considered a major strength for Plum entering the year is an experienced offensive line that includes Nic Florek, Nick Stitt, Aaron Shefler, Mike Giannuzzi and Mike Jones.  This offensive front will pave the way for a hard-charging rushing attack that features senior tailback Corey Thomas and fullback Dakota Sunday. Thomas' propensity to run with physicality shouldn't be surprising to opponents considering he was an All-Big 56 Conference selection at linebacker in 2016. Head coach Matt Morgan, a former University of Pittsburgh and St. Louis Rams offensive lineman, also enjoys churning out yardage on the ground if possible.