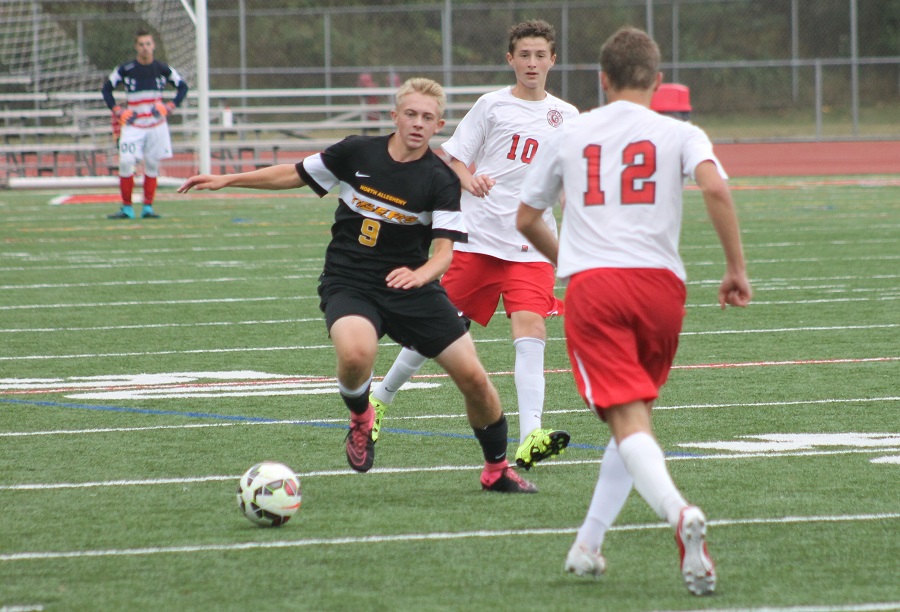 NA Boys' Stun Top-Ranked Peters Township, 2-1
by Boys Soccer Contributor
Playing the No. 1-ranked team on the road according to MSA Sports and Post-Gazette rankings didn't seem like a good environment for the Tigers, but North Allegheny stunned the Peters Township Indians on Saturday afternoon, 2-1.
Early in the game, at 36:21, Michael Peters continued his hot goal scoring touch off a feed from Michael Correa to put the visitors up, 1-0.  Just under a minute later at 35:17, Josh Luchini crossed a ball in front of the net to Peters who deflected it in for his second goal of the game to put North Allegheny ahead, 2-0.
Peters Township would not go away quietly as a free kick was issued to the Indians from 40 yards out and was headed past NA goalie Grant Glorioso to make it a 2-1 contest.  North Allegheny continued its pressure as well as both Luchini and Correa put passes to Peters in the box that were headed just wide of the Indian net.
The Tiger defense was stingy while only allowing two shots on frame to North Allegheny's five and repeatedly heading balls out of harm's way.
The Tigers started to take control of the game in the second half by stringing together passes and were awarded a free kick that Ben Cinker missed narrowly wide of the net.  Luchini had another opportunity at 35:10 after beating the defense, but the Indians goalie made the save.  Peters Township, at 17:35 and beyond, really started to apply pressure and had at least eight long throw-ins that became their offense.  The NA defense of Nick Thornton and Chip Dougherty, along with Glorioso who made a few point blank saves, kept the Indians off the board the rest of the way for an impressive 2-1 win.
The loss dropped the top-ranked Indians to 3-1-1 while the Tigers improved to 3-1 overall. North Allegheny returns to section action this coming Tuesday night vs. Butler in a pivotal matchup. The game will be broadcast live on the North Allegheny Sports Network.