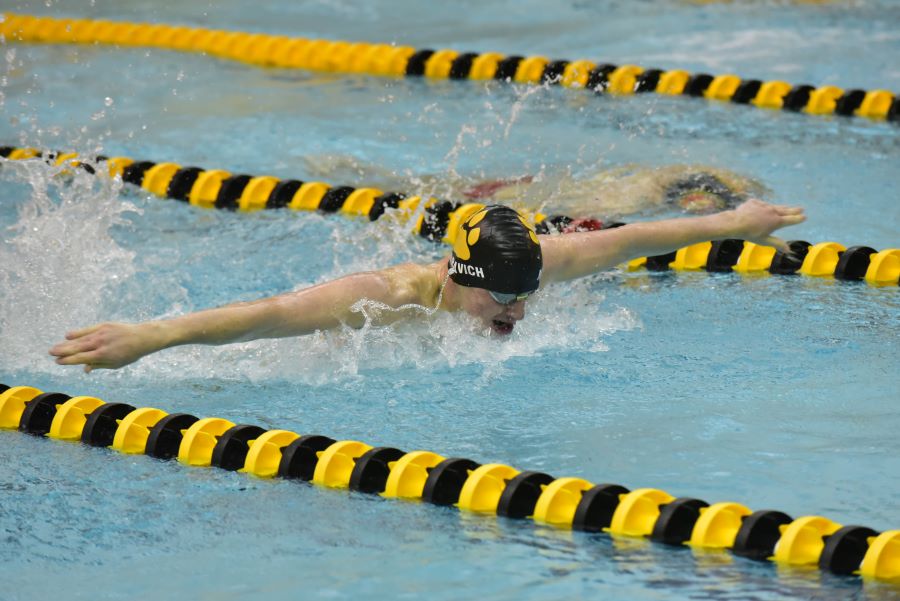 NA Remains Perfect With Sweep Of Fox Chapel
by Bob Orkwis
The Tigers closed out 2022 with sweeps in their first four events. North Allegheny started the new year in the same fashion, sweeping Fox Chapel in Wexford in its first home meet since the season opener.
North Allegheny won 16 events and tied another, as the boys won 109-72 and the girls were victorious by a score of 103-81.
The diving competition got things started and teammates Christina Shi and Lola Malarky went back and forth for the girls, as the sophomore Malarky led with a score of 284.80, before Shi posted a score of 51.70 on her final dive to win by 3.55 points. Fox Chapel's Jackson Hagler won the boys competition posting the only score in the two-hundreds. (249.30).
The Foxes won the opening girls 200-yard medley relay, before the Tigers won 7 of the next 9 events. William Gao, Danny Lesinski, Gus Miller, and Grant Regule won the boys 200 medley relay with Lexi Sundgren cruising (1:54.88) in the 200 free. Eliot Maravich (1:45.88) followed suit for the boys, before multi-gold medal winner Sophie Shao won the girls 200-yard IM for the Foxes.
Gao took the boys 200 IM followed by Rebecca Melanson (25.00) winning the 50 free, and Regule (22.26) capturing the boys 50 free. Nicholas Klein won the 100-yard fly with a time of (55.60) before Melanson and Fox Chapel's Payton O'Toole tied (54.64) in the girls 100-yard freestyle.
Zach Jubeck was the winner in the boys 100-free with a time of (49.24) and then Sundgren, who won WPIAL old in the 500-free last year, eased her way to a 16-second win in that event. Maravich then posted a winning time of (4:48.07) in the boys 500-free.
The Tigers put the meet in cruise control by winning both 200-free relays, Greta Mott (1:00.26) taking the 100-back, and Gao (54.34) victorious on the boy's side. Natalie Sens then closed out the wins for North Allegheny with a time of (1:07.47) in the girls 100-yard backstroke.
Despite strong performances by Sundgren and Maravich, Shi and Jubeck took home the Wright Automotive Players of the Night Awards. The highly decorated Shi won for the girls with her clutch sixth and final dive. Jubeck won for the boys with a second-place finish in the 200-free, a win in the 100-free, and a strong second leg to help the Tigers win the final event, the boys 400-yard freestyle, even though no points were awarded.
For a look at complete meet results, click here.
North Allegheny heads next to the place where everyone wants to be at season's end, Bucknell University. The Tigers will compete this upcoming weekend at the Kinney Natatorium in the Bucknell Invitational before traveling to Moon on Jan. 10.