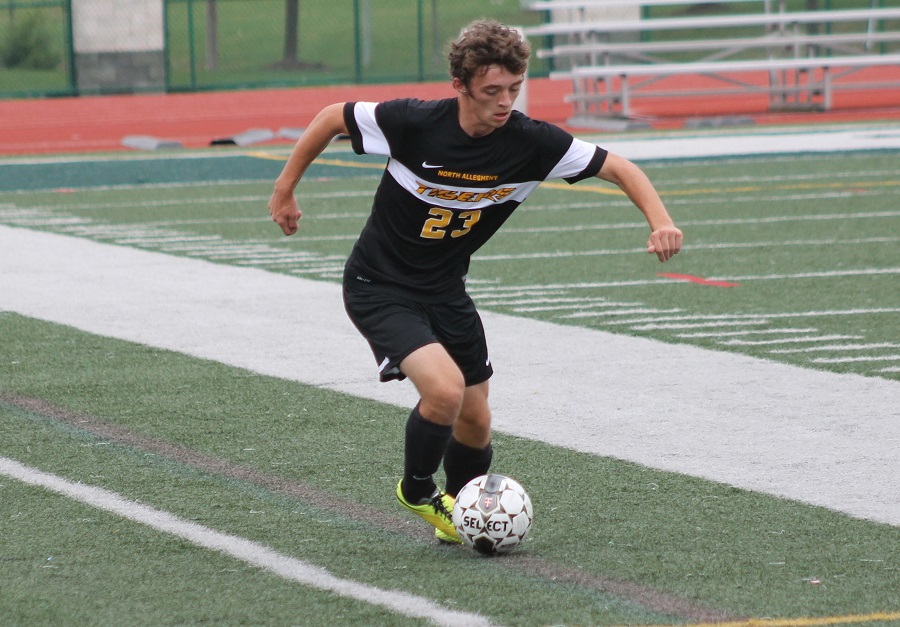 NA Deals Seneca Valley First Loss
In a matchup of the top two teams in Section 2-AAA, North Allegheny scored a goal early and held on for the remainder of the game to make that single goal hold up for a 1-0 win against previously undefeated and section leader Seneca Valley.   Josh Luchini scored at the 38:01 mark of the first half on an assist from Michael Peters.
Less than seven minutes later NA nearly made it 2-0 when Ben Cinker made a beautiful cross to Michael Correa but the ball did not find the back of the net. NA and Seneca played fairly even for most of the first half when at the 9:42 mark NA goalie Josh Krassenstein made a save on a free kick by Seneca Valley.   At the 2:35 mark of the first half Jack Passodelis nearly scored but just missed the net slightly wide to the right. The first half ended at 1-0. Each team had 3 corner kicks in the first half and shots were 5-3 in favor of Seneca Valley during the half.
In the second half Seneca Valley dominated in the offensive end as NA attempted to play more conservatively and hold off the offensive charge. Dillon Thoma made a header save on a corner kick with 1:40 left in the game to help preserve the win. Corner kicks were 5-1 and shots on goal were 5-0 both in favor of Seneca Valley in the second half.
North Allegheny improves to 6-1-2 overall and 4-1-2 in Section 2. Seneca Valley slips to 6-1-1 overall and 5-1-1 in section play. The Tigers visit Hampton on Tuesday night 7:30 pm in another section contest.