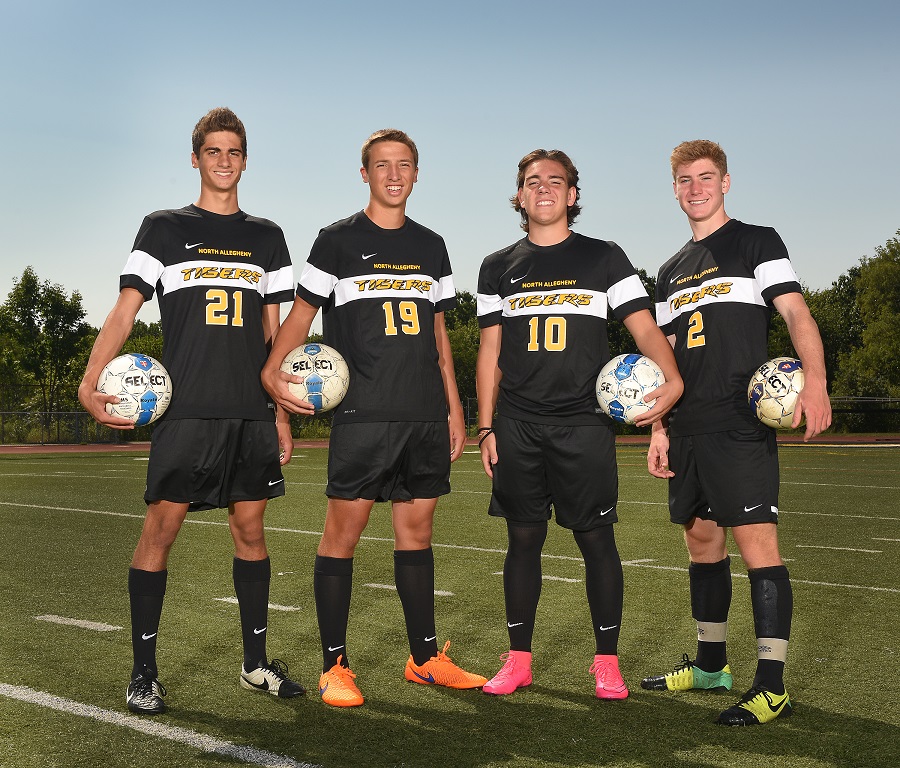 NA's Team Effort Topples Kiski, 6-1
The North Allegheny boys' soccer team traveled to Kiski and dominated the Cavaliers for a 6-1 non-section victory. The Tigers showed that head coach Bobby Vosmaer's squad was ready to play from the beginning whistle. Two minutes in, senior Dillon Thoma put a shot on goal and two minutes later senior Nate Hall did as well.  The early offensive pressure paid off as at 26:21, sophomore Josh Luchini found the back of the net from 15-yards out on a nice assist from senior Michael Peters giving the Tigers a 1-0 lead.
At 13:36, Peters scored off a pass from Luchini in the box scored to make it 2-0.  The half was dominated by NA with the visitors having 11 shots and zero for Kiski, along with four corners for NA and none for the home team.
Kiski put up some initial resistance in the second half, pressuring the defense and controlling the midfield. However, Thoma at 32:22 scored in front of the net off a feed by Earle to make it 3-0, Tigers.  Less than a minute later, Peters scored his second goal, off his chest, off a pass from Luchini to make it 4-0, North Allegheny.
Sophomores Zach Maruzla and goalkeeper Grant Glorioso entered the game at 27:20 for their first varsity action and Marzula scored his first varsity goal at 24:37 from 20-yards out on a cross from Sean Atwater who also garnered his first varsity point on the play, putting the Tigers up 5-0.  Kiski seemed to come to life for moment, but senior Chip Dougherty made a nice defensive play getting back and blocking a shot before it made it on goal. Kiski got their first shot on goal at 13:22 off a deflection, but Glorioso made the save.
Kiski made it 5-1 when a PK was called and the Cavalier player found the back of the net.  North Allegheny was able to get that goal back at 2:11 when sophomore Stanley Owens got his first varsity point by assisting on a goal by Owen Leonard, again his first varsity goal, making it 6-1.  Additional players seeing first time action in the game and second half were Jack Passodelis, Alex Goto, Anthony McGraw, Mike Morrissey, Will Brunner and Reggie Kossuth.
North Allegheny travels north this coming Tuesday against section rival Seneca Valley in an early pivotal conference matchup.  Seneca is coming off an impressive 6-0 win over Norwin.