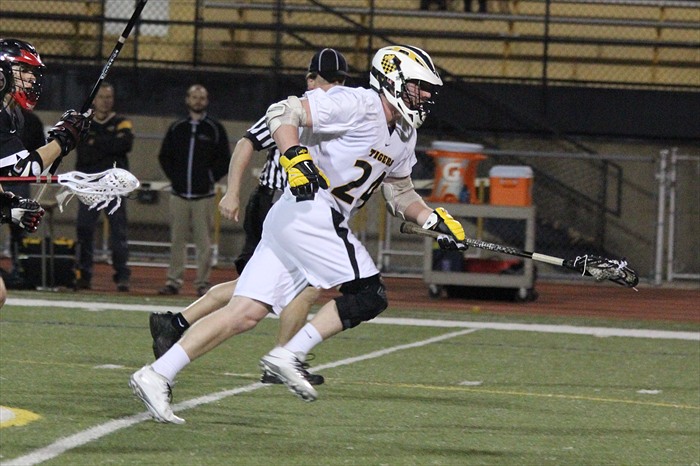 NA Falls In Heartbreaker To Mt. Lebanon In WPIAL Semifinals
by Lee Mohn
North Allegheny's opponent was Mount Lebanon on Monday night in the WPIAL semifinals, a team the Tigers haven't had much luck with over the years, winning only two out of the last fifteen meetings entering the contest. The Tigers were dealt another heartbreaking defeat, falling to the Blue Devils 10-9 in double overtime to deny North Allegheny a trip to Highmark Stadium to play for the championship.
The night started great for the Tigers.  Zach Smith won the draw and ran right down the field and scored five seconds into the game top give NA the lead.  The lead held up for 10 minutes before Dan Lee tied the score at 1-1. The Tigers answered back with 40 seconds left in the quarter getting a goal from Stephen Kelleher with an assist from Zech Nachazel.  Lebo then scored with five seconds left in the quarter to tie the game at 2-2.
NA would take a three goal lead receiving markers from Nachazel, Gaven Hagen and Kyle Rullan.  The Tigers led 5-3 at the half before the Blue Devils scored the next three with Lee scoring his third of the night.  Smith knotted the score for the Tigers at 6-6 at the end of three by winning another draw and moving right down the field.
The Tigers built a three goal lead with six minutes to go but that was when Brian Kelly broke loose.  He assisted on two goals and scored the tying goal with 21 seconds left to send the game into overtime.  The first overtime was dominated by goalies John Abbondanza for NA and Matt Lee for Mount Lebanon.  Both goalies stood on their heads, making miraculous saves to keep their teams in the game. Things would continue that way into the second overtime, but with 1:11 left, Kelly made a terrific pass to Sam White for the winning goal.
Zach Smith was named the Wright Automotive player of the game for his two goals and winning 75 percent of his face offs on the night.  The Tigers finished the season with a 13-7 record.  Congratulations to the NA players and coaches on another outstanding season.