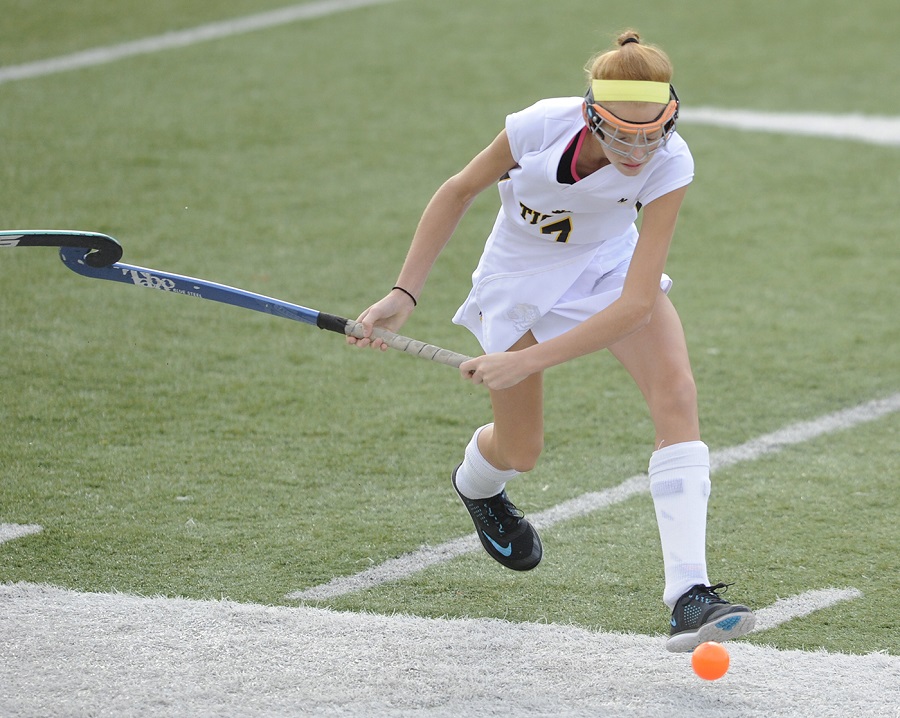 NA Field Hockey Blanks Penn-Trafford, 3-0
The two-time reigning WPIAL champions bounced back from a tough weekend in central Pennsylvania with a hard fought 3-0 triumph over section foe Penn-Trafford on Tuesday night. It was the sixth shutout by North Allegheny this season and fifth against a Section 1-AAA opponent.
Posting a perfect 5-0 mark against section opponents in the first half, the Lady Tigers opened the second half of the schedule against a feisty Penn-Trafford team. North Allegheny took the early lead on a Maddy Snyder goal, her seventh of the season, with 19:58 to play in the first half for a 1-0 advantage.
A perennial challenger for the WPIAL playoffs, the Penn-Trafford Warriors responded by continuously pressuring the Tigers for the remainder of the first half. The pressure yielded few scoring opportunities however, as the NA midfield of Catie Kelly, Jessie Serody and Maddie Birmingham withstood the Warriors assault. Penn-Trafford did garner a couple of penalty corners in the first half but still trailed the Tigers 1-0 at halftime.
In the opening minutes of the second half, the Warriors appeared poised to tie the game before the Tigers swung the pendulum back in the NA corner. Just over four minutes into the second half, the Tigers had a long hit from the far right corner. Junior Brooke Cameron put the ball in play on the long hit and ultimately sent the ball in front of the net where it found the stick of Angie Genter. The freshman forward used a reverse chip shot to beat Penn-Trafford goalie Karissa Burk for a 2-0 NA lead with 25:43 on the second half clock. NA's second goal took the air out of the sails of the Warriors, and for her efforts, Genter was named the Wright Automotive Player of the Game.
North Allegheny scored again a little over two minutes later on a rocket by Birmingham from just inside the circle for a 3-0 lead. The Birmingham goal served as the back breaker for Penn-Trafford and NA coasted the rest of the way to the victory. Goalies Katie Shideler and Rena Israel split time in net and combined for the shutout.
With the win, North Allegheny improves to 7-6 overall and 6-0 in Section 1-AAA. Penn-Trafford slips to 3-6 overall and 2-4 in the section. The Lady Tigers will hit the road for a Thursday visit to Hempfield at 7:30 pm. The Tigers will finish the regular season by playing four of the next five games on the road.