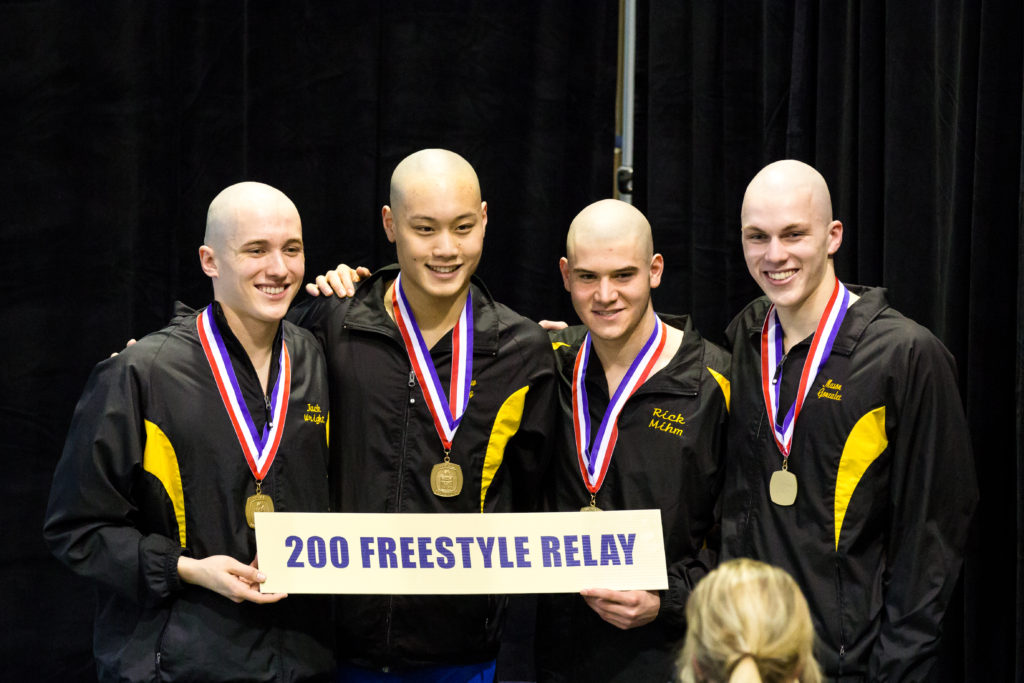 NA Frontrunner Again Following Day One of WPIAL Championships
The North Allegheny swimming team started strong on day one of the WPIAL swimming championships on Thursday. The NA boys' team compiled 248 points with Upper St. Clair the nearest competitor at 142 points.  The Lady Tigers accumulated 179 points with Mt. Lebanon following with 147 points and Upper St. Clair with 146 points.
The boys won both relays and won all the individual events except the 100 Fly.  Andrew Zhang, Jerry Chen, Mason Gonzalez and Joel Songer started the boys off with a 200 Medley Relay victory.  Jack Wright then followed with a WPIAL record in the 200 Free with a time of 1:37.82.  Josh Galecki finished sixth in the event.  Ricky Mihm won the 200 IM with Ethan Song finishing in sixth place and John Ehling in seventh place.  Mason Gonzalez touched first in the 50 Free and Joel Songer finished third.   Andrew Zhang finished third in the 100 Fly and Tolik Borisov finished sixth.  The boys finished day one with a WPIAL record of 1:21.15 in the 200 Free Relay.  The team consisted of Jack Wright, Mason Gonzalez, Ricky Mihm and Andrew Zhang.
The girls team started with a close second place finish in the 200 Medley Relay. The team consisted of Torie Buerger, Ann Juneau, Lila McGrath and Mary Flavin.  Molly Smyers finished second in the 200 Free with Kristine Mihm finishing fourth and Mary Olivia Kisow finishing seventh. Torie Buerger took second place in the 200 IM, followed by teammate Lila McGrath in third place.  Mary Flavin was an eighth place finisher in the 50 Free.  Ann Juneau concluded the individual events for the girls team with a third place finish in the 100 Fly. Mary Flavin, Molly Smyers, Ann Juneau and Kristine Mihm ended the day with a 200 Free Relay win.
The WPIAL championships will continue and conclude on tomorrow at Trees Pool on the campus of the University of Pittsburgh.