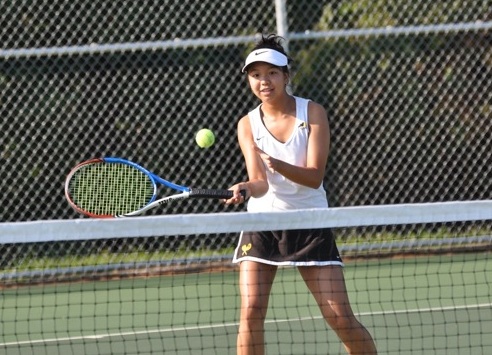 NA Girls Tennis Blanks Sewickley Academy In Season Opener
The Lady Tigers Tennis Team opened the 2013 season on Tuesday afternoon with a dominating 5-0 win over Sewickley Academy. At #1 Singles, freshman Anna Li swept past Samantha Gohn for a 6-1, 6-1 victory. In similar fashion at #2 singles, freshman Tina Li topped Sewickley's Sydney Miggantz for a 6-2, 6-0 win. Without yielding a point, sophomore Tristyn Maalouf cruised past Lauren Ritz for a 6-0, 6-0 victory.
In doubles competition, the pairing of Jenn Hofmann and Sydney Boyd stopped Amy Cheng and Jappman Monga by a 6-2, 6-2, decision. Catherine Liu and Catherine Zhang earned a 6-2, 6-1 win over Sydney Joseph and Riley Roberts to close out the action.
North Allegheny starts the season with a 1-0 mark and will host Peters Township on Thursday in another non-section contest. Action gets underway at 10:00 am at the NASH courts.
Match Summary

NORTH ALLEGHENY - 5
SEWICKLEY ACADEMY - 0
SINGLES
#1
Anna Li (NA) def. Samantha Gohn (SA)
6-1, 6-1
#2
Tina Li (NA) def. Sydney Miggantz
6-2, 6-0
#3
Tristyn Maalouf (NA) def. Lauren Ritz (SA)
6-0, 6-0
DOUBLES
#1
Jenn Hofmann/Sydney Boyd (NA) def. Amy Cheng/Jappman Monga (SA)
6-2, 6-2
#2
Catherine Liu/Catherin Zhang (NA) def. Sydney Joseph/Riley Roberts (SA)
6-2, 6-1