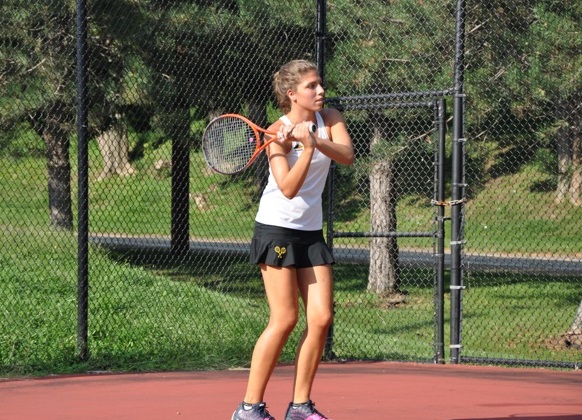 NA Girls' Tennis Blasts Butler, 5-0
The reigning WPIAL and PIAA champion Lady Tigers Tennis Team blasted the Butler Golden Tornado on Thursday afternoon for a 5-0 section victory. North Allegheny received another strong showing in singles play with Anna Li sweeping Gretchen Wilson, 6-0, 6-0, at #1 singles.  Freshman Eugenia Lee topped Savana Turner by a 6-0, 6-1, decision at #2 singles.  Junior Tristyn Maalouf finished off Mercedes Belch at #3 singles for a 6-0, 6-0, win.
In doubles play, the duo of Catherine Liu and Catherine Zhang rolled to a 6-0, 6-0, triumph over Jill Ford and Andrea Malacaman.  Jacqueline Cannella and Elena Kolano blanked Tessa Klotz and Bella Smith, 6-0, 6-0.
North Allegheny improves to 5-0 overall and 3-0 in section play.  The Lady Tigers have the next few days off before visiting the Shaler Titans on Tuesday at 3:00 pm in a section contest.
Match Summary

NORTH ALLEGHENY - 5
BUTLER - 0
SINGLES
#1
Anna Li (NA) def. Gretchen Wilson (B)
6-0, 6-0
#2
Eugenia Lee (NA) def. Savana Turner (B)
6-0, 6-1
#3
Tristyn Maalouf (NA) def. Mercedes Belch (B)
6-0, 6-0
DOUBLES
#1
Catherine Liu/Catherine Zhang (NA) def. Jill Ford/Andrea Malacaman
6-0, 6-0
#2
Jacqueline Cannella/Elena Kolano (NA) def. Tessa Klotz/Bella Smith (B)
6-0, 6-0