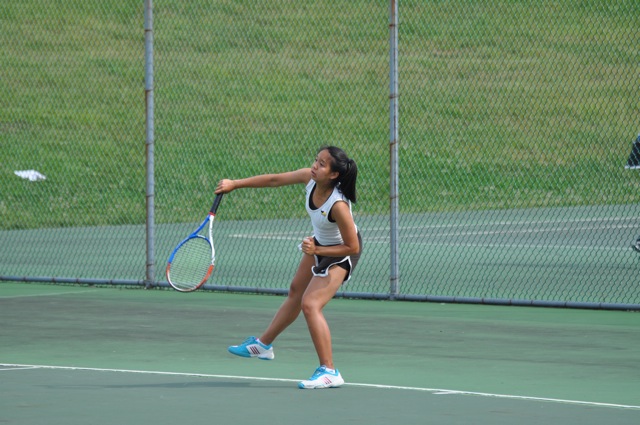 NA Girls' Tennis Edges Mt. Lebo, 3-2
The North Allegheny Girls Tennis Team won its third straight match with a 3-2 triumph over the Mt. Lebanon Blue Devils on Tuesday evening.  The Lady Tigers swept singles play to secure the victory.  Anna Li earned a clean 6-0, 6-0, win over Kristine Riley at #1 singles.  At #2 singles, Eugenia Lee posted a 6-0, 7-5, win over Skylar Morgan. Tristyn Maalouf dropped the first set at #3 singles to Morgan Happe, but rebounded for 6-3, 6-3, wins in the next two sets.
In doubles play, NA retired due to injury in #1 doubles, and Catherine Zhang and Jacqueline Cannella battled with Lauren Carey and Brooke Warshaw before eventually falling, 6-7 (7-3), 3-6, in #2 doubles.
North Allegheny improves to 3-0 with the non-section win.  The Lady Tigers face Hampton at home this afternoon in a section clash.  Start time is scheduled for 3:30 pm.
JV Update: NA beat Mt. Lebanon, 5-0.
Match Summary

NORTH ALLEGHENY - 3
MT. LEBANON - 2
SINGLES
#1
Anna Li (NA) def. Kristine Riley (ML)
6-0, 6-0
#2
Eugenia Lee (NA) def. Skyler Norgan (ML)
6-0, 7-5
#3
Tristyn Maalouf (NA) def. Morgan Happe
0-6, 6-3, 6-3
DOUBLES
#1
Christine Laderrer/Marikate Reese (ML) def. Catherine Liu/Sydney Boyd (NA)
7-5, 3-6, 3-0 (NA retired due to injury)
#2
Lauren Carey/Brooke Warshaw (ML) def. Catherine Zhang/Jacqueline Cannella (NA)
7-6 (7-3), 6-3